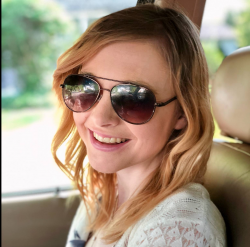 Latest posts by Erin Jamieson
(see all)
My mother has always wanted a screen porch, and I can see why. From family friends to vacations, all of the time I and members of my family have spent on a screen porch has been enjoyable and memorable. My late grandfather's screen porch was especially welcoming, with a coffee table, candlelight, and plenty of sweet and salty snacks. The problem? It's easy to assume it's out of budget. 
Screen porches (also known as screened-in porches) are one of my favorite ways to transform a porch. Whether you live in Louisiana where it can start down-pouring on a dime, or you're in a state with distinct seasons, a screen porch is excellent for entertaining. But I also know that being on a budget can cramp ideas. 
I want you to be able to enjoy your porch more, and if you've been dreaming about a screen porch makeover, I encourage you to read on. Here's my frank advice and ideas- from building materials to decorating when you're on a budget. 
Bottom Line Up Front Summary
From keeping insects at bay to keeping comfortable during light rain, a screen on the porch is an excellent way to elevate your home. But it can be a challenging upgrade if you're on a budget. With a few smart shopping tips and a bit of creativity, you can slash costs and still have a cozy space. I recommend comparison shopping, opting for a Fall or Winter installation, and building upon an existing foundation when possible. 
If you're not sure what kind of design to prioritize, I recommend starting with either building directly on your foundation making a budget-friendly compromise with a Gazebo Screen, or simply putting up Outdoor Roller Shades to provide the illusion of a scream porch. For under $2,000 you can also get a Detachable Porch Screen that is a breeze to install yourself.  
My Top Ideas
Boho Chic Screen Porch
Lush Greenhouse Screen Porch
Sleek and Modern Screen Porch
Southern Charm Screen Porch
Maximalist Screen Porch
Vintage-Inspired Screen Porch
Colorful and Retro Screen Porch 
Winter-Ready Screen Porch 
Just the Basics
How I Came Up With These Budget-Friendly Ideas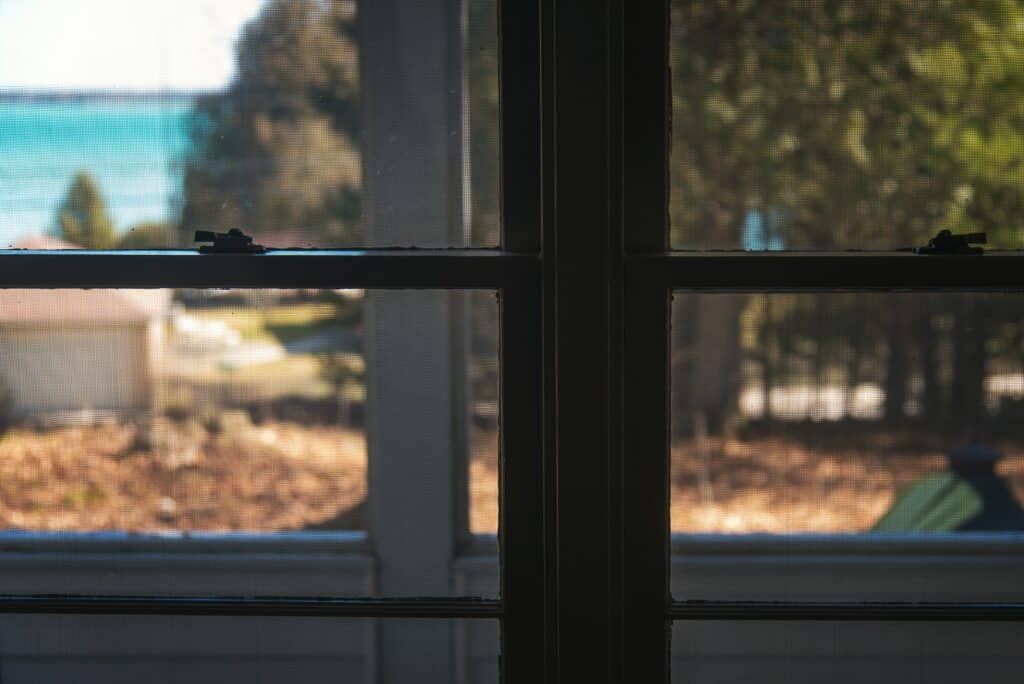 If you want to get started with my ideas, feel free to scroll through- but it's really important to explain why I'm making these suggestions. As I said, I'm passionate about designing on a budget, but I also don't like going so cheap that repair and maintenance costs will exceed what you save. 
Budget Matters
I brainstormed ways to save money- but still, score a stylish screen porch. That meant researching the best materials, and ways to cut back on installation or material costs. Less is more: by augmenting a screened-in porch area with little additions, like plants, you can even get by without a fully enclosed space if you want. No matter which of my ideas catch your eye, make sure you set a maximum budget ahead of time- trimming back on extras (like decor) instead of essentials. 
Versatile Decorating Ideas
Whether you're DIY or seeking a professional for a build system, all of my ideas are versatile and can be accomplished in many different ways. While I'm including product recommendations, feel free to swap out items that suit your budget. I'm looking for products and additions that can be coordinated in different ways, for different styles (from modern to rustic). 
Heating & Cooling Considerations
Not every screen porch needs heating or cooling- and if you're on a tight budget, you're free to slip this. But when considering air conditioning and heating solutions, I looked for brands with a good reputation, products designed for both indoors and outdoors, and those with simple but effective features. Rather than focusing on frills, I focused on basic performance features. While outdoor fireplaces, they're far less budget-friendly than other heating solutions. 
Elevated Privacy
Just because you're on a budget, doesn't mean you can't have some privacy. Blinds and shades factored into my screen porch ideas for a few reasons. You can find affordable designs that'll last and double to keep out wind and rain. 
Quality and Value 
Finally, all of my ideas balance the budget, quality, and value. I'm only recommending ideas that I'd recommend for my family- and products that can help you achieve these fun designs. From modern to Southern to eclectic, I wanted these screen porch ideas to be practical, more affordable and designs that you can enjoy for years to come. 
Budget-Friendly Screen Porch Designs: My Favorite Ideas! 
Here's a look at some of my favorite ideas for designing a screen porch on a budget. Keep in mind: if you're getting your screen porch professionally installed, there are even more ways to save money:
 Ask for a full quote (labor costs included) and a comparison shop. 

If possible, use your existing patio or foundation

Opt for pressure-treated wood. It's going to last longer than regular wood- and is less expensive than some options.

Skip the bells and whistles and opt for budget-friendly decor to fill your space

Building in Winter or Fall will trim installation costs 

Don't fully DIY if you aren't confident
With that aside, let's get started with these fantastic designs. 
Boho Chic Screen Porch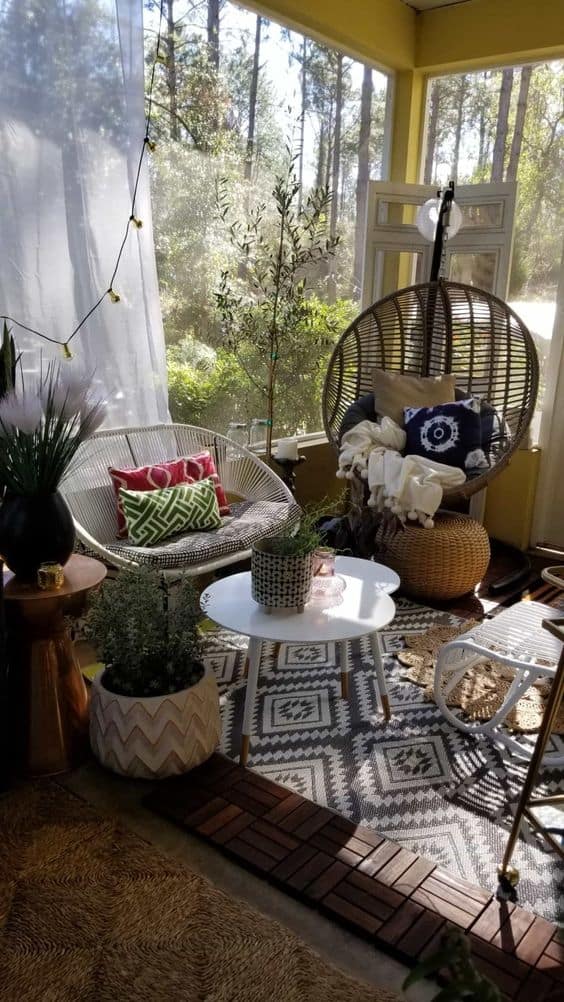 Bohemian styles are more popular than ever and for good reason. Install pressure-treated wood panels or walls and a rafter to hang a hammock porch swing from. Something as simple as this hanging hammock swing chair does the trick for under $200. It's made with weather-resistant materials and can easily be accented with playful bright cushions for a boho touch. Add in plenty of potted plants and even a hanging lantern or two to finish up your look. This handcrafted lantern adds a lot of charm and can be used indoors and outdoors- perfect for a screen porch. I love this idea for the creative touches and instant relaxation. 
See also: Inexpensive Porch Ceiling Ideas [2022]
Lush Greenhouse Screen Porch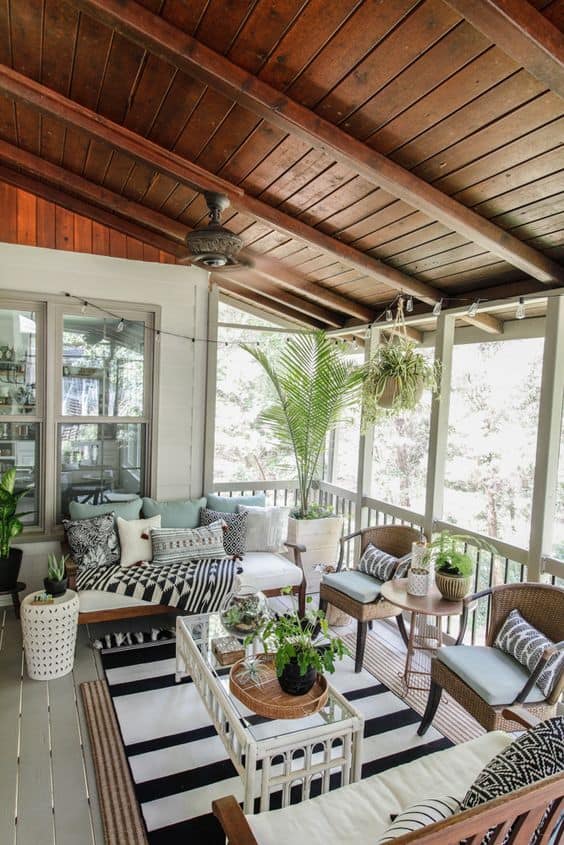 What's better than enjoying the great outdoors than being surrounded by plants? I love this idea for anyone who loves the idea of a greenhouse but wants something more practical and budget-friendly. You can't go wrong with your choices here- select anything from succulents to potted plants and more. You can buy plants from your local nursery, from a home improvement store, or even online. Either use bamboo panels to cover your space, or add extra privacy to your existing structure. Consider budget-friendly greenery, or even add some faux plants, like this Chinese Evergreen. Add in a wicker chair set for seating, and you're all set. I love this idea because it embraces the natural feeling of being outdoors. 
Sleek and Modern Screen Porch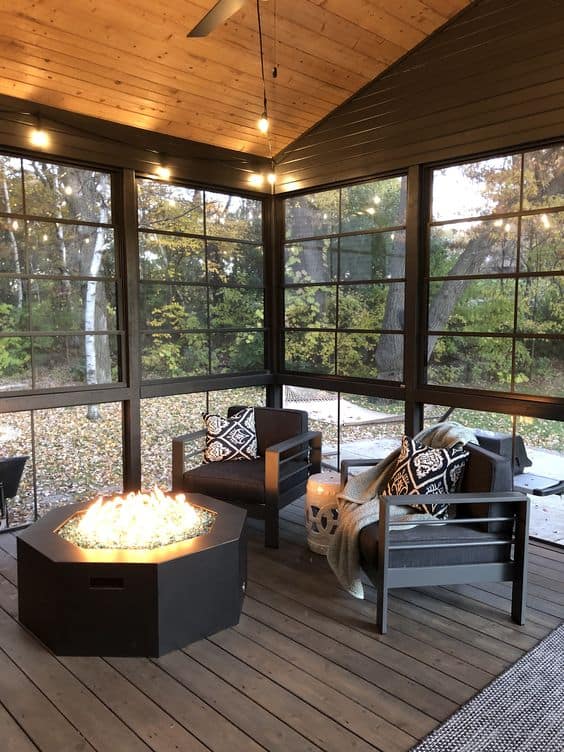 Modern screen porches don't have to be elaborate to be sophisticated- and I love this idea for contemporary homes of any kind. So long as you treat them well, aluminum panels can be used to construct a more affordable screened-in area (just make sure you buy them from a reputable store). This creates sleek, modern lines and sets the scene for a contemporary space. Keep it simple with powder-coated Ikea armchairs and a simple slat table that you can apply a finish to. I love a budget-conscious tabletop fire pit for a touch of warmth! If you have more room in your budget, an outdoor rug with a solid color adds a little visual interest while keeping your space simple and sophisticated. 
Southern Charm Screen Porch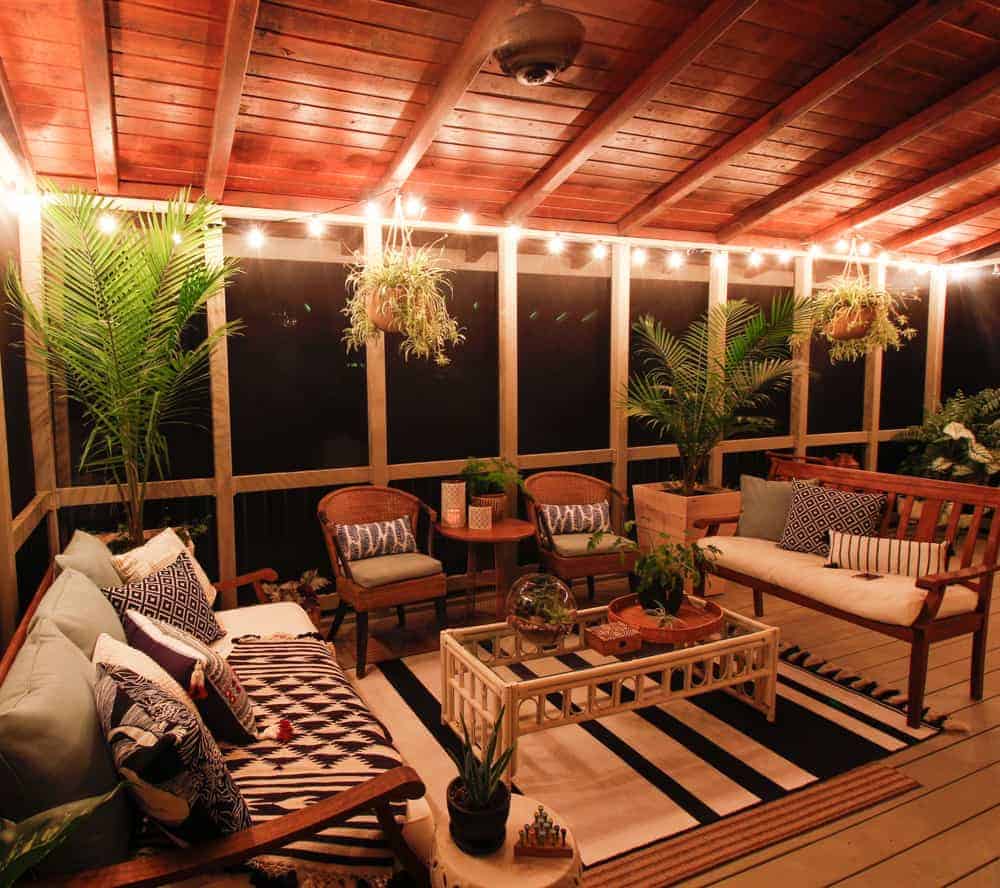 Honestly, you don't have to live in the South to appreciate a screen porch with southern charm. What I love about a style like this is you can interpret it in many ways- but it's always undeniably welcoming. For an almost screened-in feel, you can even opt for open weave sheer curtains. Something like a rattan acacia wood set provides contemporary southern charm and is durable even for those humid days. Either use a small space fan or a statement outdoor fan that you can mount from the ceiling. I also love adding decorative pillows, pitchers for lemonade,  and plenty of plants. 
See also: Ultimate Farmhouse Decor Ideas
Maximalist Screen Porch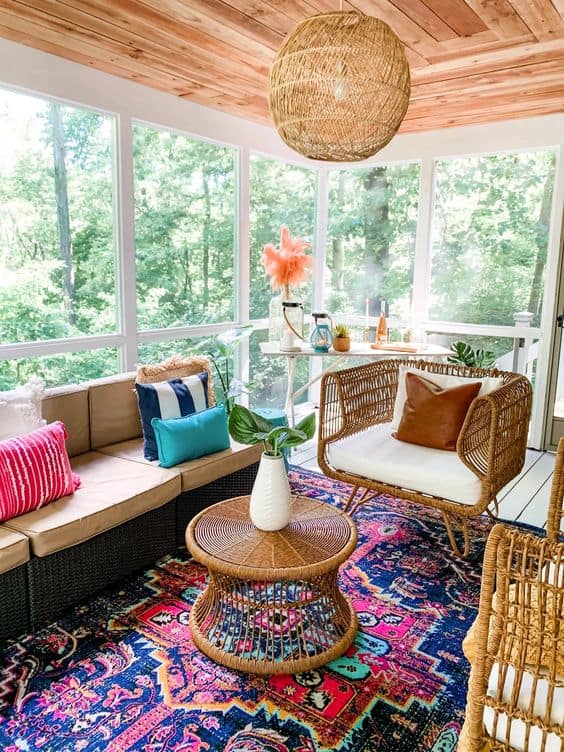 Blending touches of boho, vintage, and contemporary, maximalism is a bold design and can be done on a budget. DIY with a SceenEze set– keeping your framework simple to focus on bold patterns. I love velvety hues- and I keep within a few color shades while playing with those patterns. Start with a green outdoor floral area rug (less than $50!) and add vibrant tropical cushions or accent pillows. I love how the patterns both contrast and complement each other. Plus, breezy turquoise curtains provide you with privacy and keep your screen porch cool. I also love thrift shopping for figurines (floral and animal motifs) and even faux potted plants. Have fun with this look- and I love that, because of the blend of patterns and styles, you can find most of your decor from thrift stores or flea markets. 
Vintage-Inspired Screen Porch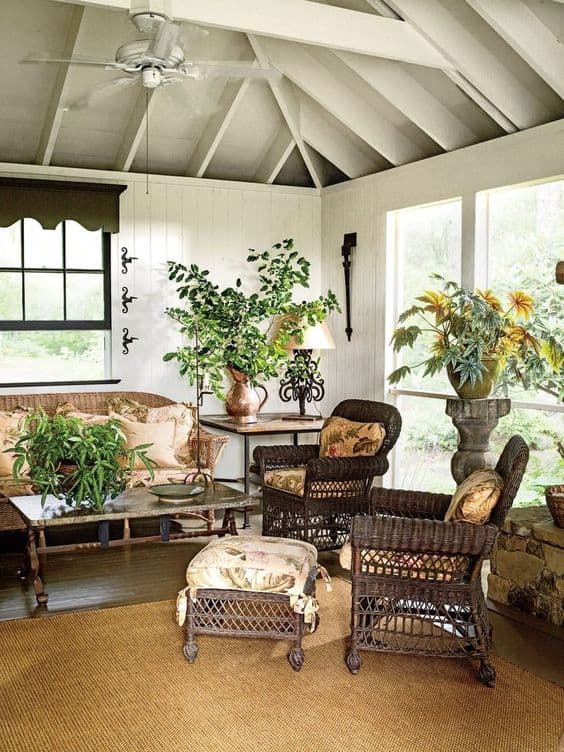 If you want to go fully vintage for your screen porch, you don't need a big budget to do it. For this style, I love these affordable pressure-treated screen panels, which can be used as accents or for an open-air alternative to a typical screen porch. You can either get comfy with budget-savvy, deep cushion wicker chairs or add a stunning Vintage Bistro Set with a tea set for that elegant feel. Add hand-held fans (or a real, portable one) plus an accent rug. I also think sheer curtains or crisp white shades work well to keep your screen porch classic and comfortable. 
Colorful and Retro Screen Porch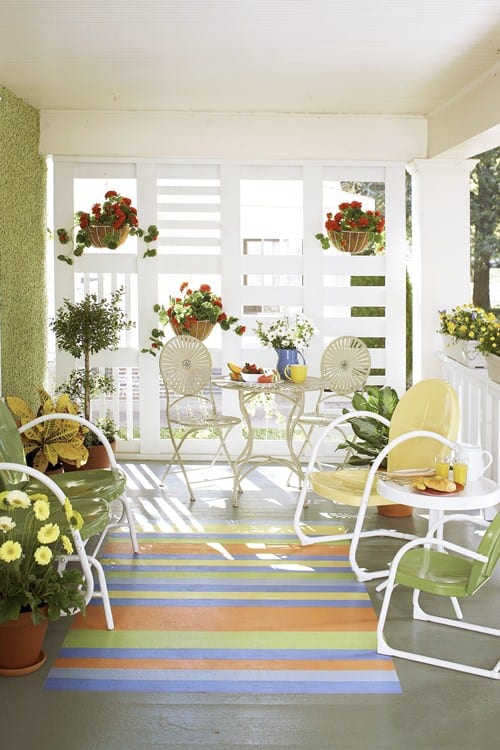 While I often gravitate towards muted or classic tones, I think too few people get adventurous with their screen porch. If you have a limited budget, though, you can go bold, and retro. These powder-coated shell chairs are not only a bargain but an instantly fun splash of color. Add Art-Deco Privacy Panels. These can accent your screen porch, act as a screen porch, or allow you to opt for a partially enclosed screen porch. I simply adore this Flower Planter for a fun and affordable splash of color. 
Winter-Ready Screen Porch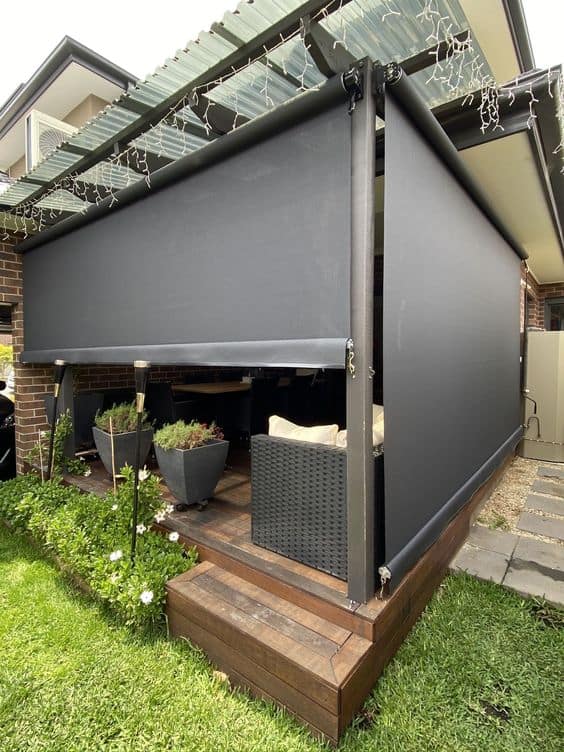 Screen porches are lovely to spend an afternoon in until cold weather hits. A fully insulated screen porch can cost a lot- but there are some fairly budget-savvy ways to keep warm! To winterize without breaking your budget, I'd start with an infrared electric heater.  I love his idea because its energy efficient saves you money in the long run, and effectively heats a small area. Add Vinyl Panels and/ or add heavier vinyl curtains. Dark colors are especially helpful for keeping you warm. Add some comfy blankets and seating, and you'll feel more comfortable on those cooler days. 
Just the Basics: Materials For Slashing Costs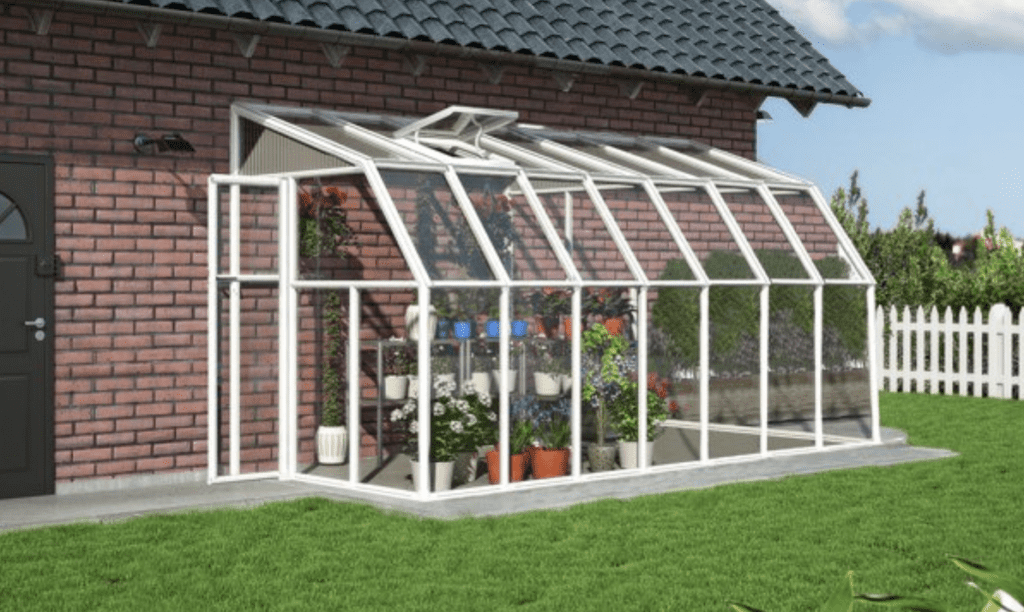 If you're not set on a specific design yet, I also want to show a few ideas for slashing costs- no matter the theme of your screen porch. These are all the main structures/ frames for a screen porch for less than what the average American spends: 
Be creative! You can use privacy screens, panels, and more if you can't afford a full-screen porch. Shop at a home improvement store and ask about their options. Whatever you do, make sure your materials are moisture-proof, rust-proof, and easy to care for.  
Frequently Asked Questions
Question: How much does it cost to put on a screened-in porch?
Answer: While the American household spends about $2,500 on average, it's important to give context. A better measure is $4 to $5 per square foot for a new project, but that also doesn't factor in about $2 per square foot for installation. The materials used, who installs your screened-in porch, and even the time of year can impact your total cost. The best way to understand how much you'll end up spending is to ask for a few quotes. As my ideas show, there are plenty of things you can do to achieve a beautiful screened-in porch on a lower budget. 
Question: How do you enclose a cheap porch?
Answer: Panels, shades, room dividers, and even potted plants can be used to give your porch some privacy. When you're open to being a bit innovative, you'll find that you don't need a professionally installed porch to have a space to yourself. The key is to make sure that whatever you use is suitable for braving the elements. Materials like bamboo, for instance, aren't susceptible to warping from moisture and heat. 
Question: How do you winterize a screen porch?
Answer: A screen porch can get chilly in the winter, but there are many things you can do to keep it comfortable year-round. First of all, an electric patio heater is a good way to control the temperature. Never use a gas heater- which requires ventilation- but an infrared patio heater is great for keeping you and your guests warm. Next, curtains. Curtains not only offer some insulation but also add more privacy. Adding in a carpet, and filling the space will keep it feel cozier. 
Question: How do I stop the rain on my screened porch?
Answer: Blinds and shades can be added to your screened porch to keep wind and rain away. They're also a great idea for very bright or hot days. You'll want shades or blinds that are quite durable and not susceptible to the outdoors. Simply roll-up blinds work just as well if you don't have the budget for motorized/ automatic blinds. Another option is to strategically place potted plants and other decorative items around your screened porch. 
Final Thoughts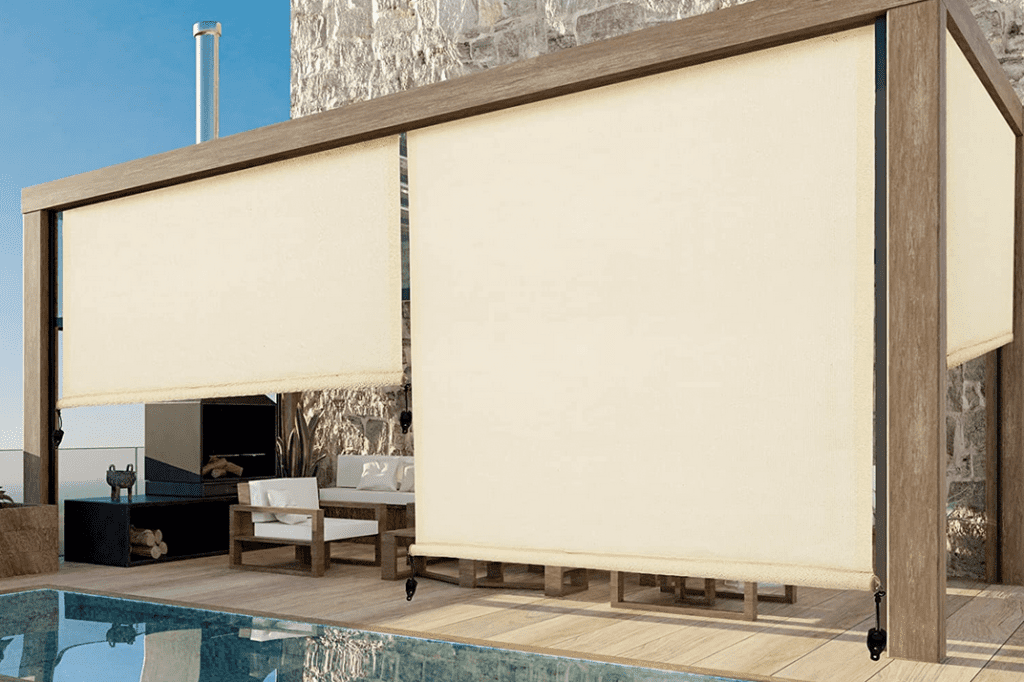 Having a screen porch is a luxury- but there are a lot of ways you can afford one on a budget. From being selective about your materials to comparison shopping and being a bit creative with your decor, I love that there are ways to trim costs. At the same time, I also consider long-term investments and costs as opposed to just the original sticker price. If you select materials that aren't built to last, maintenance and replacement costs may exceed the benefits of your initial savings. So it's a balancing act. 
Final Recommendations 
Love some of these ideas but aren't sure where to start? If you're set on a screen porch but have to stick to a budget, my top recommendation is to start with a basic template. If you can't afford professional installation, a Gazebo Screen or placing Outdoor Roller Shades are good alternatives. Another hack is to buy a pre-made screened area, like this Detachable Porch Screen. 
Recommended Reads: