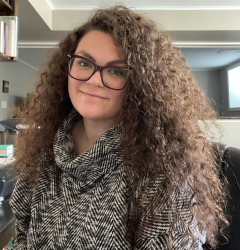 Latest posts by Candace Osmond
(see all)
If you're adding a swing to your porch for the first time, you have a lot of picking to do. First, you'll need to pick the best swing hanging kits. Remember, even the most beautiful swing is only as safe and luxurious as the hanging hardware that supports it.
And don't repeat the same mistake most people make when picking hanging kits (i.e., preferring those with the highest weight capacities.) Many factors go into determining the best swing hanging kits, and I'll review all of them in this guide.
Bottom Line Upfront
If I had room for a hanging porch swing I'd 100% pick Abusa Heavy Duty Swing Hangers because they're heavy-duty and my kids have the destruction capacity of a steam roller.
Top 3 Picks:
I picked all the products in this article based on their quality, price, and weight capacity. But here are the top three.
Best Overall: Betooll Swing Hangers
These Betooll Swing Hangers have one job. To create an even, durable suspension so you can swing smoothly without wobbling for years to come.
Best Heavy Duty: Abusa Heavy Duty Swing Hangers
Great porch swing hanging kits should be able to support as much weight as you're willing to throw at it. This Jungle Gym Kingdom Swing Set Hangers does just that.
Best Bargain: Jungle Gym Kingdom Swing Set Hangers
I recommend these Jungle Gym Kingdom Swing Set Hangers for the perfect weight capacity-affordability balance.
Where Can You Buy Porch Swing Hanging Kits?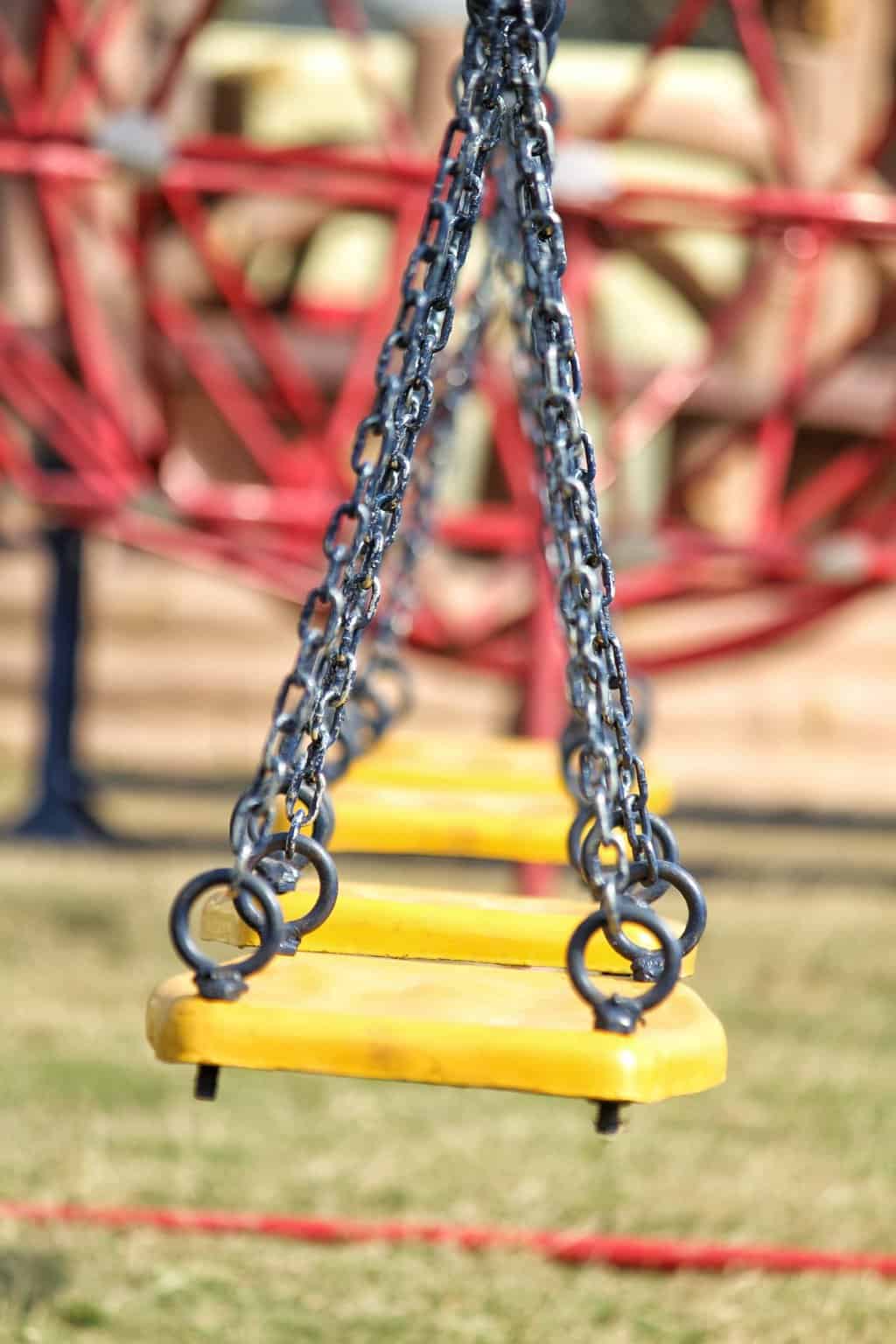 Finding the best porch swing hanging kit is only half the battle. Where you buy it is also essential, as you'll need to compare delivery costs, warranty coverage, cost, and more. I've done the heavy lifting on your behalf in this department as well.
Whether you'd like an in-store experience or are looking to shop exclusively online, this list has got you covered.
Amazon
Walmart
Homedepot
Wayfair
Lowe's
Costco
What to Look for In Porch Swing Hanging Kits
Before getting down to the detailed list, make sure you know what to look for in a porch swing hanging kit.
Lightweight Material
You want the lightest, strongest materials you can find when picking a porch swing hanging kit. Too heavy but strong, and you'll waste precious pounds on the kits. Even worse, too weak and lightweight, and you or your loved ones will end up on the porch.
Silent Action
If you've enjoyed your time on a porch swing before, you know they can be extremely noisy. So, if you're the kind of individual to get easily annoyed, consider the noise level of the kits.
Weather Resistance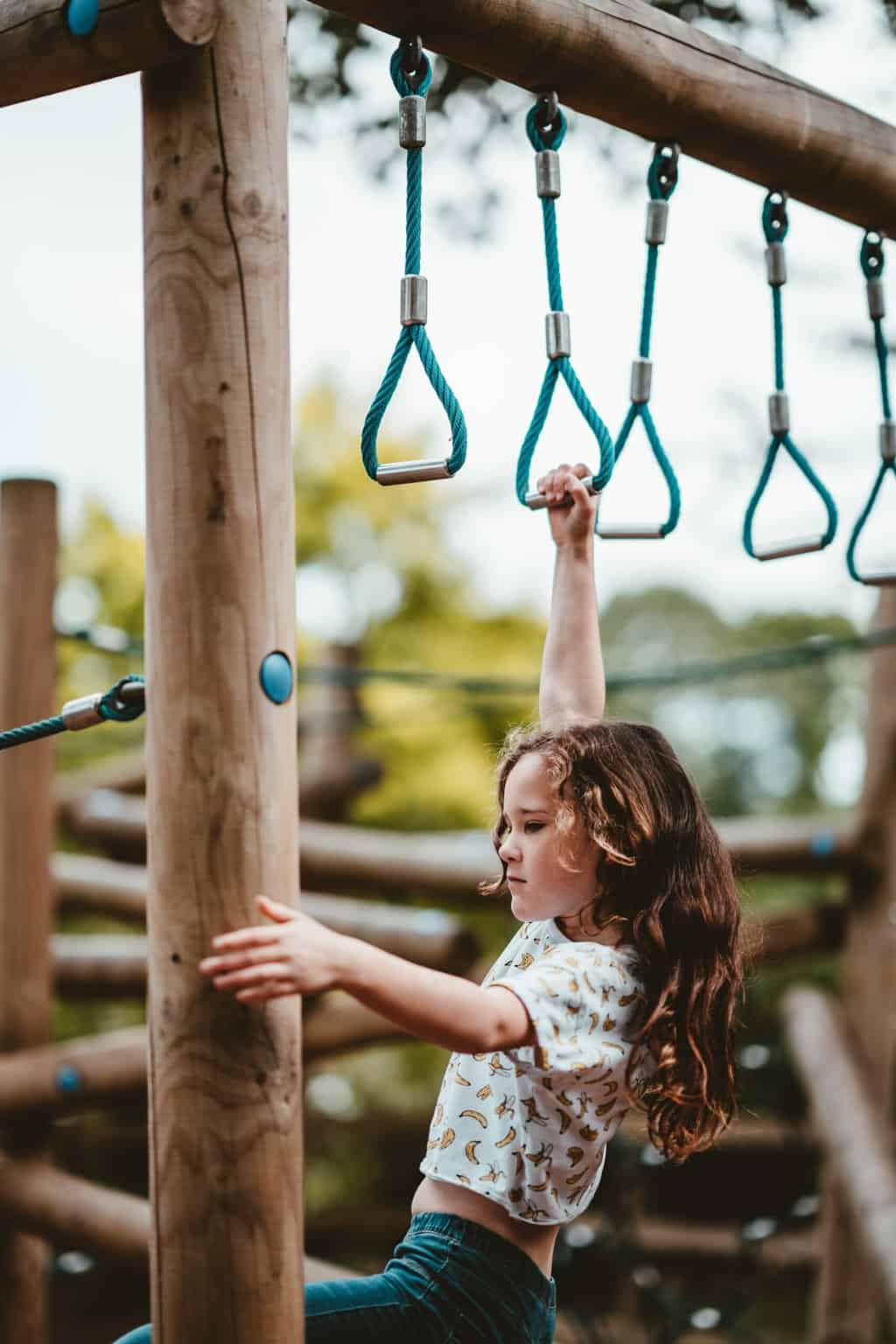 Do you live in a corrosive environment to most materials (like marine and coastal environments?) Then you'll need porch swing hanging kits constructed from materials unlikely to rust. This can be nylon, aluminum, or stainless steel. More on this in the next section.
A Sufficient Weight Limit
As noted earlier, a hanging kit's weight limit isn't everything, but it indeed ensures everyone's safety and peace of mind. The weight restriction on a regular porch swing hanging kit can range between 400 and 1400 pounds.
Sturdiness & Durability
If you are hanging a porch swing for adults, the hanging kit you pick must be sufficiently solid. Swing hanging kits made from sturdy materials will last longer, and you'll never have to worry about breakdowns.
Aesthetics
Last, but by no means least, is aesthetics. Most of the best porch swing hanging kits retail in multiple colors and styles. Therefore, don't pick the first option you come across when you can find better matches for your porch's décor.
See also: Best Farmhouse Porch Swing Ideas
Dos and Don'ts for Hanging a Porch Swing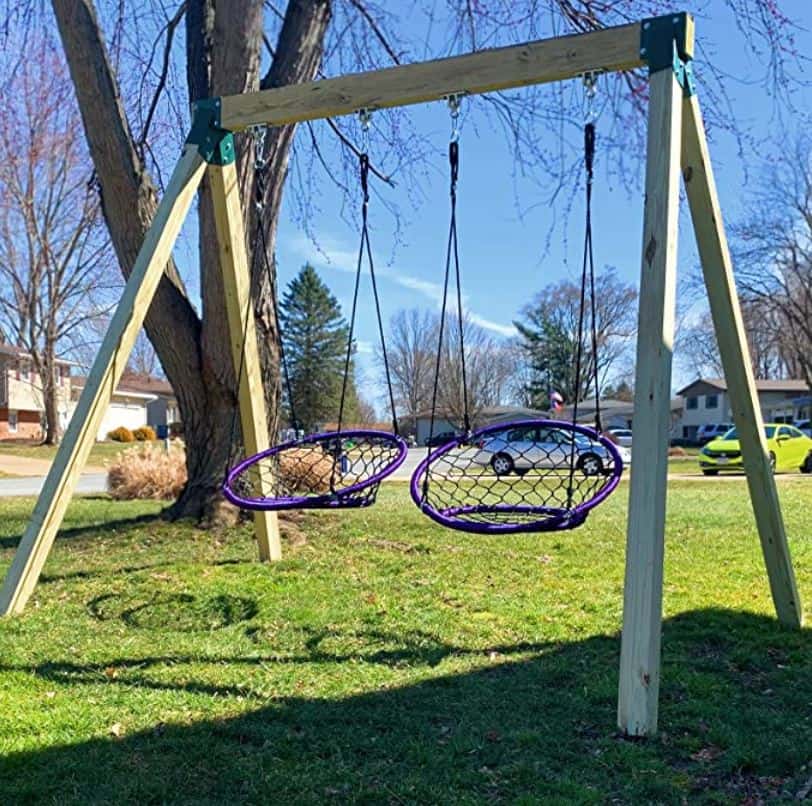 Here are some dos and don'ts of hanging porch swings that'll help you avoid any unfortunate mishaps in the future. These ideas ensure durability and comfort as well.
Do Think About the View
The view is, without a doubt, one of the most important reasons you decided to install a porch swing. Therefore, you'll need to consider the swing's orientation before hanging it carefully.
Here is a pro tip: Place a chair where you intend to hang the swig. This will help you know if you'll love its view once it's mounted. Turn the porch swing perpendicular to the street to create a bit more privacy when your porch is exposed.
Do Confirm Your Home's Ceiling Can Handle the Load
I hate bringing this up, but we, human beings, are heavy. Porch swings are also quite having, depending on what they're made out of. After hanging the swing, we're talking about hundreds of pounds hanging from your porch's ceiling.
What does all this mean? You'll need to be cautious and confirm that you're hanging the swing on a spot that can handle the weight.
Determining whether your porch's ceiling can handle a swing is easy. Simply examine its beams and joints. Generally, a 2X8 or 2X6 joint will support the weight without needing extra support.
See also: Best Porch Design Ideas For A Welcoming Home
Pick the Right Hanging Material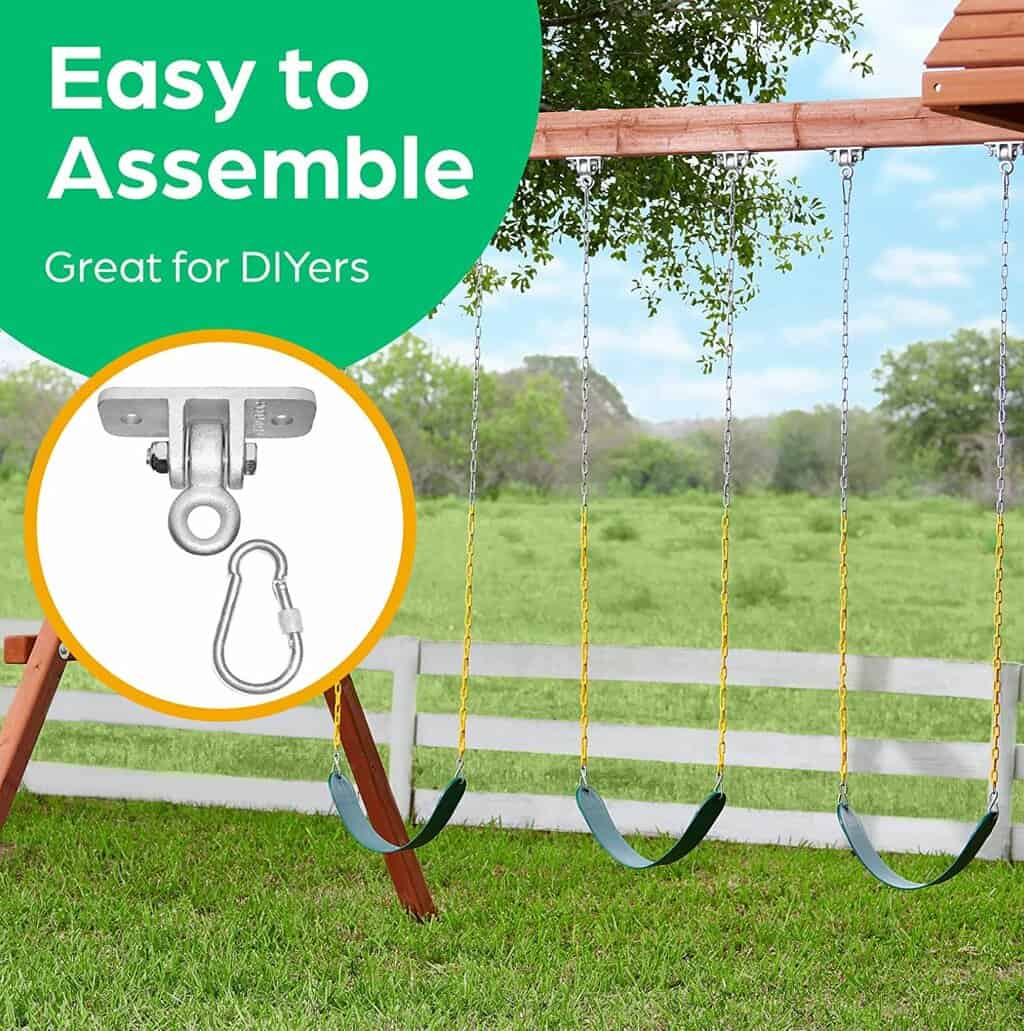 Typically, you'll suspend your porch swing by ropes or chains included with your purchase. Steel chains are the most popular, thanks to their durability and weather/rust-resistant nature. That said, a rope also adds a down-home appeal with its natural fibers.
If you'd like to use rope instead, go for Manila hemp ropes designed for maritime applications. The rope should be at least ¾ inches thick to ensure outstanding durability.
Marine-grade polyester or braided nylon ropes also provide long-lasting durability and outstanding strength.
Let Professionals Handle It
Chances are you're 100% capable of handling every porch swing installation needs yourself. That said, for safety purposes, it's still worth considering if the swing's retailer offers professional assembly and hanging services.
Further Inspection
Moving forward, you'll need to ensure you maintain your swing by both manual and visual inspections. Some porch swing hardware tends to loosen up or rust over time, so these bi-annual inspections should help avert any accidents.
If any hanging component looks worn out during your inspection, replace it immediately.
Don't Place the Swing Too Close to a Wall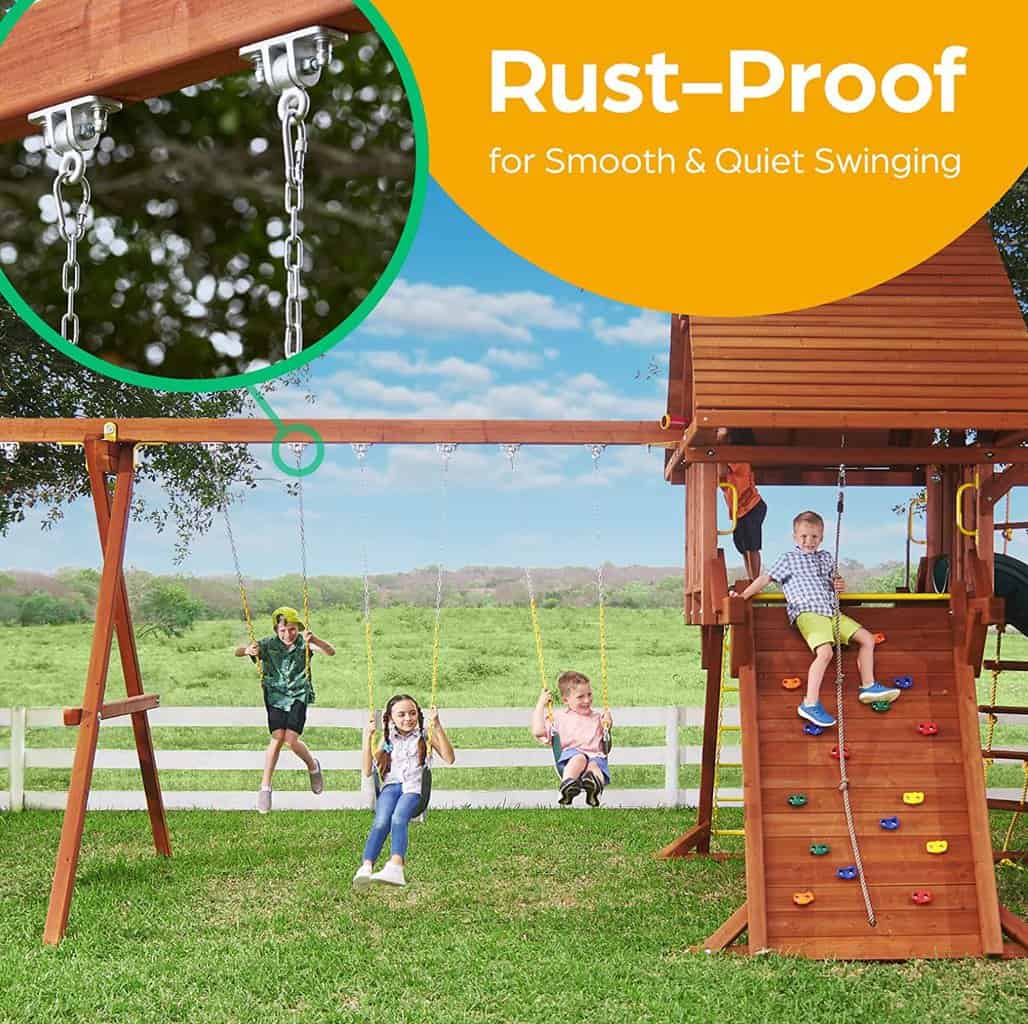 Ensure the spot you pick to hang your swing allows the swing to rock back and forth freely. Allow for three to four feet of swinging arcs behind and in front of the swing.
It's also advisable to leave at least two feet of free spade on either side of the swing. These should accommodate any side-to-side motions of the swing and allow you to walk around it.
Don't Mismatch the Rope/Chain's Length
Only a few things are as frustrating as spending hours installing a porch swing only for it to turn out crooked. The two leading causes of uneven porch swings are chains/ropes not set to the same length and twisted swing frames.
Unfortunately, there are no solutions for fixing a porch swing with a crooked swing frame. All you can do is either accept to deal with the tilt for the foreseeable future or get a new one.
Is the frame in perfect shape, but do you doubt you can accurately set the chains to the same length? Get a porch swing that comes ready to be installed. These usually retail with the ropes/chains already set to an equal length.
Don't Screw the Bolts to the Middle of the Swing
Ever heard of porch swings flipping over and hurting people? To prevent this in your household, ensure the rope/chain is attached to the porch swing's front r the bottom. Never attach them to the middle or back.
Hanging Spot
Never install your porch swing's supports in something as flimsy as a beadboard or plywood.
How Much Room Do You Need for A Porch Swing?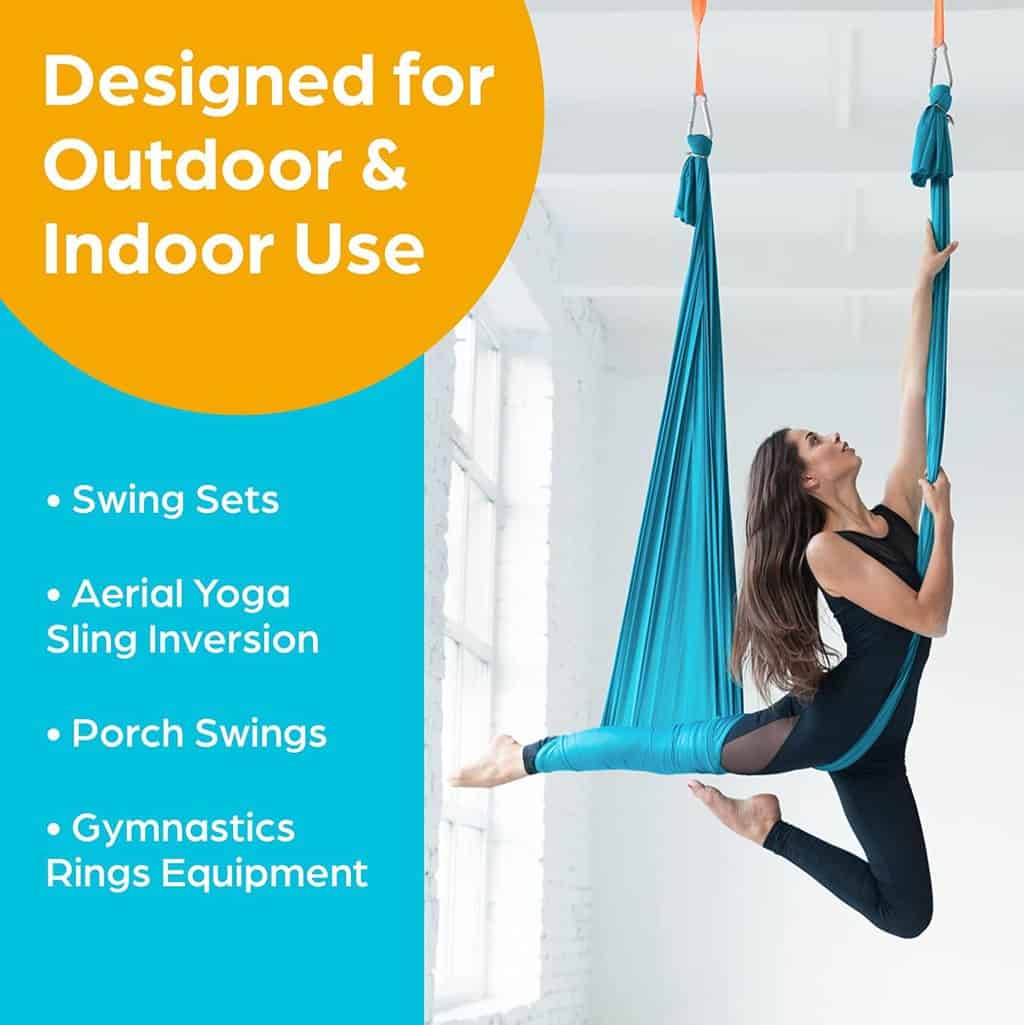 To calculate this, start by determining your porch's length, width, and height (also referred to as depth.) As a general rule of thumb, a 4 to 5 feet deep porch is considered too small. It's not even big enough to accommodate any substantial furnishings or gatherings.
An average-sized front porch will usually have a minimum depth of 6 feet. This is large enough to accommodate potted plants and a moderately sized sitting area.
You'll need a minimum depth of 8 to 10 feet to have a magazine-worthy front porch complete with a porch swing.
Next, pick a porch swing whose dimensions work best with your large porch.
Best Porch Swing Hanging Kits
Now, let's cut into the heart of the topic. Here is a selection of the best porch swing hanging kits you can pick from.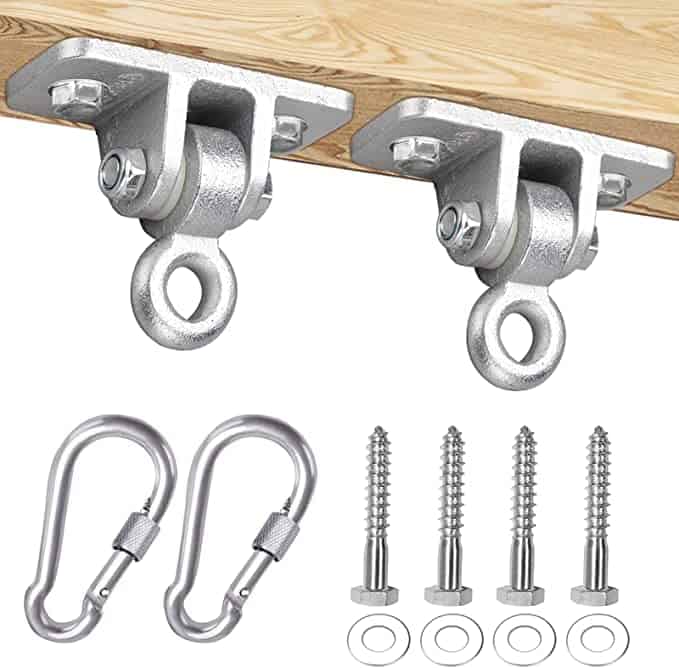 Take a trip worldwide, and I promise you'll find these Betooll Swing Hangers on thousands of porches. These hangers can support up to 2400 pounds. That said, Betooll, the manufacturer, recommends it's best never to go over 2000 pounds (I doubt you'll ever need to.)
Price Range: $23-$40
Weight Limit: 2400 pounds
Rust Proof: Yes
Additional features that have earned these hangers thousands of excellent reviews include its ease of installation, durability, and quality build. The kit's metal doesn't rub at all, and its industrial plastic washers provide quiet, smooth rides.
Pros
Lightweight
Strong build
Easy to install
Retails in multiple colors and designs
Weather-resistant
Quiet
Cons
Mounting bolts not included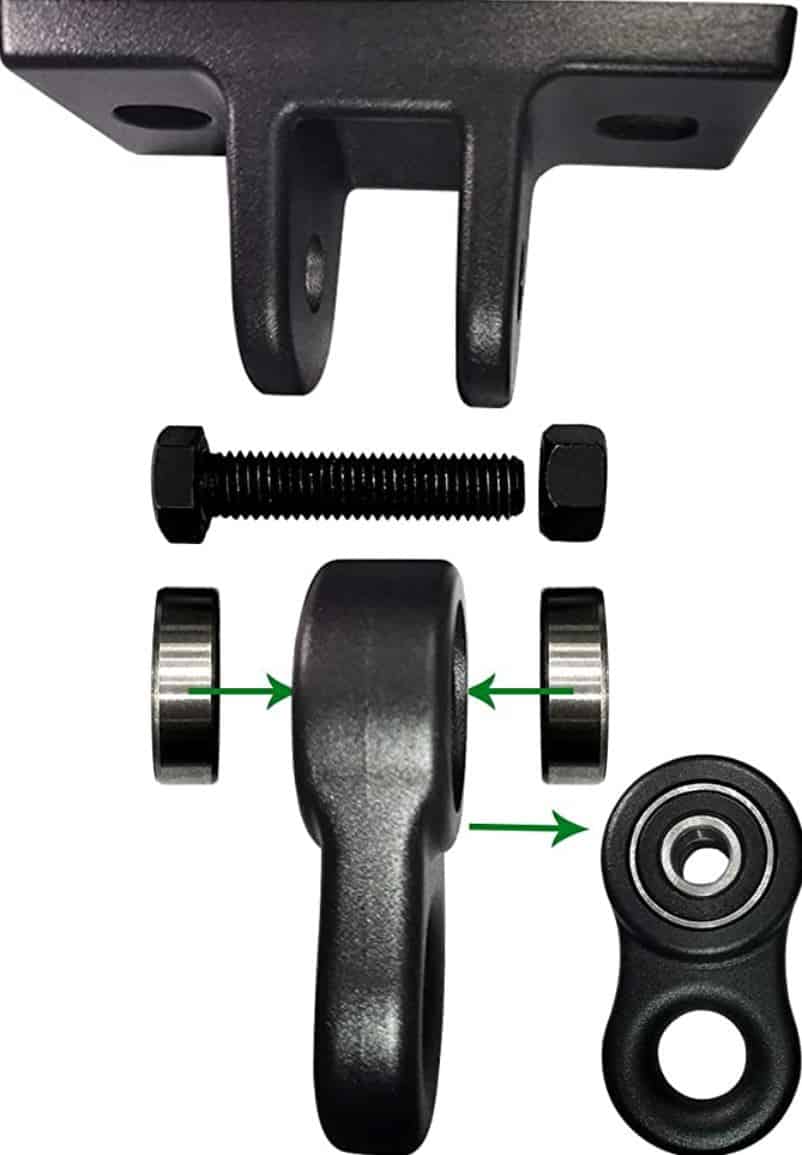 Are the Betooll swing hangers not sufficiently heavy-duty to your liking? These Abusa Heavy Duty Swing Hangers could be what you're looking for. These masterpieces have a weight capacity of over 5,000 pounds, making them the best heavy-duty hanging kits.
Price Range: $25-$42
Weight Limit: 5000 pounds
Rust Proof: Yes
What's more? Abusa Heavy Duty Swing Hangers are made of premium aluminum alloy, which is rust-free and retails in several shades. Pick a shade you feel will best suit your home's or porch's décor. These hangers will also rotate quietly and smoothly with no squeaking.
Pros
100% money-back refund if not satisfied
Versatile
Easy to install
Reliable build quality
Durable
Very heavy-duty
Cons
Bolts included in the package are fragile (buy separately)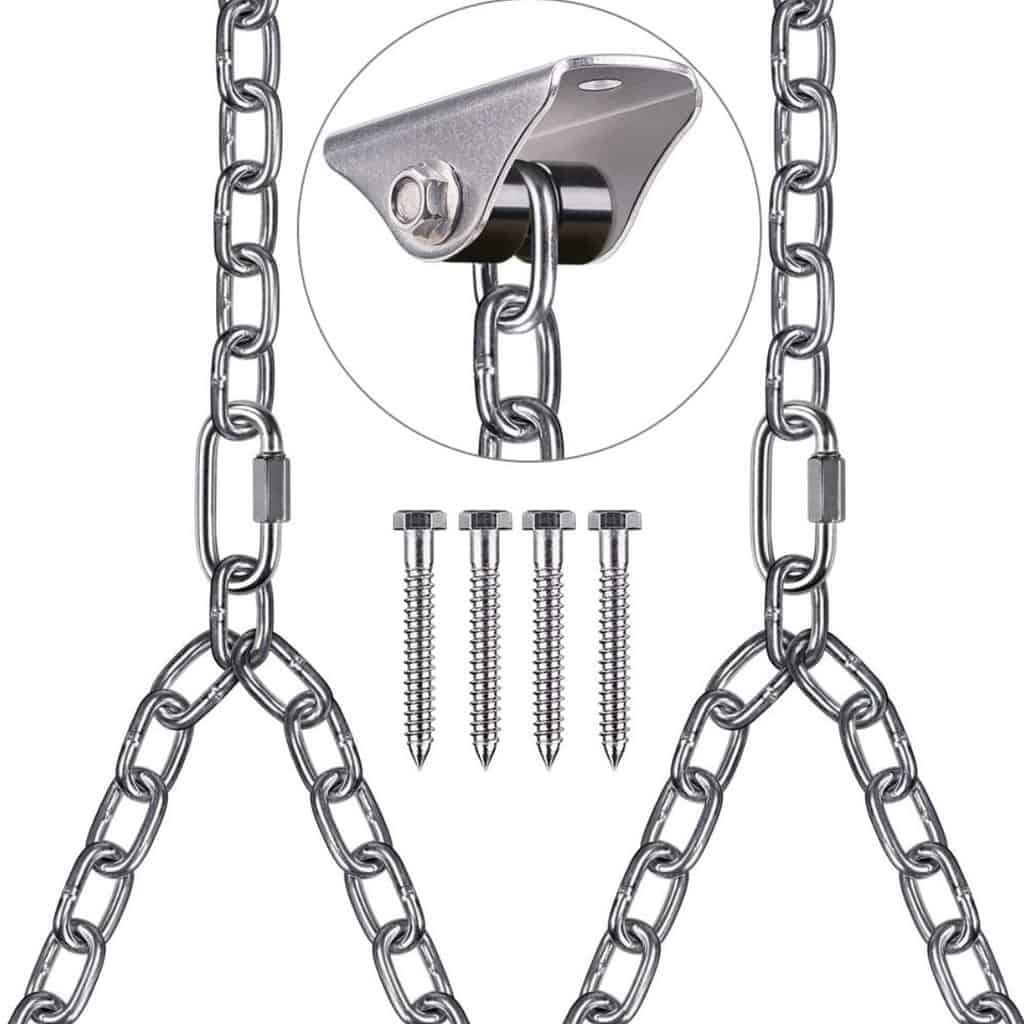 I love guarantees. So, the fact this Besthouse Heavy Duty Hanging Chain Kit retails with a 30-day guarantee sold it for me. If for some reason, you're dissatisfied with this hanging kit, Besthouse allows you to return it for a full refund.
Price Range: $45-$75
Weight Limit: 1000 pounds
Rust Proof: Yes
Also, do you live in a highly corrosive environment, and corrosion resistance in a hanging kit is essential to you? Besthouse Heavy Duty Hanging Chain Kit has still got you covered. These chains are suitable for any scene and will hold up to 1000 pounds.
Pros
Corrosion-resistant
Easy to install
30-day money-back guarantee
Durable
Quiet action
Cons
Mounting hardware not included
Pretty simple and straightforward to install, these Jungle Gym Kingdom Swing Set Hangers are the best versatile hanging kits today. In addition to your porch swing, you can use these hangers for your toddler's swing sets, gymnastic rings, and more.
Price Range: $35-$50
Weight Limit: 2400 pounds
Rust Proof: Yes
Jungle Gym has also designed this hanging kit in a manner that prevents metal rubbing for smooth swing rides. This includes even when you max out the Swing Set Hangers' 2400-pound weight capacity.
Pros
Multi-use
Durable
Heavy duty
Easy to assemble and put up
Vinyl washers provide smooth, seamless swinging
Affordable
Cons
No installation instructions included
Mounting hardware not included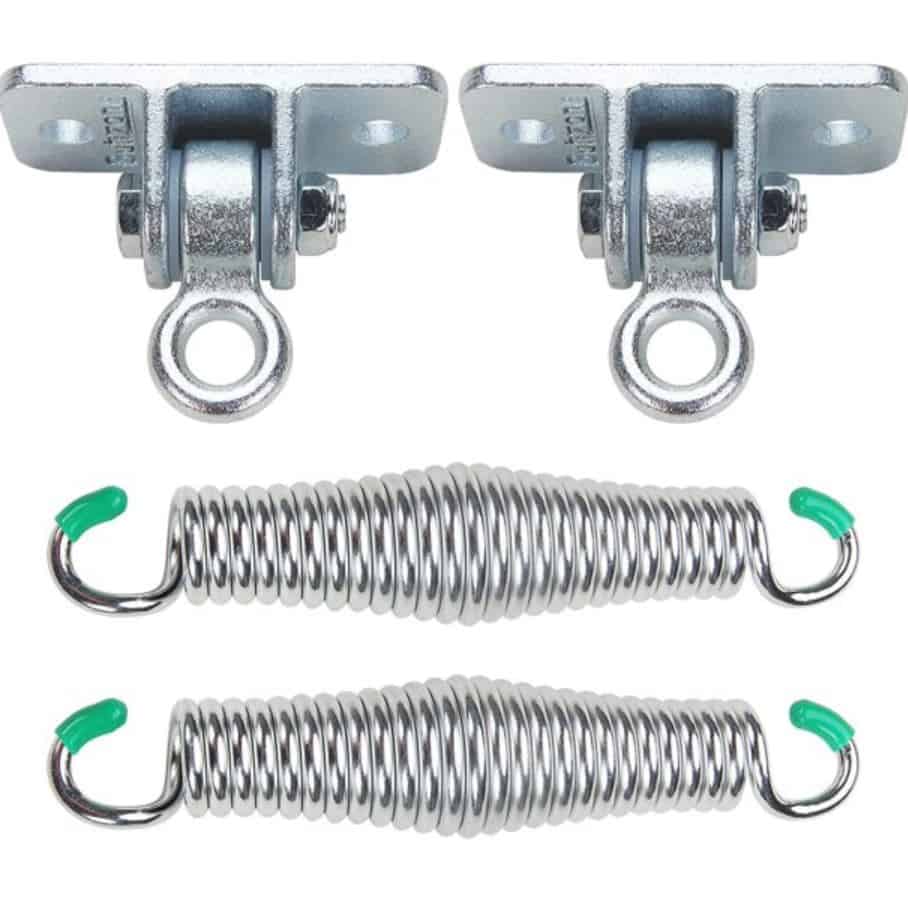 For another versatile option in our detailed list, consider the Butizone Porch Swing Hanging Kit. This set is excellent for use with porch swings as well as hammock chairs, children's swing sets, and more. Its use cases will depend on the weight and style of the swing in question.
Price Range: $30-$36
Weight Limit: 700 pounds
Rust Proof: Yes
If you have issues while installing these Butizone Porch Swing Hanging Kit, reach out to the company. They'll respond with a solution ASAP.
Pros
Responsive customer service
Quiet and smooth swinging
Made of premium material
Wide application
100% satisfaction guaranteed
Easy to install
Cons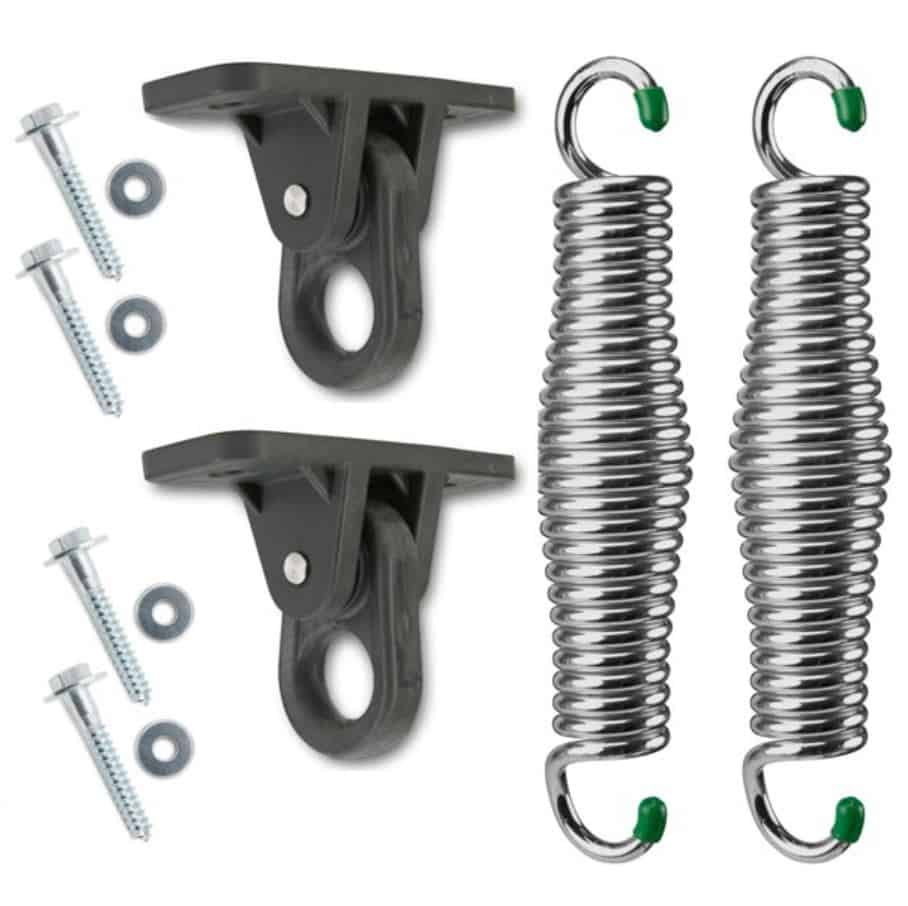 With the Levi Innovations Porch Swing Hanging Kit, you can ensure plenty of security and safety when hanging your swing. The hangers are made with extremely strong, glass-reinforced, military-grade nylon and are rated to hold up to 1500lbs.
Price Range: $50-$60
Weight Limit: 1500 pounds
Rust Proof: Yes
Levi Innovations have also introduced a unique suspension system with this hanging kit. The elasticity mechanism allows for the same elasticity for both children and adults. This ensures hours of swinging pleasure in silence.
Pros
High-quality build
Installation instructions included in the package
Tightly coiled for shock absorption
Weather-resistant
Protects the overhead support
Can withstand wear and tear
Cons
The actual bracket is plastic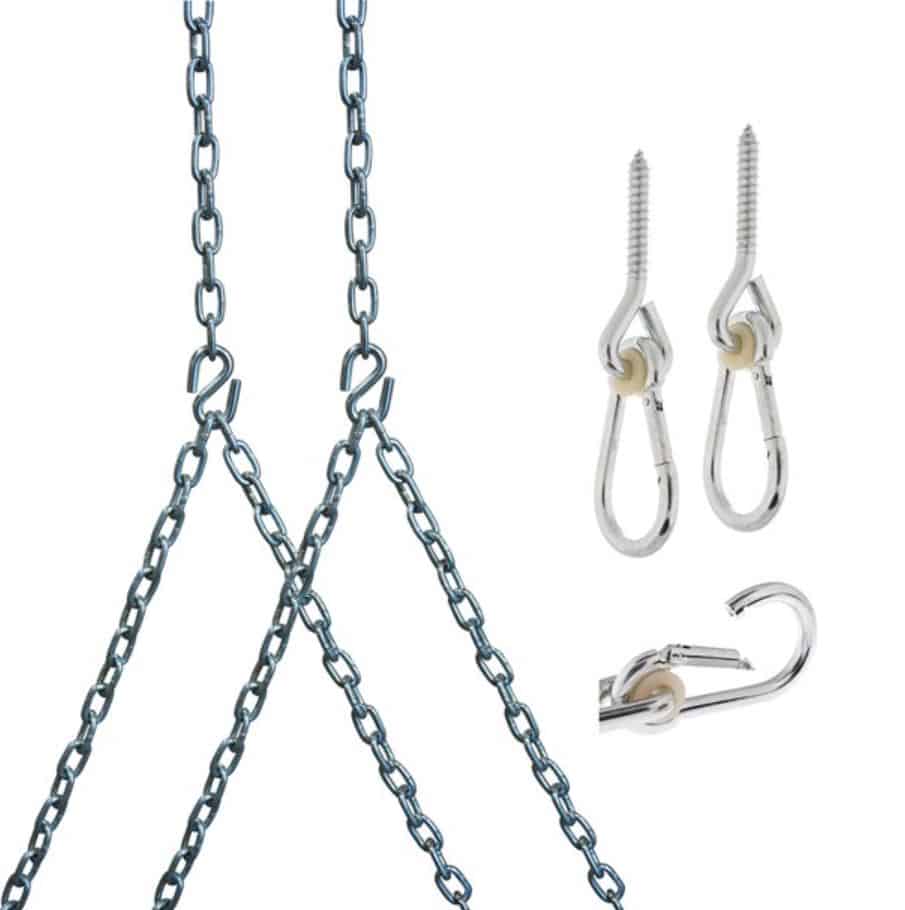 This zinc plated porch swing hanging kit from Barn-Shed-Play retails in two distinct sizes. It can accommodate swings in either 8- or 10-feet high ceilings. It also retails with a snap hook and two swing swivel lags to help attach it to the chains.
Price Range: $40-$46
Weight Limit: 700 pounds
Rust Proof: Yes
The chain kit's weight capacity is 700 pounds. You'll also find neoprene washers on the ceiling hooks in the package. These are there to prevent metal-to-metal contact, which could, in turn, result in annoying noises.
Pros
It has a metal frame
Easy to install
Silent
Durable
Sturdy build
Cons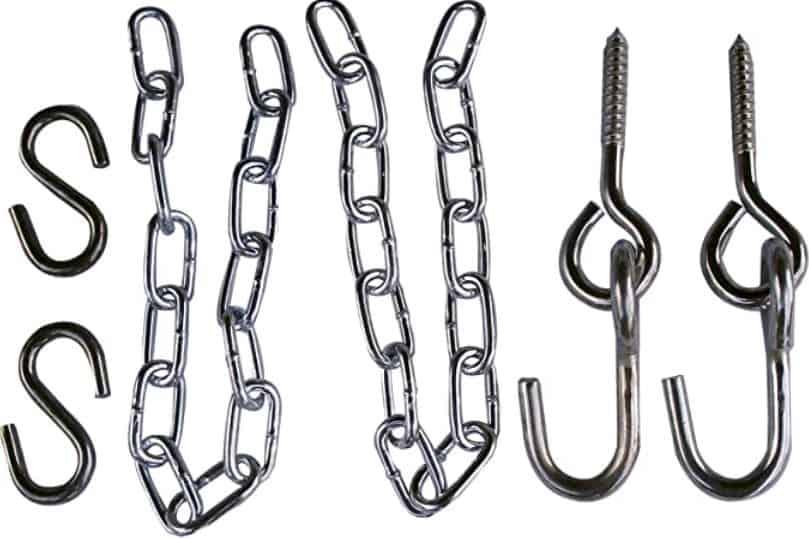 This heavy-duty Vivere Chain Hammock Hanging Chain Kit wasn't created for use on porch swings. It was designed for hanging hammocks from wooden posts and trees.
Price Range: $10-$15
Weight Limit: 450 pounds
Rust Proof: Yes
That said, thousands of people have tried using the kit for swing hanging. Even more surprising, none of them have had negative things to say about the kit's reliability and functionality. Regarding capacity, Vivere Chain Hammock Hanging Chain Kit can hold up to 450 pounds.
Pros
Zinc coated to withstand the elements
Durable and sturdy
Easy to install
Extremely versatile
Long-chain
Cons
Chain too long for some people
S hooks aren't detachable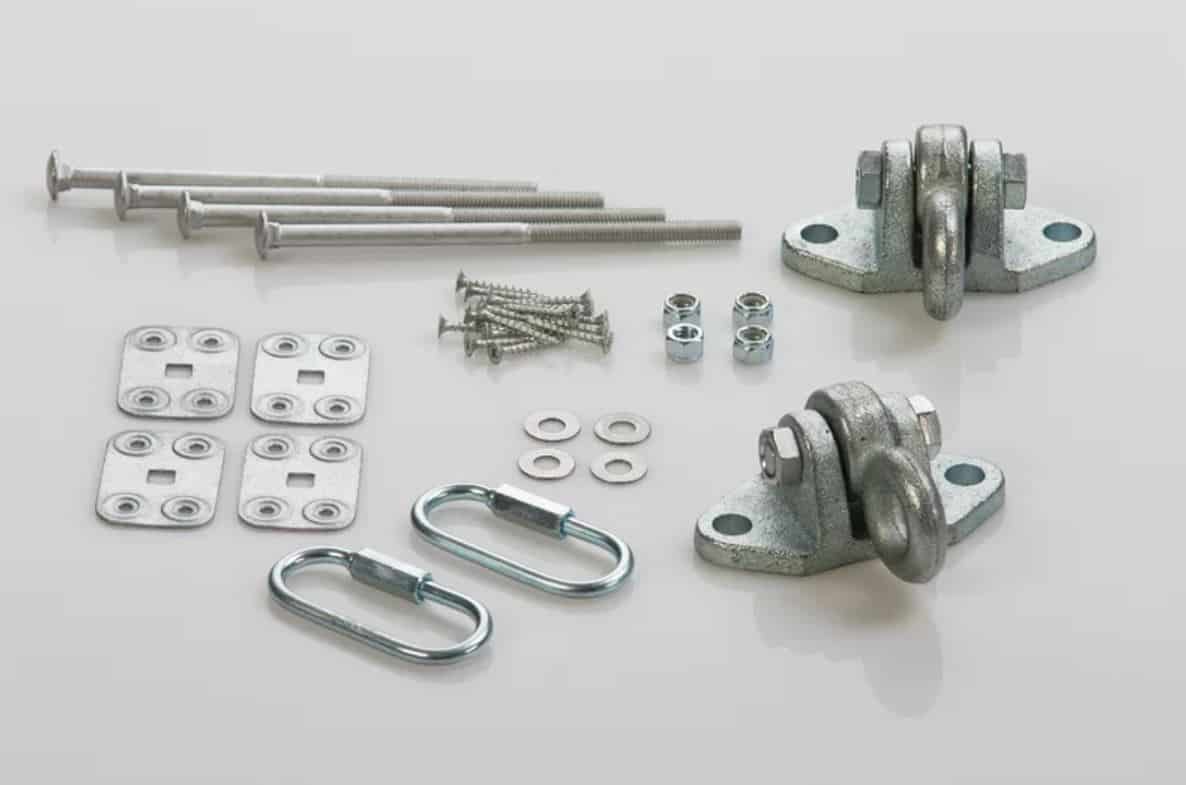 Remember the perfect weight-strength balance we talked about earlier in this guide? These Creative Cedar Metal Swing Hangers deliver just that. It's got a weight capacity of up to 250 pounds, so these hangers will reduce any bumpiness/shocks your swing experiences.
Price Range: $25-$50
Weight Limit: 250 pounds
Rust Proof: Yes
Best of all, when installed, these Creative Cedar Metal Swing Hangers are fray, scratch, chip, warp, rust, and water-resistant.
Pros
Weather & water-resistant
Warranty included
Backed by a 1-year warranty
Easy to install yourself
Intended for children
Exceeds ASTM safety standard
Cons
Low weight capacity
Squeak when in motion
FAQ
These are common questions related to the best porch swing hanging kits. If you've got questions you'd like answered, leave them in the comment section below.
Question: What Kind of Chain Do I Need to Hang a Porch Swing?
Answer: The most popular chains used to hang porch swings are steel chains. Reasons they're popular include their rugged durability and the fact they're zinc plated or galvanized for weather and rust resistance.
Question: What's the Best Way to Hang a Porch Swing?
Answer: The best way to hang porch swings will vary from one swing to another. The manual that came with your swing should provide adequate installation instructions for the specific model you purchased.
Question: Can You Hang a Porch Swing From a 2X6?
Answer: Yes, you can safely hang a porch swing from a 2X6 joist without requiring additional bolstering support. Note, though, that support is needed if you'll be working with anything thinner or smaller than a 2X6 joist.
Question: How Much Weight Can a Porch Swing Hold?
Answer: The amount of weight a porch swing can hold will depend on its size. Most average-sized swings can sustain up to 550 pounds of weight. Consider investing in a better-quality chain to improve the weight your swing can hold.
In the End
I've installed my fair share of porch swings back in my Interior Designer days. With all that experience in mind, I finally have recommendations about the best swing hanging kits you should pick. I hope the list has helped you find the right set for your needs. Did you find one that works for you? I recommend the Abusa Heavy Duty Swing Hangers if you're worried about weight capacity. And for more great recs like this, check out our site!
Recommended Reads: