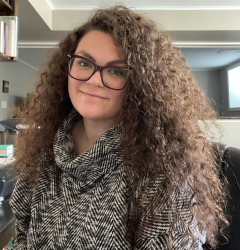 Latest posts by Candace Osmond
(see all)
What could be more calming than reading a book from your sun porch on a July evening? I'm going to guess you're a homeowner that's been weighing your options when it comes to acquiring a sunporch. Sun Porches offer the perfect space for peaceful alone time, family time, or hosting parties with friends.
In my guide, you'll find 21 different ideas for the best sun porch ideas in a variety of styles. I'll offer insight into the pros and cons of owning a sunporch and talk about the uses of owning one. Let's get started!
Bottom Line Upfront
I just love the look and vibe of the Small and Lively Sun Porch idea because I tend to go for quaint and cozy. I can just picture myself curled up with my morning coffee while the world wakes up around me.
Top 3 Picks
Before I give you a quick definition of what sun porches are, let's look at these 3 examples. These are top-notch sun porches from the list of the best sun porch ideas I'll show you below. It doesn't matter if you have a large or small amount of space to work with, these pictures will give you the inspiration to design a sun porch that fits your style.
Best Small Sun Porch: Small and Lively Sun Porch
Best Large Sun Porch: Sunporch Idea for Tall Ceilings
21 of the Best Sun Porch Ideas
Let's get into it! These are the 21 best sun porch ideas. If you appreciate sophisticated modern style, charming rustic style, elegant traditional style, and other popular home themes, you're sure to find a sunporch in this list that fits with your home. By adding your own creative touches when it comes to the room décor, you can take inspiration from these pictures to make a sun porch that's entirely your own!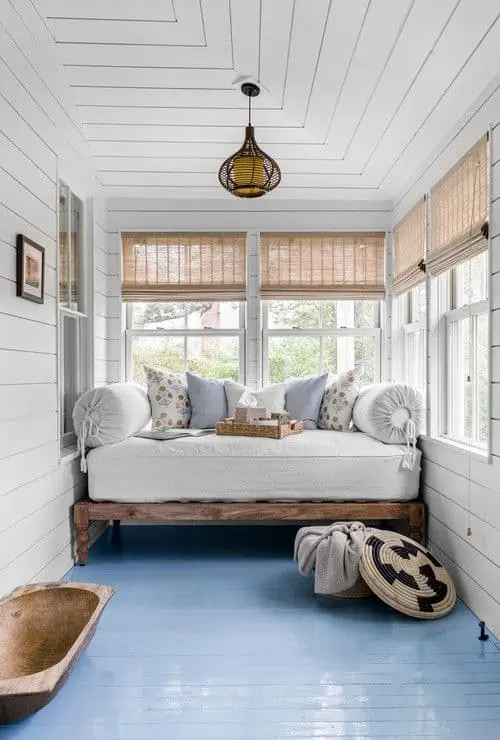 How nice and cozy, I just adore this space! This sunporch has a calming, comfortable color scheme-white, light brown, and blue. The way Town and Country Living painted the floors blue provides a beautiful and bold pop of color.
Small details like the natural wood furniture and white linen drawstring bags as couch arms bring this look back down to earth. With touches of modernity and traditional style, this sun porch demonstrates the best of both worlds.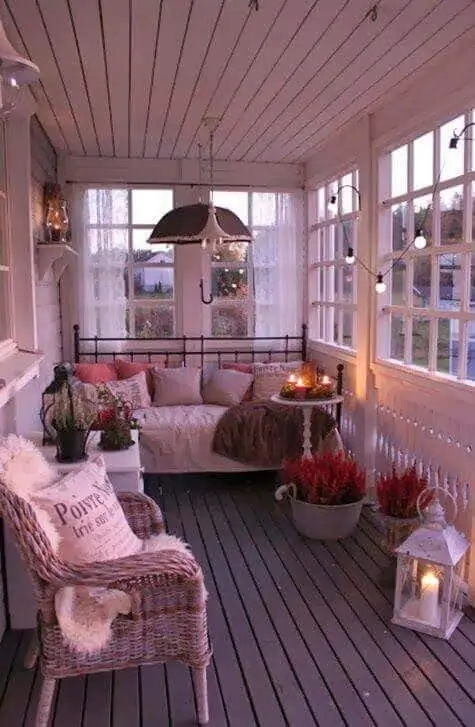 Pink, cream, light brown, and dark brass are such a romantic combination. Adding fairy lights, candles, and other whimsical decorations gives your sun porch an enchanting style. Ah, this is perfect for all of us who love every room to have a gorgeous feminine glow!
I recommend you make sure to add some extra fluffy pillows and blankets in with all the rest to make the space feel extra cozy. Placing potted flowers on the floor and furniture brings life into the sun porch.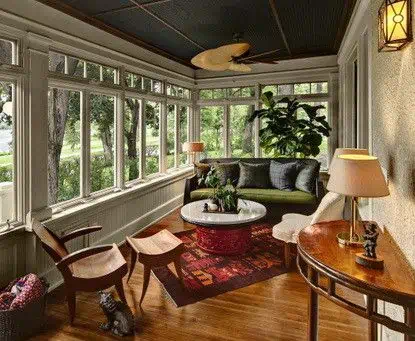 Whoa, this is the sun porch of a CEO! Talk about swanky. If you have a large sun porch and need inspiration for a luxurious look, check out this idea. The warm browns, deep reds, other dark colors, and gold create the perfect color scheme for classic elegance.
The windows are framed with pillar-like panes, and details like these give this sun porch elevated style. It's hard to find a sun porch with a richer yet relaxed look than this one.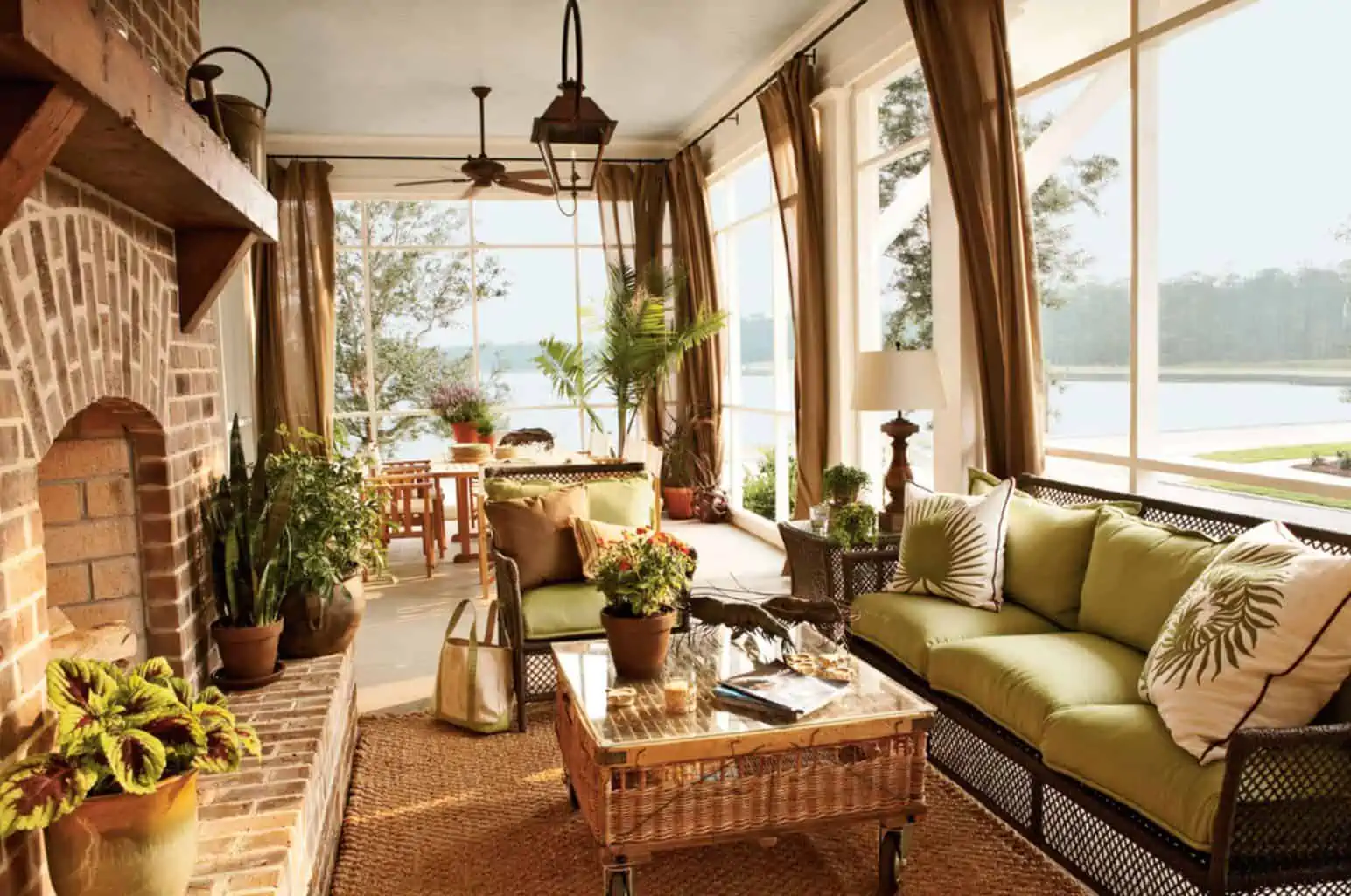 I recommend you try out colors like warm brown, beige, natural green, and cream if you want your sun porch to have a naturalistic aesthetic. The great thing about sun porches is that, well, they let in lots of sunlight! That means all kinds of plants can live in your sun porch and take in the proper amount of light. Succulents and other house plants look stunning in a room with warm, earthy tones like this one has.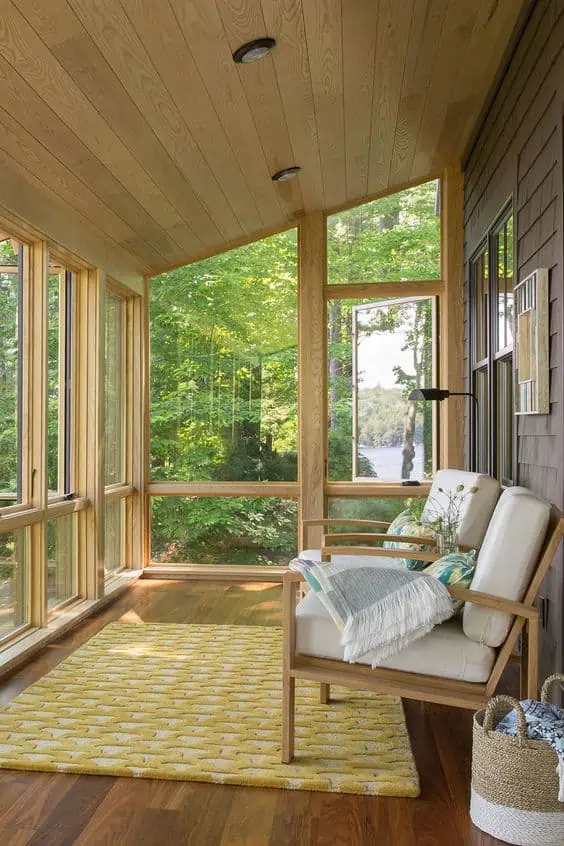 How contemporary! If you're a fan of contemporary style, look at how this beige and gray sun porch with touches of yellow and blue stands out. By keeping the color scheme of the walls, flooring, and big furniture pieces neutral, you can go bold with the décor. Add a yellow rug plus blue and yellow pillows to give your outdoor-yet-indoor paradise personality.
See also: Best Farmhouse Porch Swing Ideas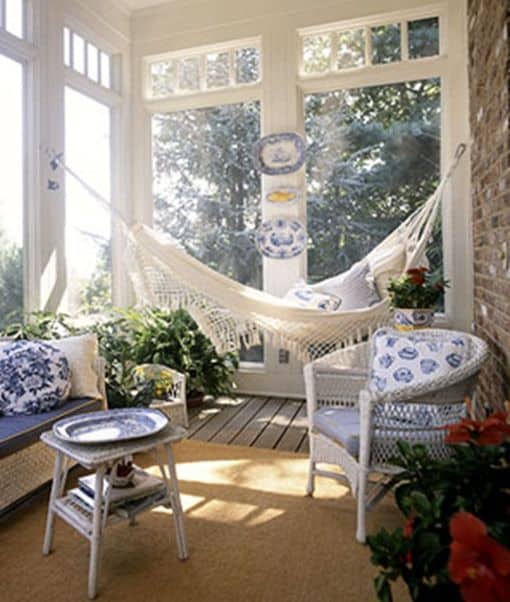 Ahh, blue is so in this year, and this sun porch makes it easy to see why. You can't go wrong with blue, white, and brown. Royal blue that reminds me of the blue you see on fancy China dishes adds vibrancy to the pillows, table, and another décor. A white hammock is a centerpiece in this room. How perfect for a sunporch! And I just love the idea of adding a hammock.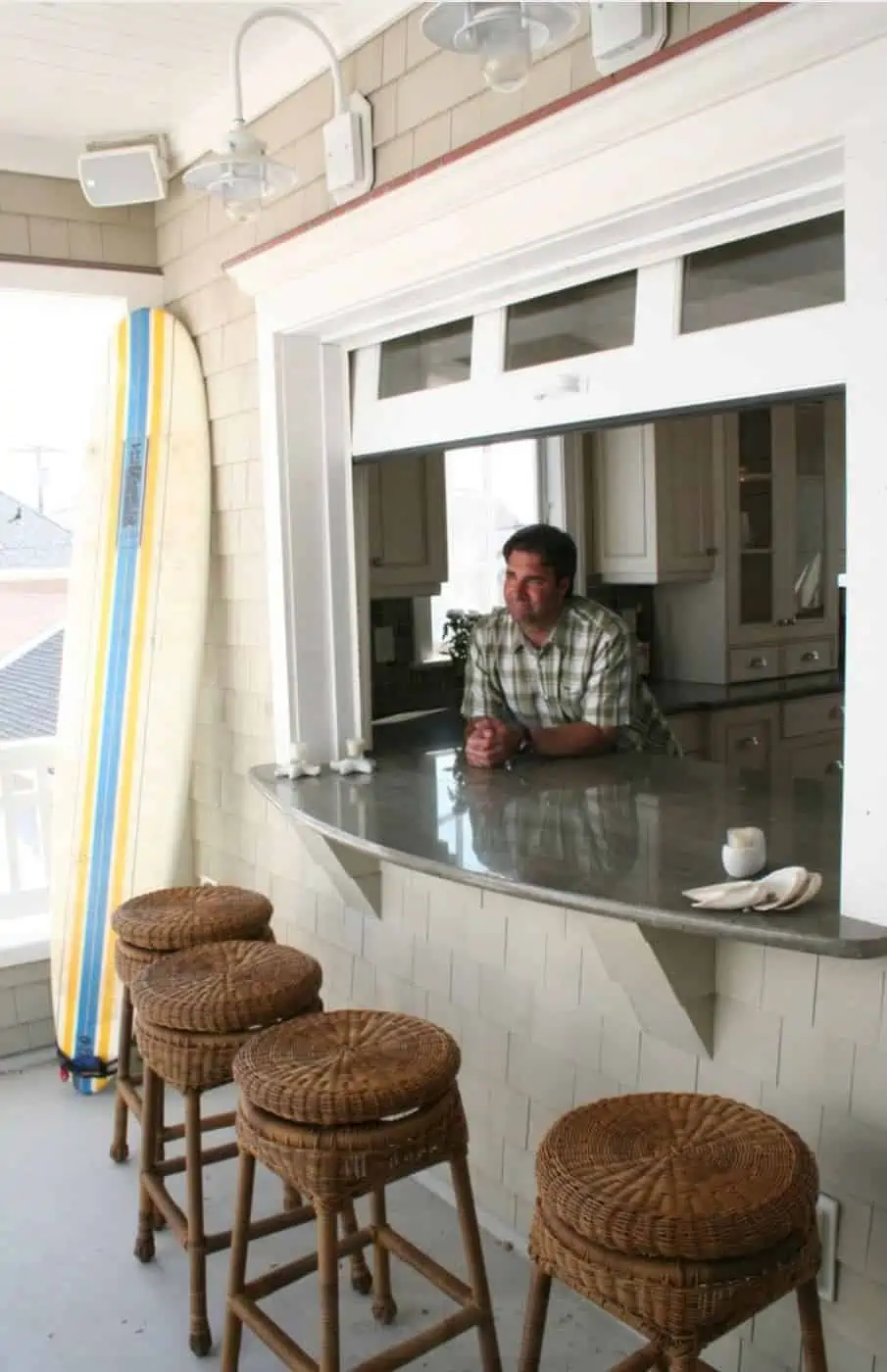 What a genius idea! It honestly looks like something I would have done LOL
A roomy interior window connects the sun porch to the kitchen in this pic by Rice and Brown Architects. An equally spacious counter provides room for you and your guests to rest against as you converse with people in the other room and a space to set food on.
You can add barstools like the ones you see here for entertaining friends, or for yourself and your family all year long. What I love most is how it could easily be used as a buffet area for large family meals.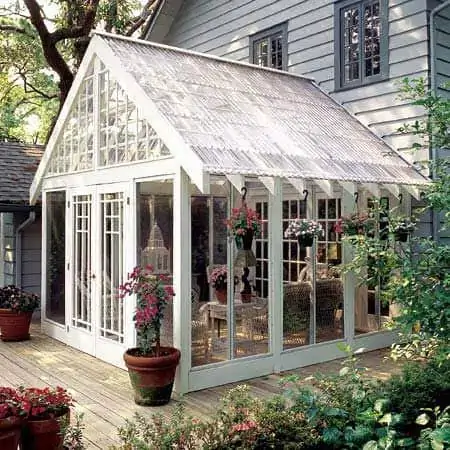 Every flower is right in its place inside and outside of this sun porch. With plentiful flower arrangements, dainty roofing and windows, and vintage-inspired outdoor furniture, your sun porch can look like this one. Even from this shot where we're looking into the sun porch from the outside, you can see the wicker furniture (did you see the wicker birdhouse?) adds elegance to the interior.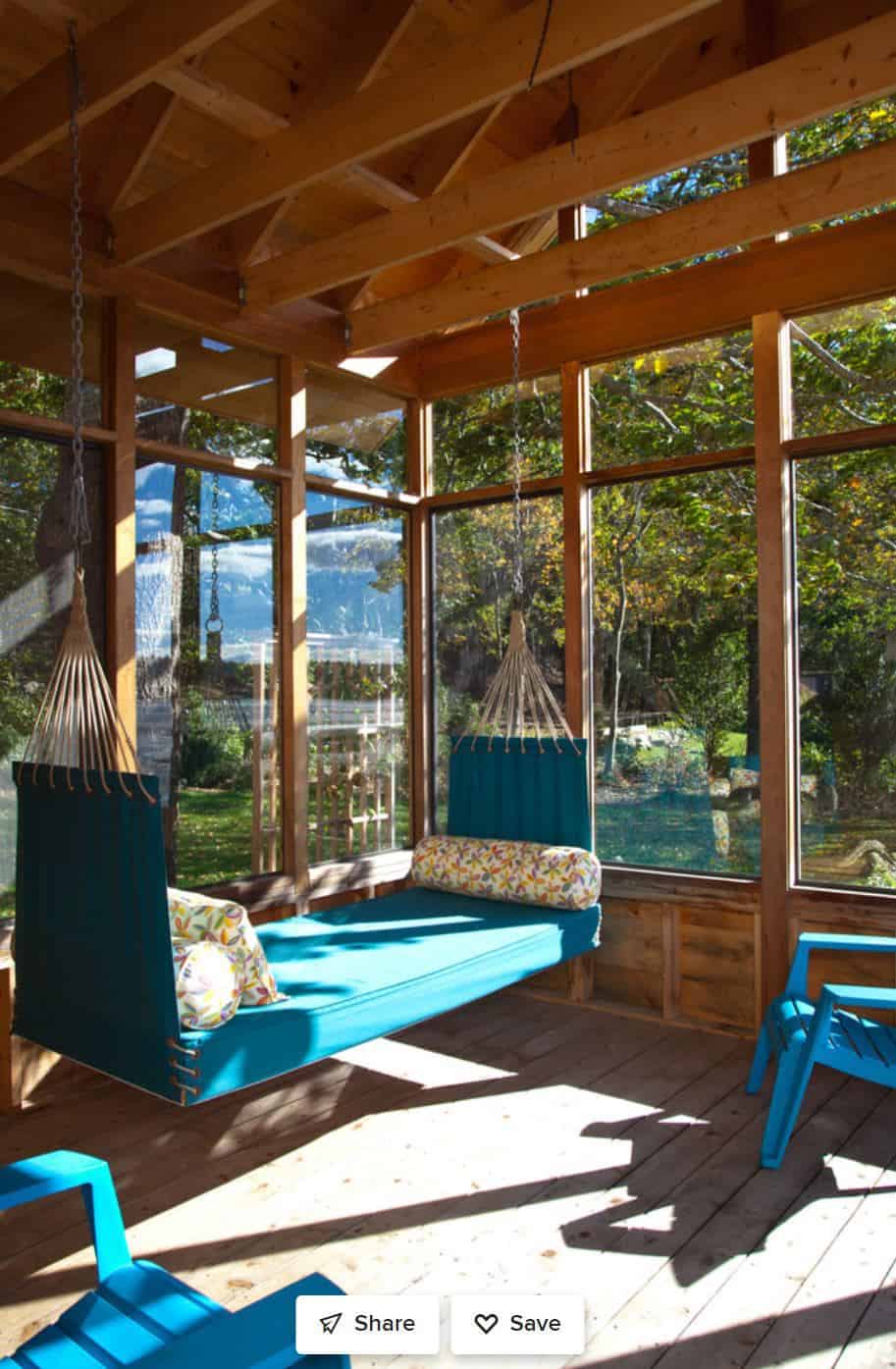 If your sun porch has especially tall ceilings, it can be a neat idea to leave all the rafters showing. This way, you can hang decorations from the rafters if you'd like-fairy lights, pictures, etc. You can see here that a rich blue hammock bed has been hung from the rafters. (Dang it, I'm gonna have to get a hammock this summer, aren't I?) This bed paired with comfortable chairs in a matching blue tone gives you and your guests an ideal place to relax.
See also: How To Find The Best Porch Swing Hanging Kits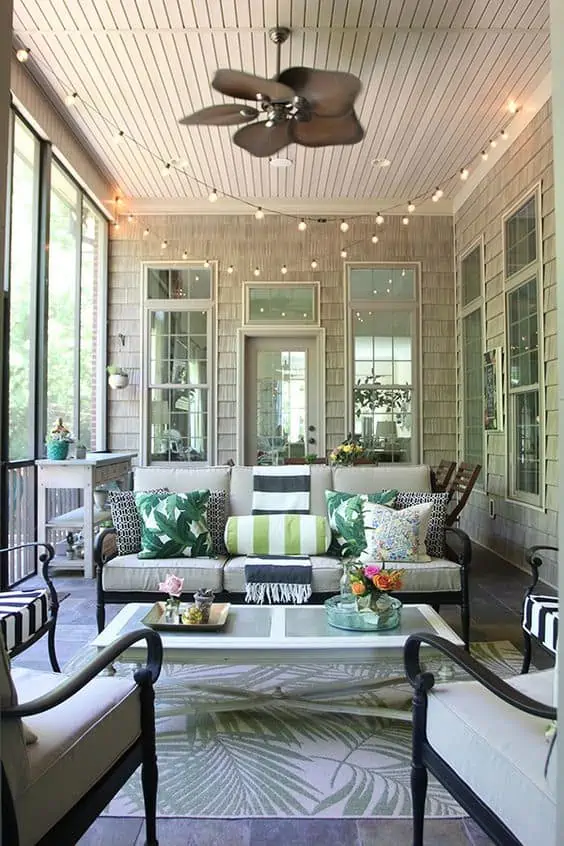 Do you prefer cool tones like me? This sunporch designed by Sou Mission Renovation shows how you can make a space filled with cool tones lively by adding natural greenery.
Warm-colored lights strung above the ceiling give the cool-toned room an illuminating glow that keeps the room from feeling sterile. Black iron furniture frames paired with a mix of light gray and then black and white cushions give you freedom in your décor choices.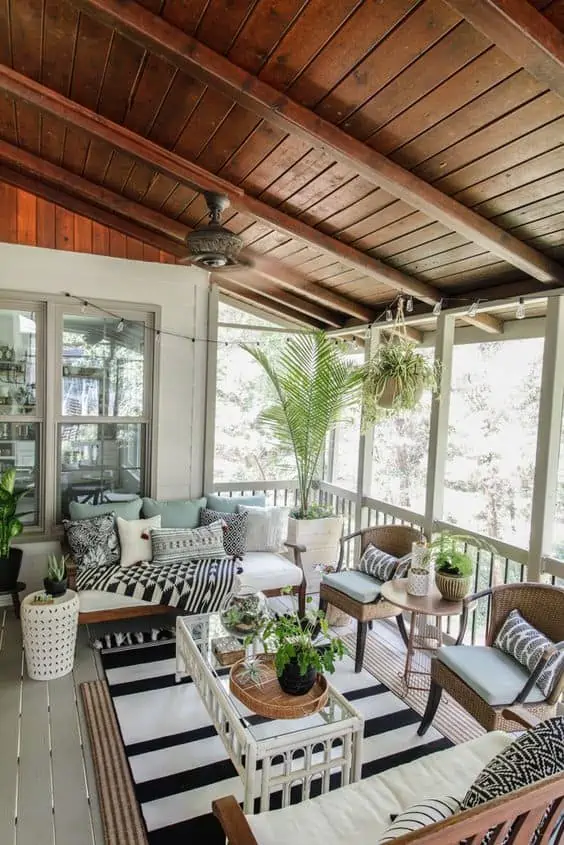 Sigh, I feel super relaxed just looking at this sun porch. There's nothing like black, white, and brown from natural wood to give a room a modern style. To truly embody modernity, make sure to give your sun porch some bold touches like you see the here-the huge fern and the giant striped rug are eye-catching.
Another great idea I see here? Have a fridge built into the side of the sun porch to store all your late afternoon snacks and nighttime beverages! I'd never leave!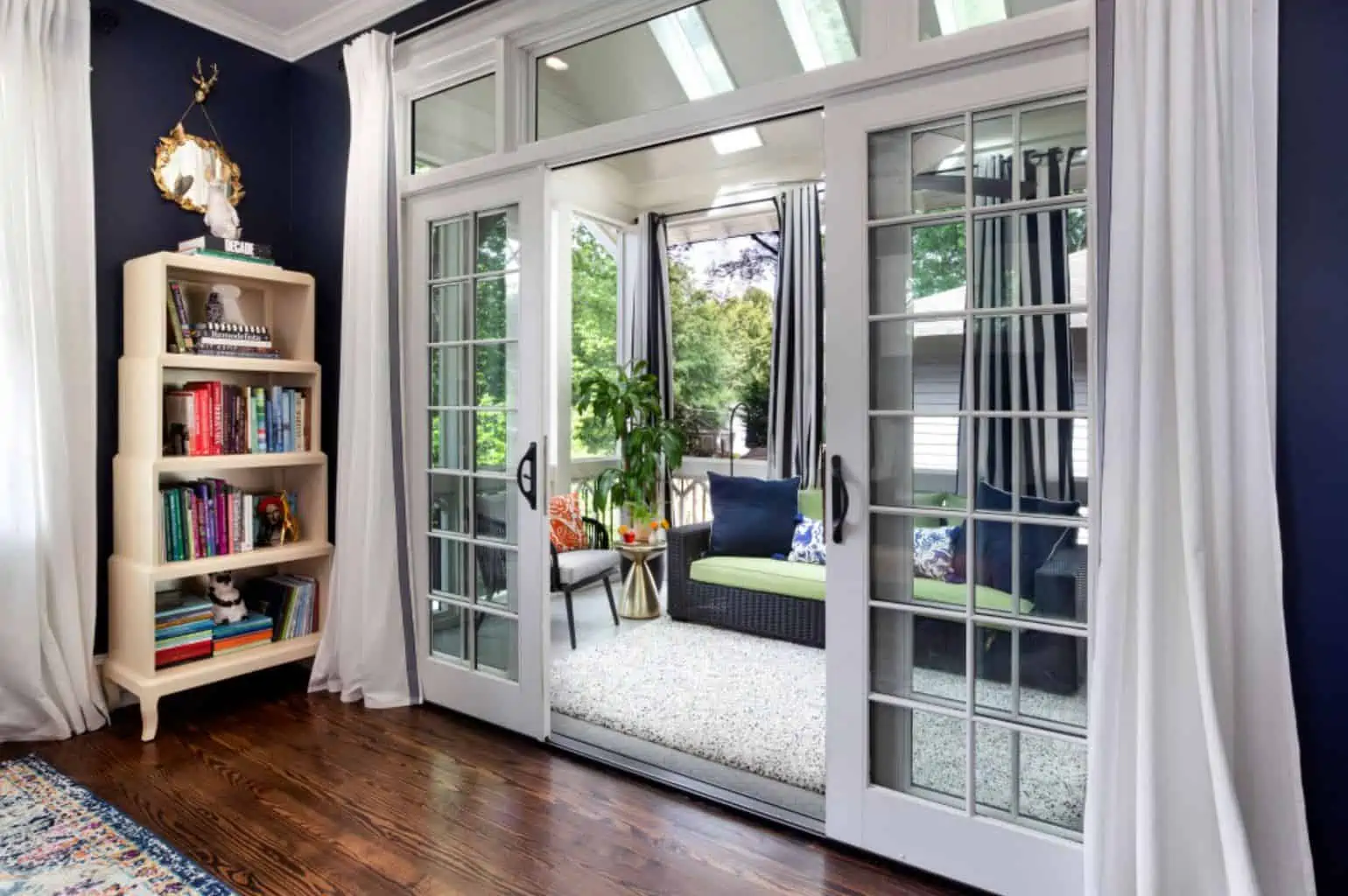 Look at how lush that carpet is! Not all sun porches have to have hardwood flooring. This sunporch shows off how you can choose a soft, plushy carpet instead to pull off a luxurious look. Navy blue and white complement each other beautifully, so using this classic color combination are sure to elevate your sunporch's style. The other trick is to buy long, flowing curtains and furniture made from extremely soft materials.
Classy is what comes to my mind when I look at this sun porch. The wooden floors appear to be made of walnut or a similar dark hardwood. They pair beautifully with the green, red, white, and similar dark brown shades also used in this picture. Buying furniture that matches the wooden floors keeps the room looking uniform, which is a detail many homeowners enjoy.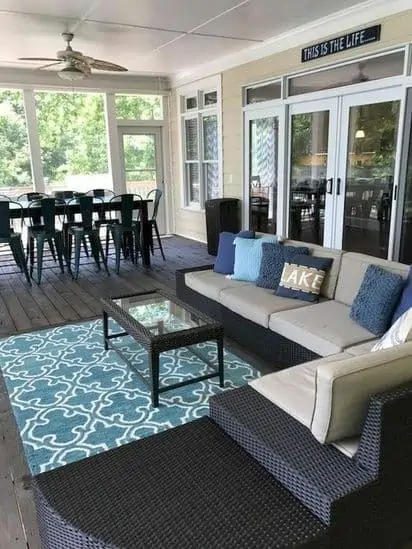 If you live in a lake house, you may want to check out this idea for your lake house sun porch! The cool tones used here-blue, white, charcoal, and black-all stand out as trademark lake house colors.
Furniture made from glass, like the glass coffee table you see here, helps to give the room a modern vibe. Replace the glass table with a wooden table if you're going for something more classic.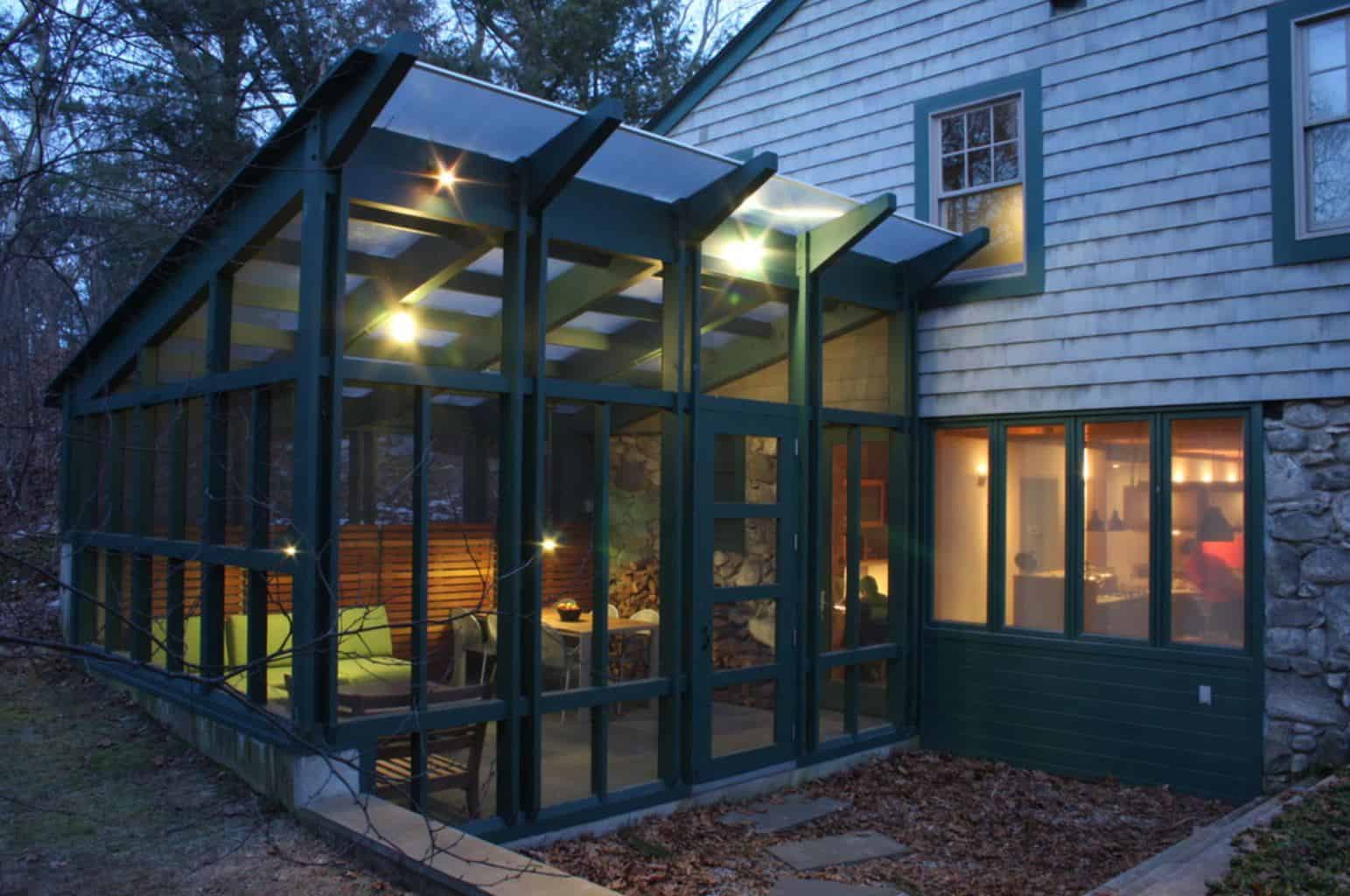 Wouldn't it be wonderful to eat dinners with your family while sitting in a sun porch like this one? This is a prime example of how modernity and coziness can coexist in harmony! Even though the outside is sophisticated with its black beams and downlights, the inside is warmly lit. Cozy wooden furniture and natural greens make the sun porch welcoming to guests and members of the home.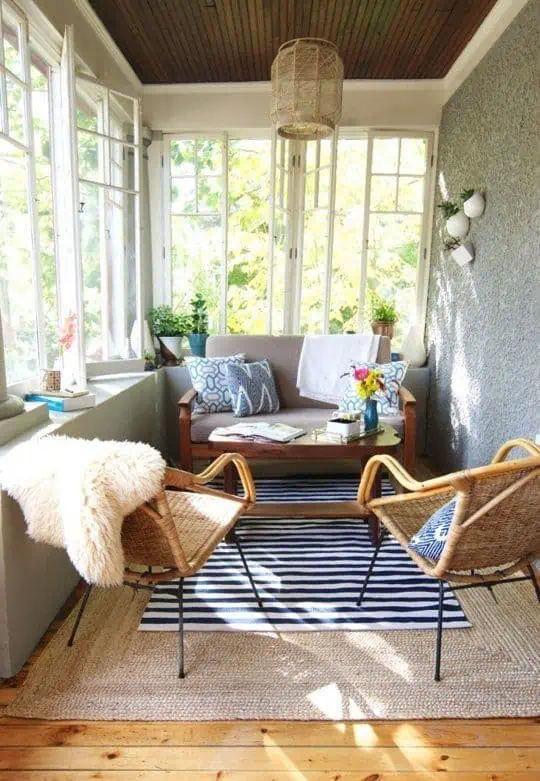 This idea by Apartment Therapy shows how you can transform your small sun porch into a cozy nook full of lively personality. Succulents and brightly colored flowers make the room pop. A fluffy pink throw blanket is hanging over one of the wicker chairs, and blue pillows can be seen throughout the sun porch. None of these decorations are large, but, combined, they make a big impact.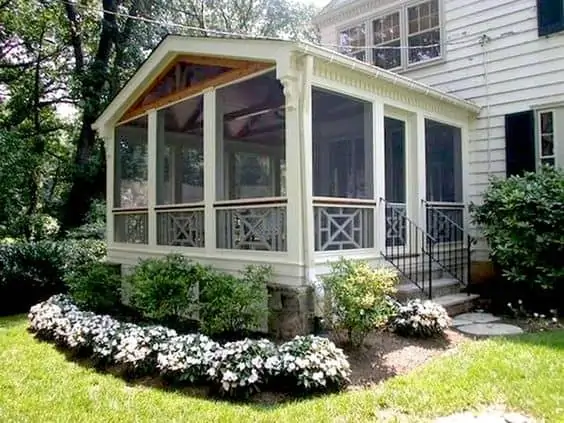 The outdoor view of this sunporch shows its beautiful detailing. The large top windows are made of black screen mesh, so you'll have the luxury of breathing fresh air while you're protected from bugs.
The bottom screen windows have a unique design that gives the sun porch its own personality. Make sure to plant flowers and shrubbery around your sun porch if you want to achieve the same look like the one you see in this picture!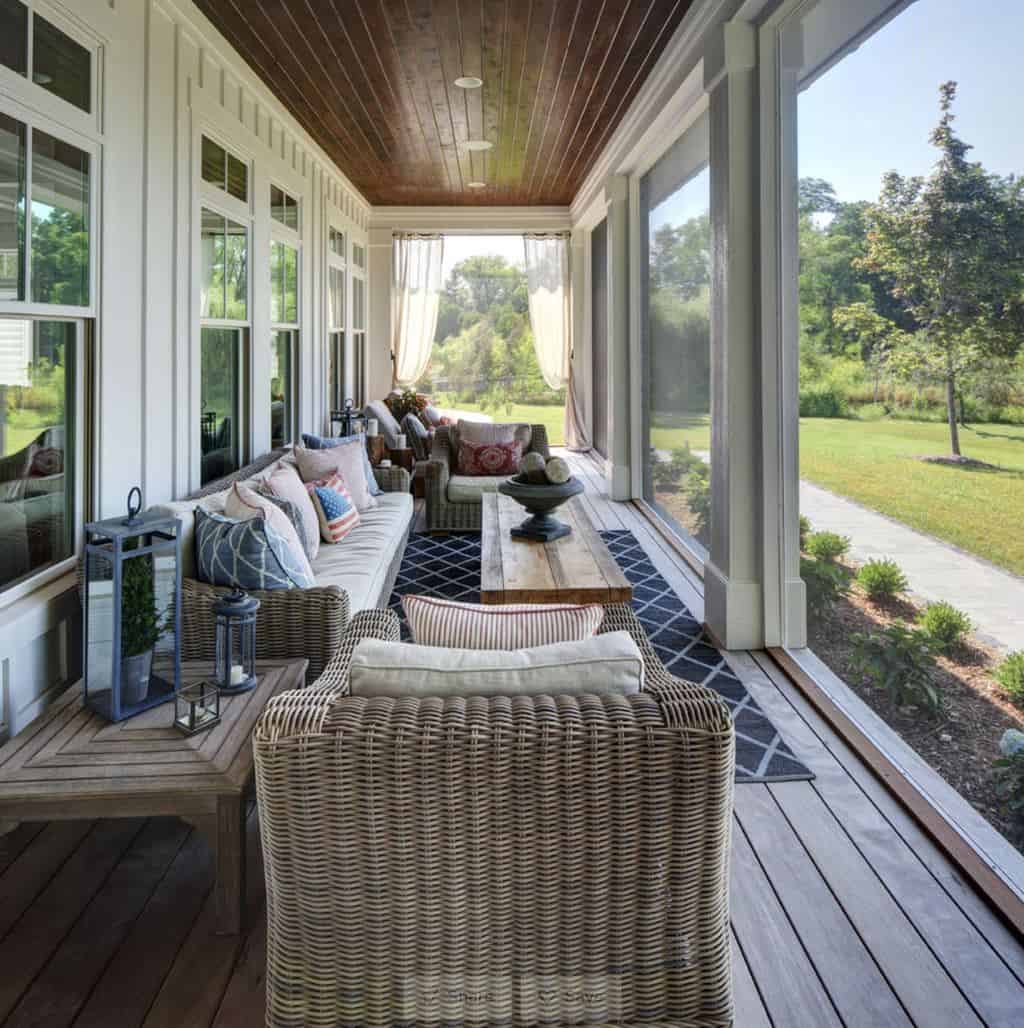 Some sun porches are long and lean. If you've got a large and long sun porch that isn't wide, look at this idea for inspiration on how to style it. This color scheme should look familiar to you-blue, brown, and white. Even though this home is clearly not by the beach, they've managed to incorporate some nautical aesthetics into this room.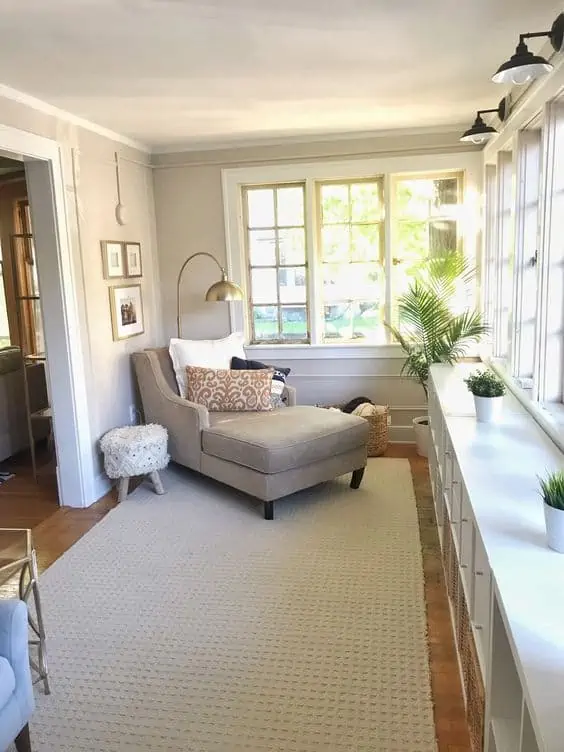 Sometimes you want at least one room in your house to look like it came straight out of Better Homes and Gardens magazine. Take a look at this idea from the House of Navy to see how to do that! You don't have to have a particularly big sun porch to elevate the luxuries of the space. Here are two key secrets: use gold for accents and make sure the lighting in the room is as good as it can be.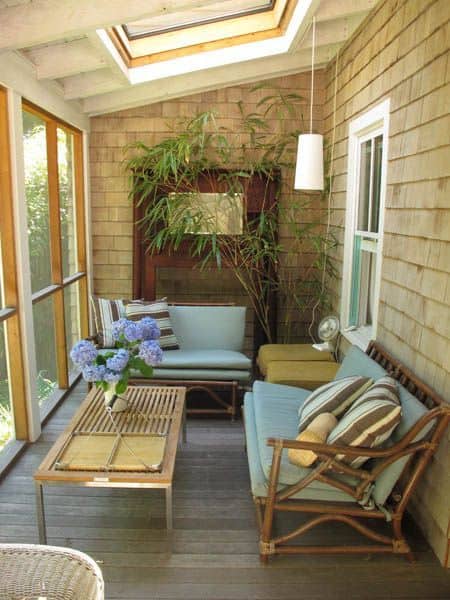 It's as if we just stumbled upon a woodland fairy's home! This is a perfectly woodsy and homey sunporch style for homeowners with a small sun porch. If you prefer to decorate with a naturalistic style, try to acquire furniture pieces that retain an organic look.
And I always say that live flowers and a potted tree or two can really brighten up a space. Bold trees and flowers will catch the eye, so you won't have to take up as much space in extra decorations.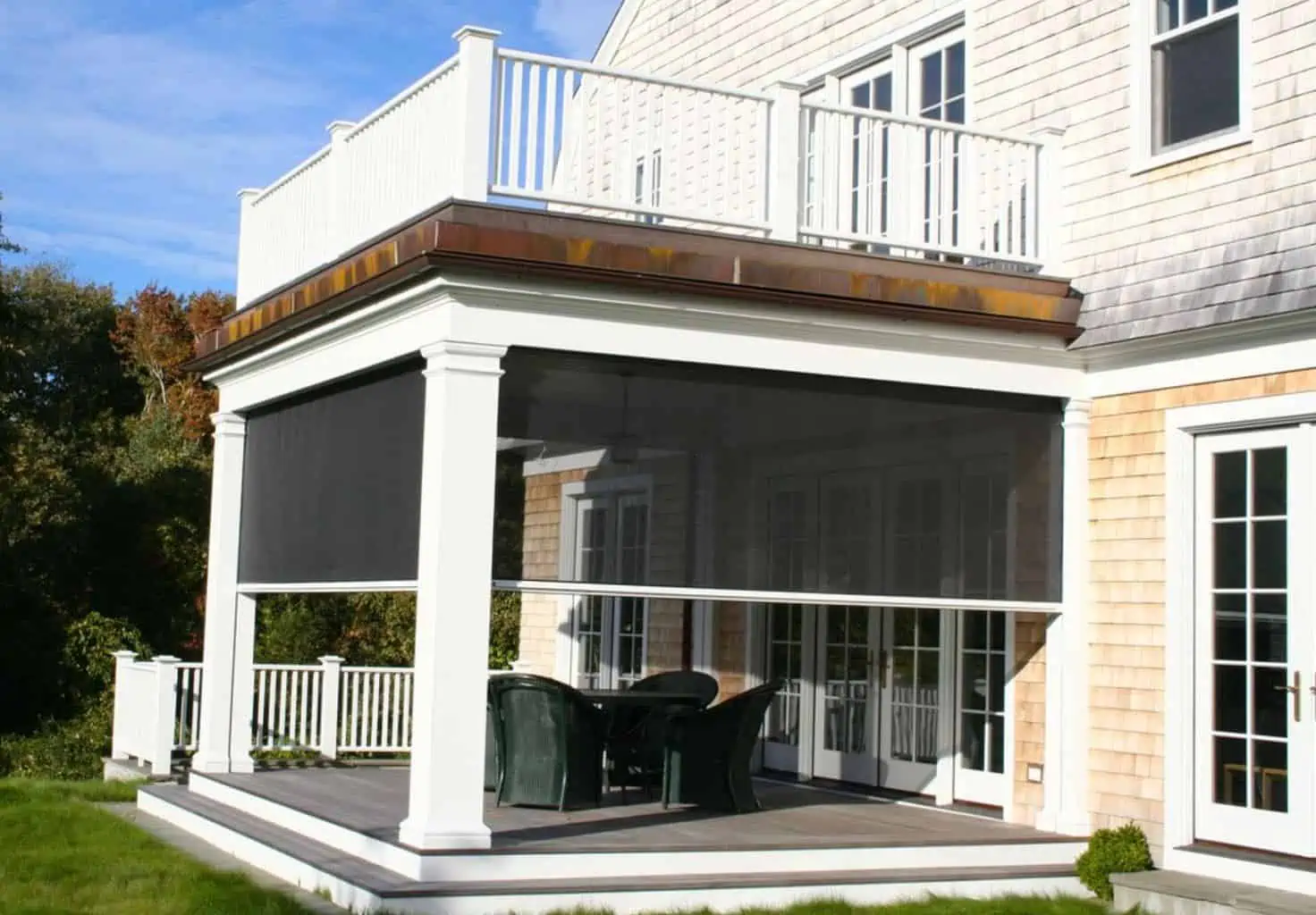 To wrap up this showcase of the best sun porch ideas, I'd like to show you this homey yet highly modern sun porch. What makes this last one special are the retractable screen walls that can be lifted with the press of a button.
You can choose to keep the furniture simple like you see here or go all out and add more pops of color. If you want to enjoy the outdoor air while you relax in your sunroom, consider investing in one with these features.
When Were Sun Porches Created?
There is actually some debate surrounding this topic. Some say it was in 1664 when John Evelyn invented what was known as the first "conservatory." Others say sunrooms could have been invented as far back as 6,000-8,000 years ago. In truth, the idea for a sun porch, or as some call it, a sunroom, likely came about early on in human civilization. After we mastered how to build homes, what else is there for us to do but create fun add-ons to it?
Different Uses for Sun Porches
What's the point of owning a sun porch? I'm glad you asked! Here are some of the most common reasons homeowners love their sun porch:
Provides a place to unplug from electronics
Family and friends can gather together for lazy afternoons and events
Sun porches are the perfect space for enjoying naps and snacks
You can enjoy the outside weather without the heat, cold, or bugs
Sun porches can be turned into workout rooms and personal studies
Should a Sun Porch be Heated?
Most of the time, you'll have the option to have your sun porch built with heating. If you live in a cold climate, I highly recommend you have a heating system installed. Without heating, northerners are going to have to endure freezing temperatures if they want to step out onto their "sun" porch in the wintertime.
Pros and Cons of Having a Sun Porch
Why should you consider owning a sun porch? Why might you want to hold off? I'll weigh the pros and cons of owning a sunporch in the convenient chart down below. I'll say in advance if you have the means, I doubt you'll regret your choice to invest.
Pros

Allows you to enjoy the outdoors from the comfort of the indoors
Can be large or small
Windows can be made of glass or screens
Family gathering space without electronics
Perfect place to relax alone or with others
Hammocks can be hung in this room
Payment plans with flexible financing from sun porch companies can be found

Cons

It costs a decent amount of money to have a sun porch built onto your home
This is another room to keep clean
See also: How to Find the Best Patio Heaters For Your Home
FAQ
Let's get your most frequently asked questions about sun porches answered! Sun porches add value, style, and functionality to your home.
Question: What is a Sun Porch?
Answer: A sun porch is a room connected to your home. The walls are either made of screens or glass so that you can enjoy a beautiful outdoor view while retaining the comfort of indoors. Sun porches let in lots of natural light, so they're a wonderful space for lounging and growing plants.
Question: Difference Between a Sunroom and a Sun Porch?
Answer: They mean the same thing! You can interchangeably use the words "sunroom" and "sun porch".
Question: What is Another Word for Sun Porch?
Answer: You can use the term "sleeping porch" when you talk about sun porches. Some people call sun porches solariums or sunrooms.
Question: What Do You Put in a Sun Porch?
Answer: Anything you want! Typically, homeowners place outdoor furniture, plants, and small decorations inside. You can design your sun porch's interior, so your personal aesthetic touch comes through.
May You Have Wonderful Weather All Summer Long
I hope you have nothing but clear summer days as you enjoy your new sun porch. You can customize your sun porch to showcase any color and theme you like. Which of the 21 best sun porch ideas that we covered did you like the best? If you want something simple and cozy, I recommend using the Small and Lively Sun Porch idea as a reference. For more helpful guides about home design, please come visit our website!
Recommended Reads: