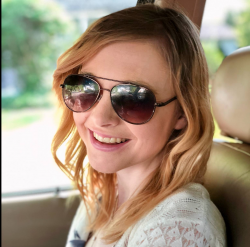 Latest posts by Erin Jamieson
(see all)
Contemporary, sturdy, and practical. It may sound like an impossible mix, but I think that some of the best concrete fire pits fit that criterion. Whether you're looking for a simple upgrade for your patio or need a smokeless design, there are more options available than ever.
I'm always careful with my money- and picky when it comes to making a big purchase. That's why I'm giving you my top recommendations for the best concrete fire pits. From miniature tabletop fire pits to statement rectangular fire pits for entertaining, read on for my top ideas. 
Bottom Line Up Front Summary
When selected with care, concrete fire pits can be a fantastic upgrade for your backyard. While concrete fire pits can crack or explode, both of these problems can either be easily addressed or avoided entirely. Use a fire pit liner and perform regular maintenance checks. For a great concrete fire pit, pay attention to safety standards, special features, brand reputation, and the quality of the construction. 
If I had to recommend just one concrete fire pit for the average person, it would be the Lumbee Gas Fire Pit Table. This fire pit table features a smokeless design, is CSA-approved, and comes in two sizes. The price is very reasonable for the features you get, and it's a versatile option. 
See also: Best Smokeless Fire Pit Ideas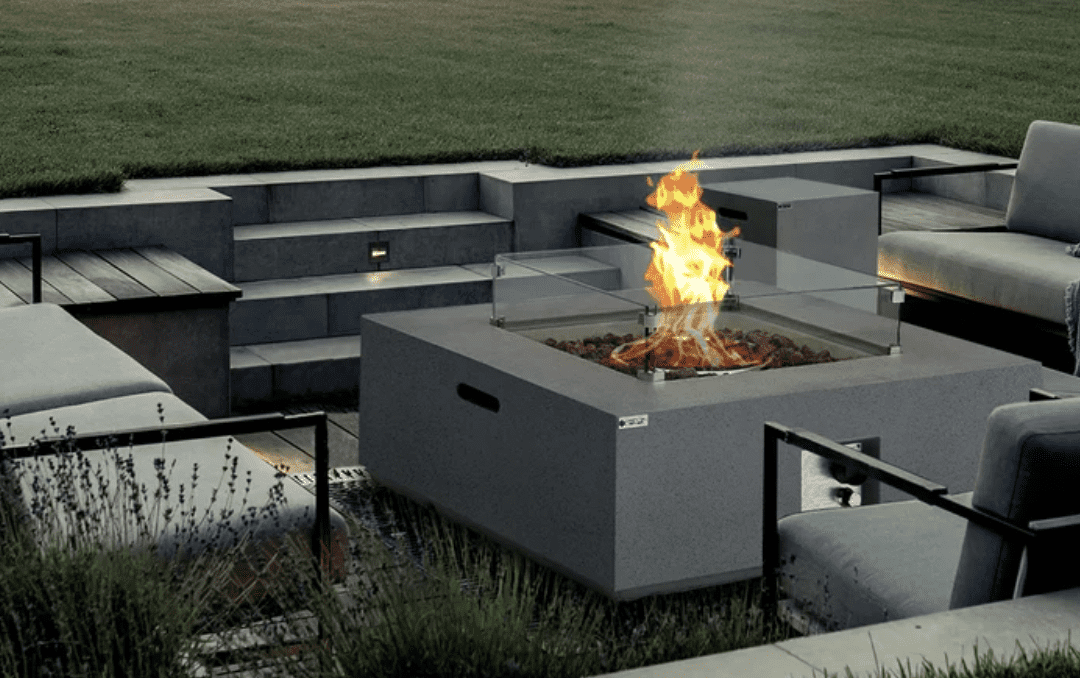 My Top Picks
My Selection Criteria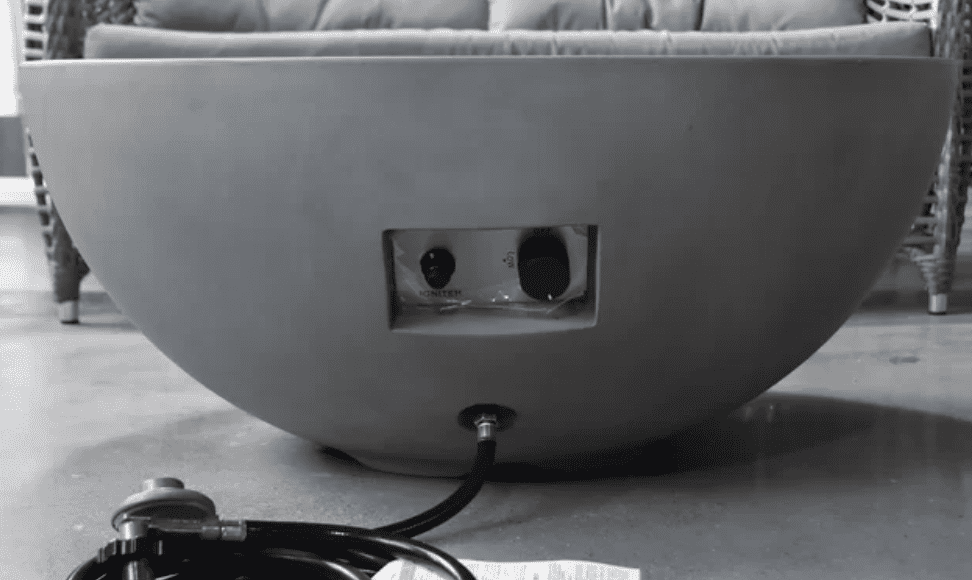 Here's how I selected these concrete fire pits. 
Fuel Type
Wood-Burning Concrete Fire Pits
Wood-burning concrete fire pits are a little less common than gas. What I like about wood-burning pits is that they provide that fresh scent and are chemical-free. For a wood-burning fire pit, I simply look to make sure that the interior and exterior have a sturdy build. I want to see enough room for charcoal or wood, and I take notice if the fire pit comes with features like a removable ashtray or spark screen to cut back on mess and safety hazards.
Gas-Burning Concrete Fire Pits 
Gas-burning options include both propane and natural gas. I prefer propane gas because it's more energy efficient, has lower emissions, and is cost-effective in the long run. Nonetheless, both can be reasonable options. 
For a gas concrete fire pit, I prefer ones that have some safety standards. CSA and UL are the most common certifications. CSA stands for Canadian Standards Association, while UL stands for the Underwriters Laboratory. Both test fire pits to meet certain standards. This ensures you are against issues with explosion and combustion. 
BTU measures the output of heat. The higher the BTU, the higher the heat potential- but also the more fuel it may burn through. For an average to a large concrete fire pit, I like a range of roughly 40,000 BTU to 65,000. Small or tabletop concrete fire pits are fine at lower levels- such as 20,000 to 30,000- if you're using them for decor. 
Special Features 
I also wanted to find concrete fire pits that stood out for overall features. Features I look for improve versatility, safety, entertainment, and practical use. Here are a few that I considered:
Spark Screen

Wind Guards

Electronic Ignition

Includes Accessories (Covers, Mats)

Generous Warranty 

Unique Design

Made in the USA

Hidden Panel (For Propane)

Reinforced or Dry-Cast Concrete (Improved Durability and Insulation) 
Style 
Style extends beyond design. The style of a concrete fire pit, more importantly, has to do with how you'll use it. 
Square, Rectangular, or Round? 
Deciding on a fire pit shape is tricky- and I included a variety of shapes because some of it is up to personal preference. Round concrete fire pits are best for that classic feel if you're out in your backyard with fire pit chairs. But I like round and rectangular fire pits for patios, as they provide sleek, modern appeal. 
Classic vs Tables vs Tabletop 
There are a few more lightweight concrete fire pits, but they aren't ever going to be as lightweight as steel pits. Tabletop fire pits should fit safely on a table and are used for decorative purposes. I think that a fire pit table is one of the best options for concrete fire pits. Firepit tables often have extra features, such as electronic ignition and adjustable flames. 
Brand and Store Reputation 
Lastly, all of my concrete fire pits were selected with both brand and store reputation in mind. Stores with a history of clear customer policies are important. That includes consistent return policies, refunds, and delivery options. 
Concrete Fire Pits: My Ideas
Here are some of my favorite ideas for concrete fire pits, from larger rectangular pits to square fire pit tables and fire pit bowls. Stylish, fun, and versatile- get ready for a patio upgrade!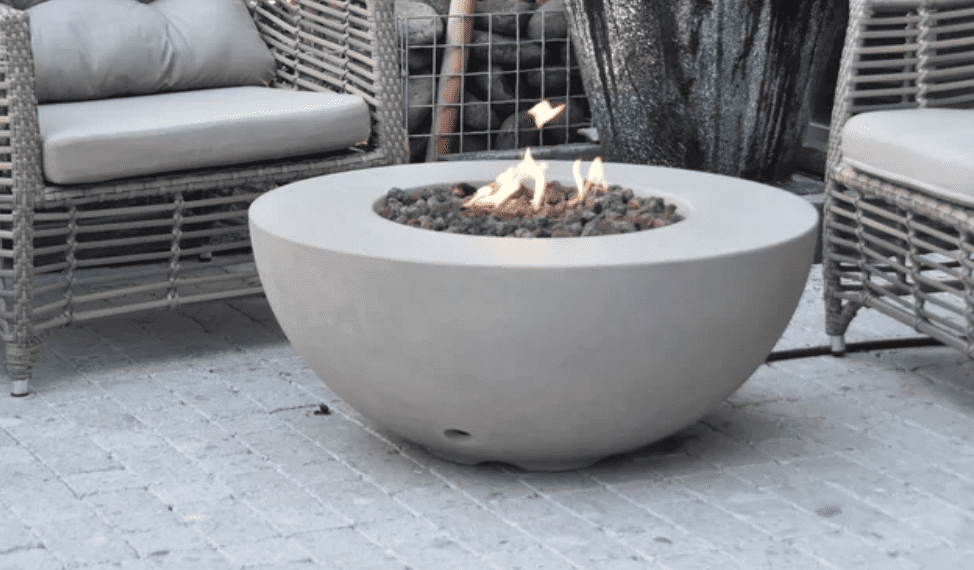 I think that fire pit bowls are a great way to add ambiance to any patio, and this one, in particular, caught my eye. While many fire pit bowls tend to be less advanced, this one packs in some great features- all with that modern bowl style. This concrete pit bowl exudes ambiance with an adjustable flame.
The bowl is compatible with both propane and natural gas. There's something I find quite charming about the contemporary and sophisticated design. I also love that it's equipped with a stainless steel burner, push-button ignition, and an impressive BTU output of 50,000.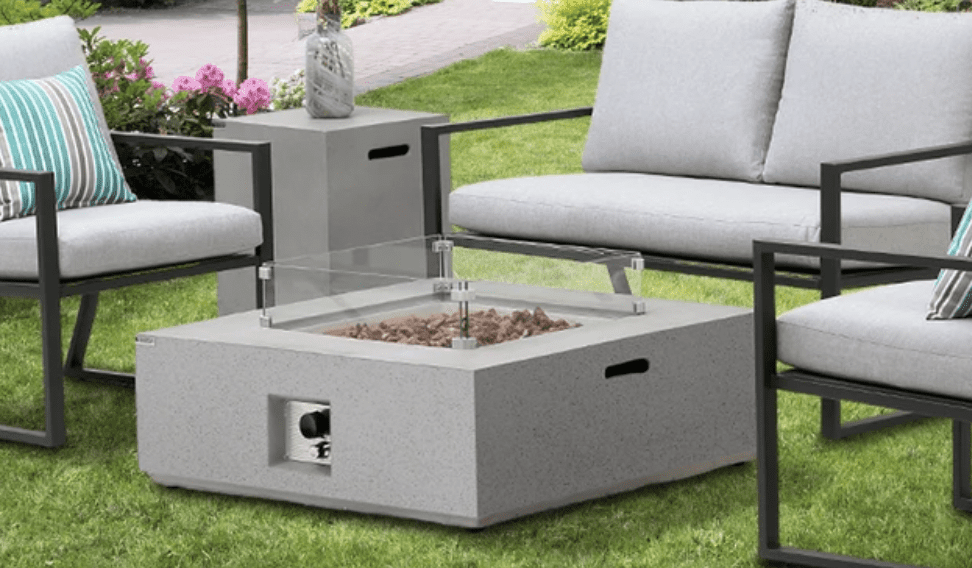 This concrete fire pit table is an excellent choice for a square shape and I'd love to see it on a modern patio. It immediately caught my eye because of its sleek and modern design. But it's the incredible features that won its spot on my top ideas for a concrete fire pit. The clean lines of the concrete fire pit are a natural match with reddish-brown lava rocks.
It's equipped with leveling feet and a PVC-coated cover- and that's a huge plus if you want your fire pit to last longer . It's CSA-certified and has an output of 50,000 BTU. A one-year warranty adds confidence to your purchase.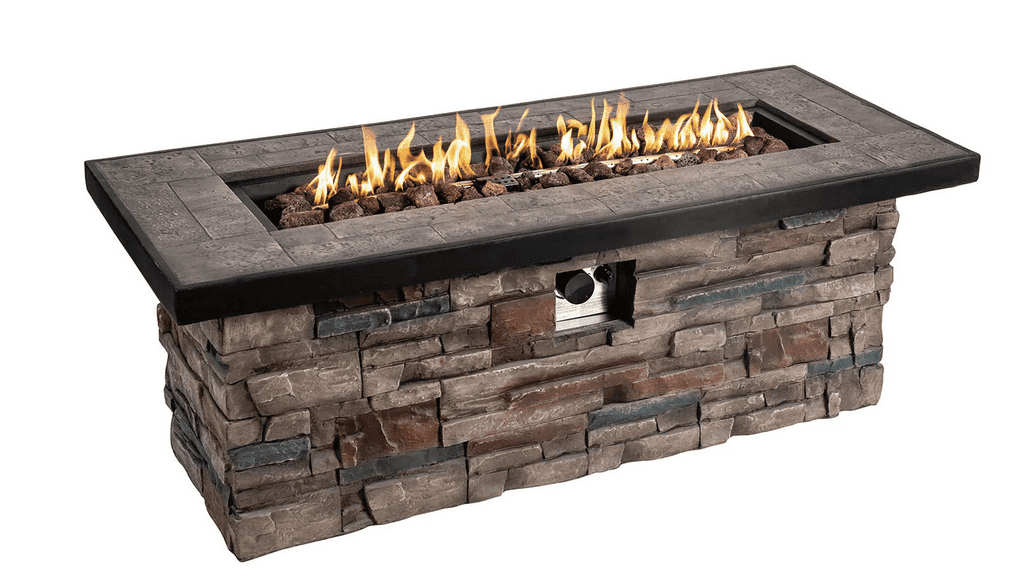 Rectangular concrete fire pits are pretty popular, but what excites me about this one is its signature design. Here's how you can score the look of warm stones without paying top dollar. This rectangular fire pit is available at Home Depot and has a unique, layered faux stone exterior. The contrast of grays and neutrals adds style and finesse.
The generous 48 inch-width is perfect for entertaining on an outdoor patio. This CSA-certified propane fire pit has an output of up to 50,000 BTU and features an easy ignition button- perfect for entertaining! An adjustable flame and weather-resistant cover add to the appeal. I also love that no assembly is included.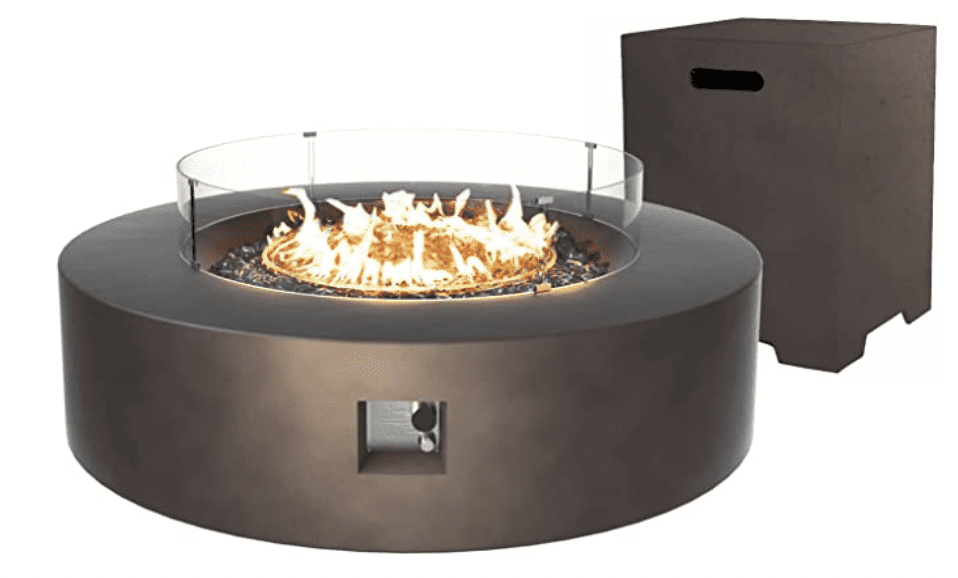 There's something undeniably appealing about a large, round fire pit, at least to me. This fire pit reminds me of some great memories, and I think you'll get a lot of use out of it too. This concrete fire pit is an excellent choice for entertaining and comes with stand-out features. While you get the benefit of sturdiness from a concrete frame, the stainless steel finish adds a weather-resistant and modern appeal.
The CSA-certified propane fire pit pairs a convenient tank holder with a classic fire pit table. I like the built-in side handles for easier transportation, plus the practical but attractive glass wind guard. This auto-ignition concrete fire pit table has an output of up to 50,000 BTU.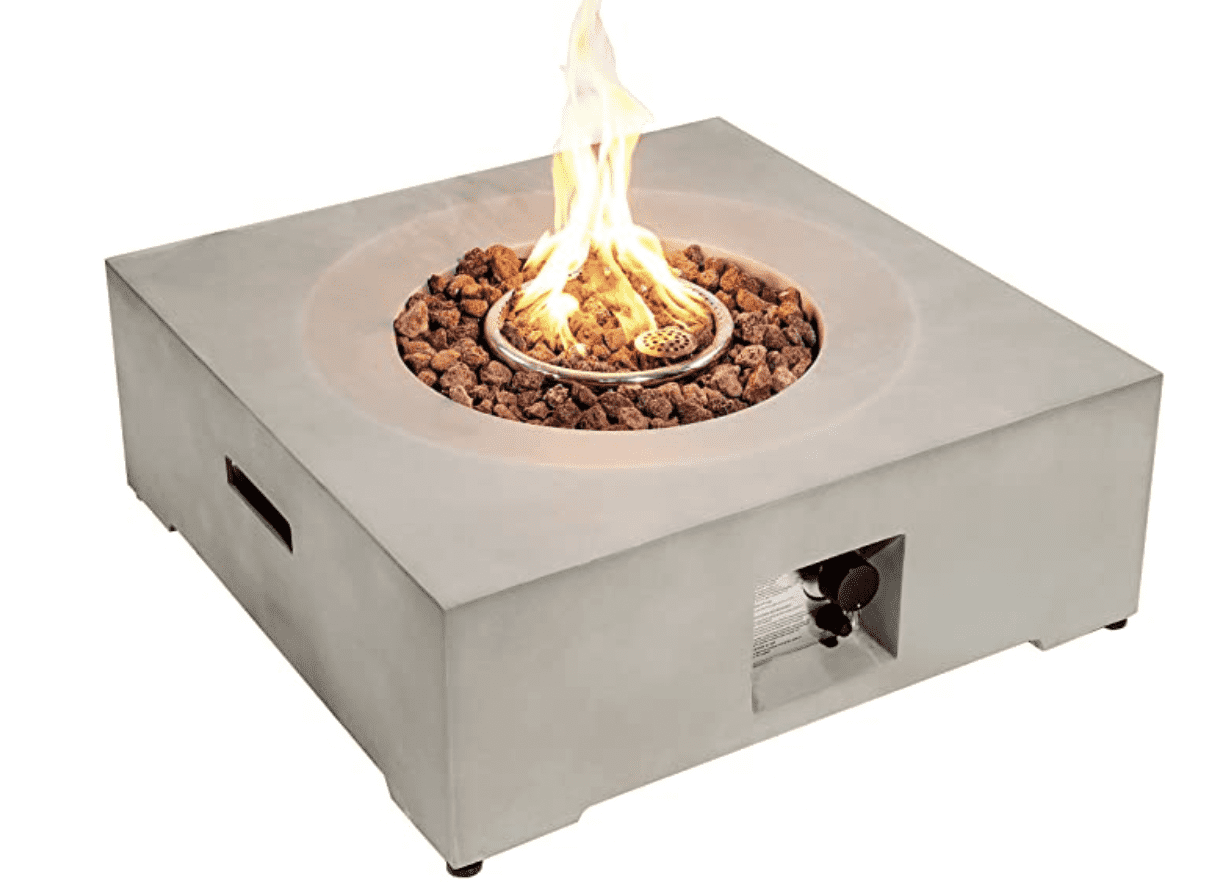 If you've always wanted a fire pit but are sensitive as I am to smoke, listen up. This concrete gas fire pit table is one of the best options for less smoke and fewer ashes. I love that, because it's going to make a big difference in how you use it over time. A smokeless design also optimizes your energy use.
The burners are made with sleek stainless steel and have an output of 40,000 BTU. The fire pit is equipped with electronic ignition and automatically turns off in the event of rain or other precipitation. It's CSA- certified and comes with a weather-resistant cover, adjustable regulator, and lava rocks. This table is available in two sizes: 32 inches and 42 inches.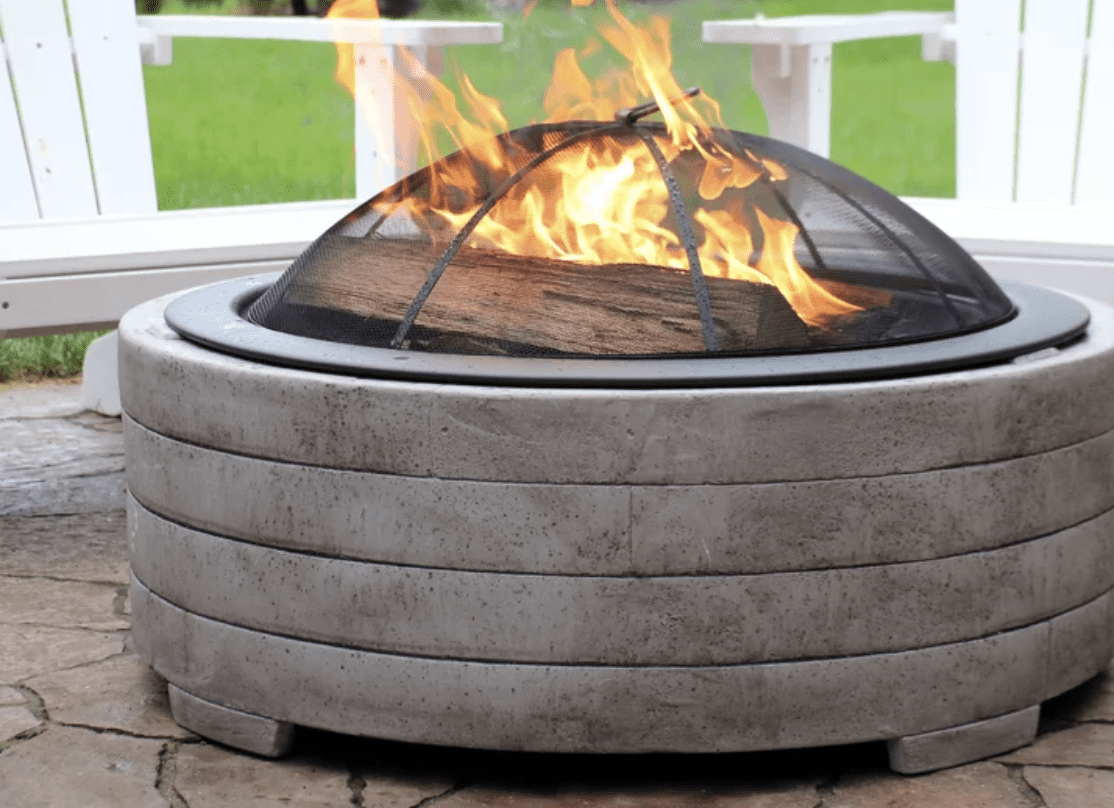 If you want the ambiance and classic feel of a wood-burning fire pit, this round concrete design is one of my favorite ideas.  As much as I admire modern designs, this fie pit strikes me as something that adds cozy warmth to any patio. Measuring 21 inches by 35 inches, it's a suitable size for two or three fire pit chairs.
The exterior is made with reinforced concrete, which means less upkeep. It comes with a spark screen, poker, log grate, and lid. I like that it's a complete package and blends modern and classic styles. It comes with a single-year warranty and the option of a 3-year protection plan.
See also: Best Home Depot Fire Pits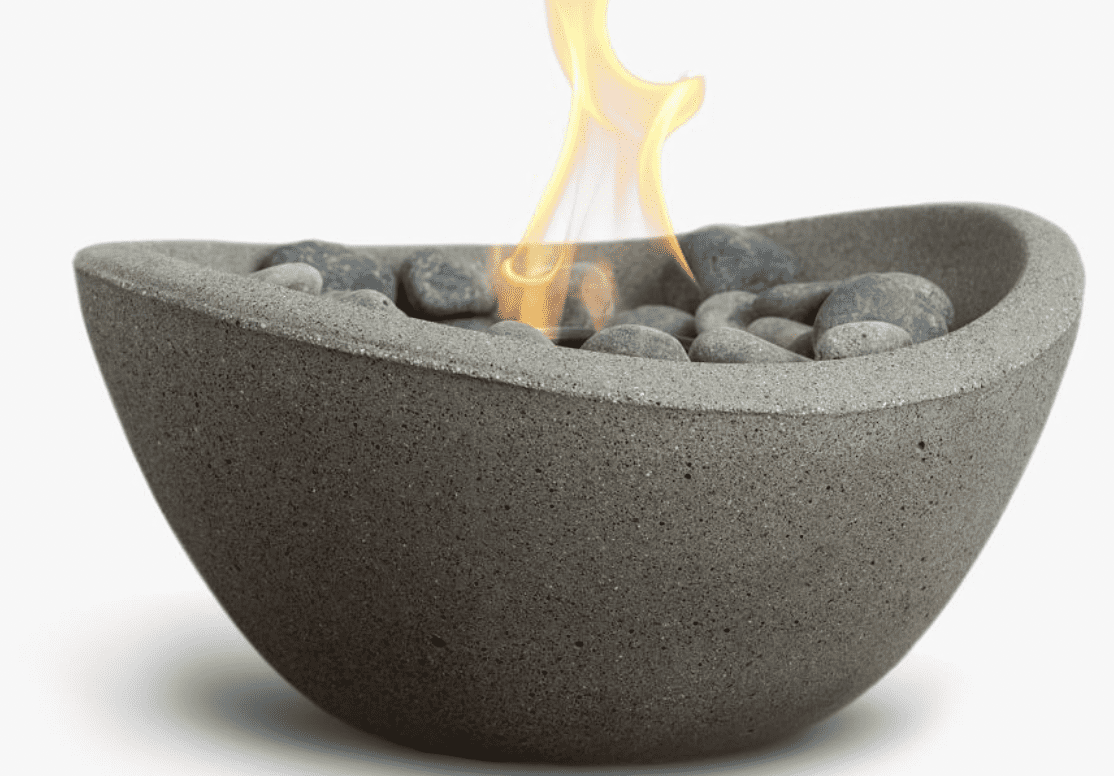 There's a shop near me that sells work by local artisans. I guess that is why this caught my eye- and it's truly a beautiful mini fire pit. If you're looking for a small, tabletop concrete fire pit or bowl, there are many options available. While you can find a slightly cheaper option, I think that Pottery Barn's design is one of the best ideas.
The sloped bowl is versatile and available in several colors. This miniature (11 inches) fire pit bowl is handcrafted by artisans and includes a statement acid-wash finish. It has a 3-hour burn time and a modest BTU output (3,000) that provides just a touch of stylish ambiance.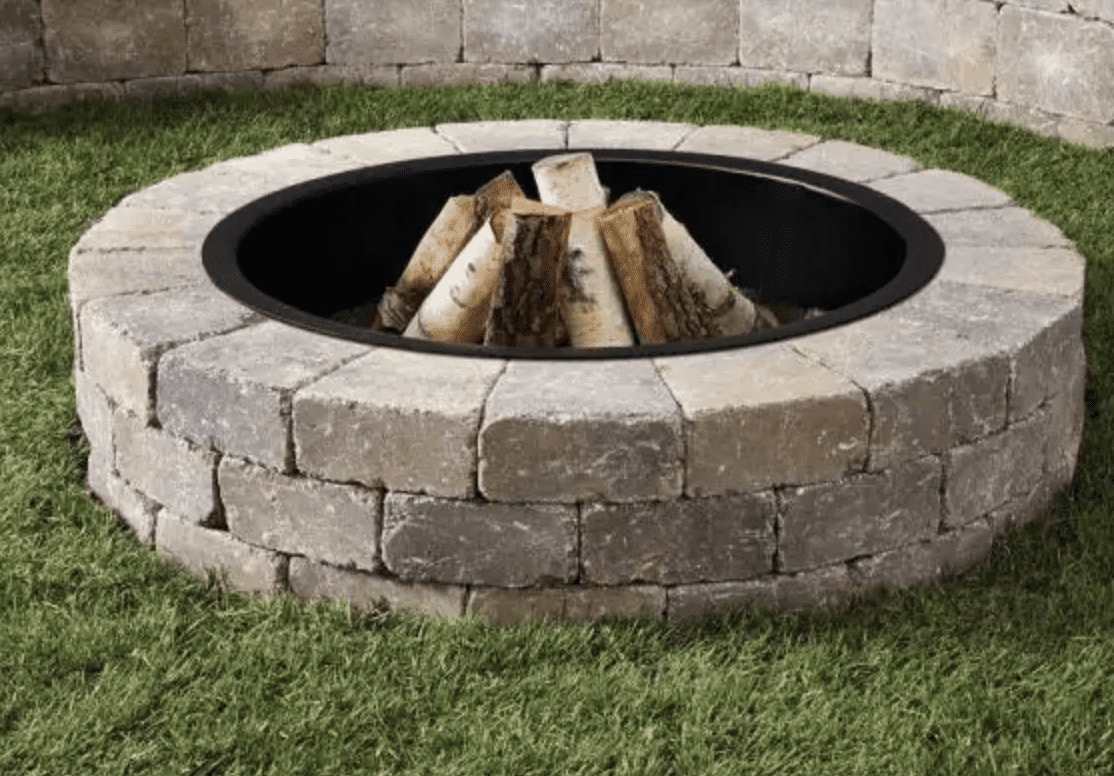 I grew up making crafts and building projects. One of my fondest memories is when my family constructed a birdhouse in our backyard. Maybe that's why I wanted to share a chance to build a fire pit yourself. But instead of fully building it from scratch, a good middle ground option is to buy a fire pit kit. Home Depot and Lowes both have fire pit kits and projects that provide some of the essential materials.
The idea: buy the kit, then customize it with your accessories. This concrete fire pit kit includes a step-by-step manual of instructions for installation. The result? An impressive 52-inch by a 12-inch round fire pit with a faux stone exterior. The kit includes a metal fire pit ring and a colorful blend of brown and gray materials. Dry cast concrete contains less moisture and provides greater insulation.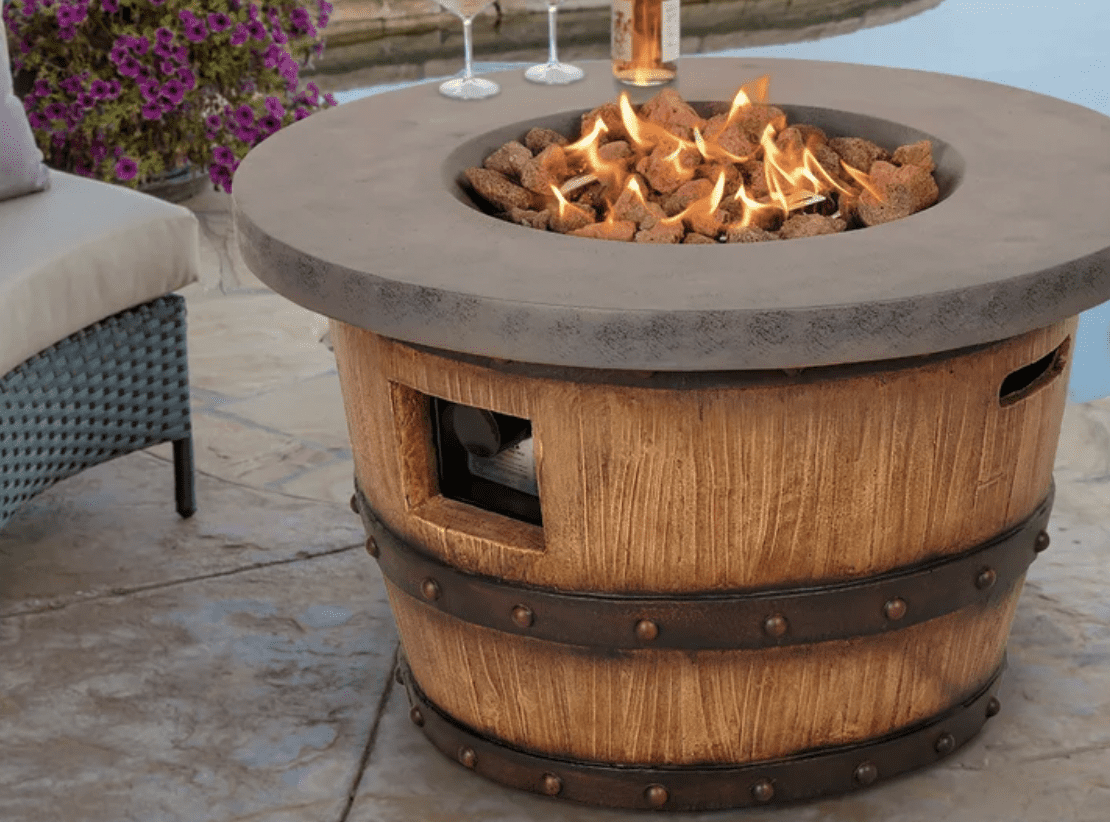 Rustic themes are becoming popular everywhere- from weddings to home decor- and I'm also loving the trend! This clever concrete fire pit is an excellent choice if you love that look as I do. A barrel-inspired exterior packs in some excellent features. The stainless steel burner is equipped for an output of up to 50,000 BTU.
The electric ignition includes an adjustable flame for versatile use. This fire pit measures 17.5 inches by 28.5 inches. I also like how the exterior rim stays cool and can be used for setting down a drink. Like almost all of my gas fire pit ideas, it's CSA-certified, comes with a warranty, and an optional protection plan.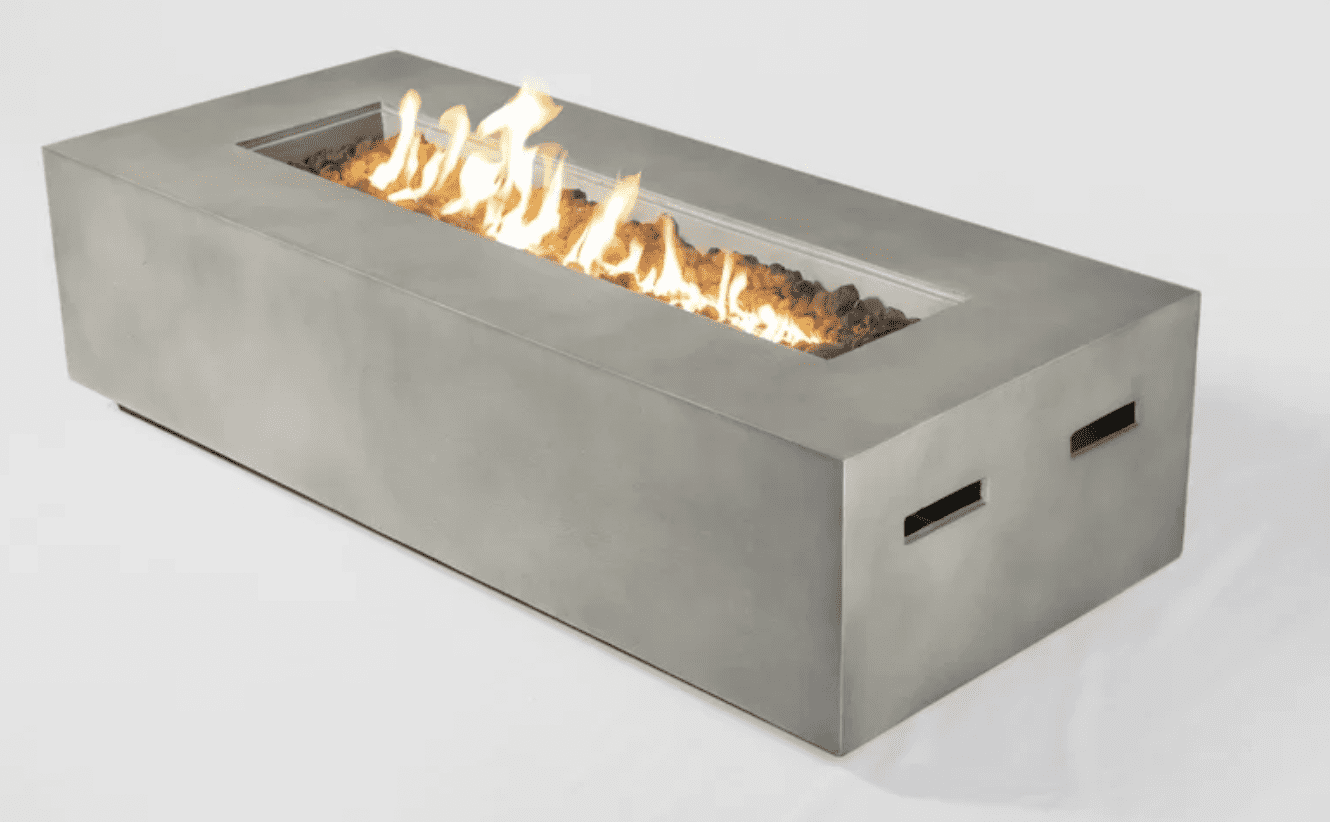 If you're looking for a statement concrete fire pit table for your patio, I think this is an excellent choice. This Joss and Main (owned by Wayfair) concrete fire pit table have a sleek, minimalist design that truly shows how a concrete fire pit table can be stylish. You don't even have to work hard to add more decor.
This fire pit makes a statement by itself. It's made with fiber-reinforced concrete, which is a bit stronger and more durable than regular concrete. A gas conversion kit, lava rocks, glass beads, and cover are all included. It's CSA, UL and ETL certified and comes with a warranty. The BTU output of 50,000 provides just the right amount of warmth and syncs with electric ignition.
Frequently Asked Questions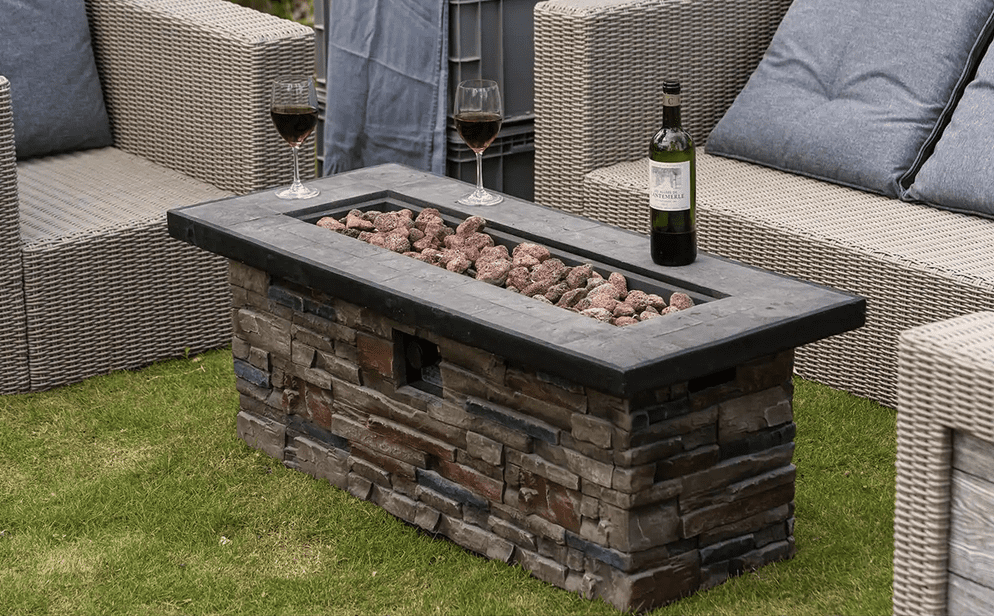 Question: Are concrete fire pits safe?
Answer: The main concern about concrete fire pits is whether or not they can explode. Concrete blocks are capable of exploding if they exceed certain limits. This is also true for materials like pea gravel and river rocks. Most concrete fire pits are at risk of exploding those that have been DIY build projects. While high temperatures are a factor, the make-or-break factor is the build-up of moisture. If not constructed properly, materials like concrete could trap water inside the fire pit.

However, fire pit liners are a solution to this problem. Firepit liners or paver kits reduce moisture build-up and improve fire pit efficiency. Professional installation and following the instructions for a fire pit is safer than fully building your concrete fire pit. 
Question: Are concrete fire pits good?
Answer: Concrete fire pits are sturdy, strong, and durable. They are more cost-effective than stone or Polywood fire pits but they aren't without their disadvantages. Concrete fire pits can crack, just like any concrete. Concrete naturally cracks over time when exposed to moisture and air exposure. While this cannot entirely be prevented, there are solutions.

For one, a great fire pit cover can reduce cracks by protecting your fire pit from the elements when it's not in use. For another, a concrete filler can be used to fill in gaps at a relatively low cost. The key is to make sure you're keeping an eye on the condition of your fire pit and mitigating any larger issues by addressing them quickly. Overall, concrete fire pits can be an excellent choice, so long as you take care of them. 
Question: Will a fire pit ruin concrete?
Answer: One popular place for an outdoor fire pit is a concrete patio. That's a sensible option in many ways. Concrete is fairly durable and can handle the heat of a fire pit, as opposed to a wood deck. However, over time, a fire pit can wear concrete. The solution is easy. Buy a fire pit mat/ heat shield. This not only protects your concrete patio but also makes your fire pit safer and more enjoyable to use. 
Question: What do you put under a fire pit?
Answer: A fire pit mat or heat shield is a great idea if you're placing a fire pit on a patio or a deck. However, there's also the bottom of the fire pit to be considered. Placing sand at the bottom of a pit is a common option for DIY, often then layered with gravel, glass rocks, and lava rocks. The problem is that both gravel and sand can trap moisture- posing both safety and practical use concerns. As such, I recommend starting with a fire pit liner, then adding lava rocks if you want for additional filler and decor.
Final Thoughts
Concrete fire pits are sturdy and a bit less expensive than stone or brick fire pits. Whether you're considering a modern rectangular pit or a classic round pit, there's no shortage of options. Instead of trying to get every feature possible- or, in contrast, opting for the lowest-cost option- select a concrete fire pit that offers a good overall value. With proper care, installation, and use, a concrete fire pit maybe your best backyard upgrade yet. By buying a professionally made fire pit vs DIY, you'll also cut back on safety and durability issues. 
If I had to pick one firepit to be my final choice, the Lumbee Gas Fire Pit Table would be my number one!