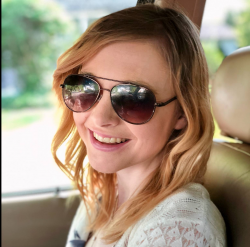 Latest posts by Erin Jamieson
(see all)
I've always loved Fall in Ohio- from the crimson leaves to trips to pumpkin farms and that crisp air. But Fall in Ohio and many places can be unpredictable- and it's only becoming more so. Maybe you've had this same experience: you're spending time with family and friends on your patio one night, and the next night the temperature plummets. For those cool nights, especially for a small space, an electric patio heater can keep your guests comfortable for longer. 
The challenge? Knowing how- and if- to select an electric heater that works for your patio. In this guide, I'll explain why I would or wouldn't recommend an electric patio heater for your situation. Next, I'll take you through six easy steps to find the best type of electric patio heater. 
Along with my tips, I'm sharing a few electric patio heaters I'd consider buying- and why I like each. 
Bottom Line Up Front Summary
Electric patio heaters don't provide as much heat as your average gas patio heater, so they're better suited for small spaces. On the other hand, electric patio heaters are also safer to use and require less maintenance and ventilation. To find the best electric patio heater, option for an energy-efficient (preferably infrared) model, with a weather-resistant stainless steel frame. Safety certification, automatic shut-off systems, and variable temperatures are a few key features to consider. 
If I were to recommend just one electric patio heater for the average consumer, it would be the EnerG+ Electric Infrared Bistro Table Patio Heater. This unique freestanding patio heater manages to be stylish and highly practical. Energy-efficient heating provides a touch of warmth, with ambient lights and a chic little table. It's ETL certified for safe use, as well as resistant to dust and rain. 
My Top 5 Picks
Electric Patio Heaters: Pros and Cons
Before I tell you my top tips for finding the best electric heaters, I just wanted to touch on why you should – or shouldn't- buy an electric heater for your patio. While there's a lot that I like about electric patio heaters, I also don't recommend them for every situation. So if you're on the fence, here's my take. If not, feel free to skip to the next section. 
Electric Patio Heaters Are Great For…
Electric patio heaters are designed for smaller spaces because of their radiant heating. Radiant heating targets a specific area and direction, so it can be pretty handy for a small entertaining space. They're also quick to heat up so if you have impatient or unexpected guests, there's little preparation required. I also really like that electric heater require far less ventilation than gas heaters. Some can even be used indoors! Plus, if safety is a concern, electric patio heaters tend to be safer than gas outdoor heaters. 
Electric Patio Heaters Fall Short For…
If you're trying to heat a larger patio, I'd personally go for gas over electric heaters. Radiant heating can be pretty limiting, and I also think electric heaters fall a bit short on windy days. So if you live in a windy area, gas may be a little better. Though there are energy-efficient models, depending on your area, electric heaters tend to run up costs quicker than gas. 
Bottom Line
Electric heaters are best for small spaces and quick, easy operation. They aren't as suitable for inexpensive heating for a large patio. 
Steps to Finding the Best Electric Patio Heaters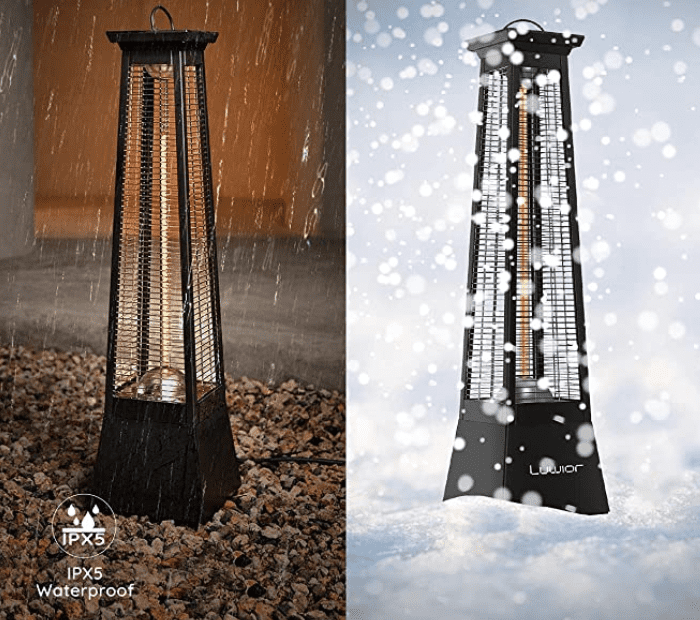 Electric patio heaters come in countless dimensions and styles- so here's how to navigate the virtual or physical shopping aisles to find the best fit for your patio. I'll also throw in a few bonus tips for finding a bargain. 
Step One: Styles of Electric Patio Heaters 
While free-standing electric patio heaters give you the most wiggle room for how you use them, they're not always the most effective style. Here's a glance at the most common styles of electric patio heaters. 
| | | |
| --- | --- | --- |
| Style of Electric Patio Heater | Best For… | Avoid If… |
| Freestanding | Everyday use- if you want to use an electric patio heater in different places, this is the most effective solution.  | You have limited storage space or patio space |
| Tabletop | Just a touch of warmth, set on a surface. This produce (and consume) less heat  | You need a powerful heater or heating for a larger area |
| Wall or Ceiling- Mounted | Limited space and targeted heating. This takes up no floor space and is especially effective for radiant heating  | You want heating at multiple angles or need versatile heating  |
Step Two: Method of Heating
When you're looking at electric heaters, chances are you'll see them labeled as simply electric or infrared electric heaters. Of these two, infrared heaters are more energy efficient. Still, it's not as simple as infrared patio heaters always being better. 
Halogen heaters are initially cheaper and can be used for short periods and in smaller areas. You can save money this way- just know it won't be quite as comfortable. Both halogen and infrared heaters generate heat quickly, but infrared heaters disperse that heat in a more even and consistent manner, making them more suitable for use for longer than a few hours.  Overall, infrared heaters will save money too, because they require a lower wattage to operate. 
Short vs Long Wave 
Even within infrared electric heaters, there's a discrepancy between short vs long-wave models. Short wave quartz heaters are ideal, because they warm an intended target directly, while longer wavelengths warm surrounding air. This is not a must for everyone, but a big advantage on windy days. Cheap infrared electric patio heaters are usually long-wave if not specified. The tricky thing is that when you're shopping online, listings often don't go into as much detail as I like. It never hurts to reach out to customer service and ask. 
Step Three: Watts/ Heat Output 
I often talk about keeping expectations in check, and that's certainly true for the heat output you can expect from an electric patio heater. An electric heater, even the best one, won't produce more than the equivalent of 51,000 BTU- which is still pretty good for a patio area. 
Aim for 1,200 to 1,800 watts for freestanding, and up to 10,000 watts for wall mounted.  With tabletop patio heaters, I feel quite a comfortable dipping to 1,000 watts or below, because the goal is to provide just a touch of warmth. 
Of course, keep in mind that as you climb up watts, you also climb up operating costs. The average 1,200-watt electric patio heater costs a median of $1.50 per hour. But again, that cost fluctuates greatly with electricity prices and the efficiency of your electric patio heater. 
Step Four: Materials
This is probably the criteria I see people neglect most- but it's one of the easiest to select. Cheap electric heaters often are constructed with aluminum. While that's acceptable for small components, aluminum is easy to dent or damage. 
I prefer stainless steel- and, even better, powder-coated steel. Stainless steel is lightweight, fairly strong, and fairly weather durable. If you plan to heave the electric patio heater uncovered, a powder coating is even better because it adds additional protection against moisture and corrosion. 
Step Five: Safety and Additional Features
While I prioritize the overall quality of the electric heater, safety features and other features really can make a difference.
Feature 
Category
Purpose

CSA, UL or ETL Approval/ Certification

Safety 

These are various testing standards for safe use. Approval meets standards in the country of origin, while certification is accepted worldwide 

Automatic Shut Off 

Safety 

Will shut off if a system is overheating or overburdened- this protects against fire risks 

Anti-Tilt; Reinforced Base 

Safety 

These features are seen in free-standing electric heaters. By adding stability, they reduce the risk of accidents

IP65- 67 Rating

 

IP24 (general dust, rain)  

Durability/ Safety 

Protects against condensation and dust build-up; provides water resistance. The higher the rating, the more water resistance  

Remote Control

Easy Use 

Helpful for quickly operating wall-mounted or hard-to-reach electric heaters

Variable Heat Settings/ Knob / Adjustable Heating Head/ Oscillating Heat 

Comfort and Efficiency 

Allows you to quickly adjust temperature and control heat output 
Many electric patio heaters say they are quiet, but there aren't standards to determine noise. Looking at customer reviews, heating efficiency, and the general quality of the electric patio heater are all steps that you can take. 
Step Fix: Where (and How) to Buy 
As you probably expect, you can buy electric heaters from home improvement stores (Lowes, Menards, Home Depot), Walmart, Amazon, Wayfair, and specialty outdoor or lighting stores- two of my picks are BBQ Guys and Infratech. But whatever you do, please make sure the store has a secure website, detailed customer reviews, and clear returns and refund policies. I also give special attention to stores that include some warranties and protection plans. 
As for how to shop for the best price? I recommend comparison shopping. Home improvement stores have price matching policies, and comparison shopping opens you up to understanding the range of styles, prices, and options. A lot of heaters go on sale and clearance during holidays and also before the beginning of the next season. 
Electric Patio Heaters: My Picks and Selection Criteria 
Here are a few of my favorite electric patio heaters. I selected these patio heaters just to give you an idea of what options are available. While I'm showing different styles, each electric patio heater was selected based upon overall quality, materials, effective features, and company and/ or brand reputation. Electric patio heaters with safety features were given special consideration. 
Luxor Pyramid Electric Infrared Patio Heater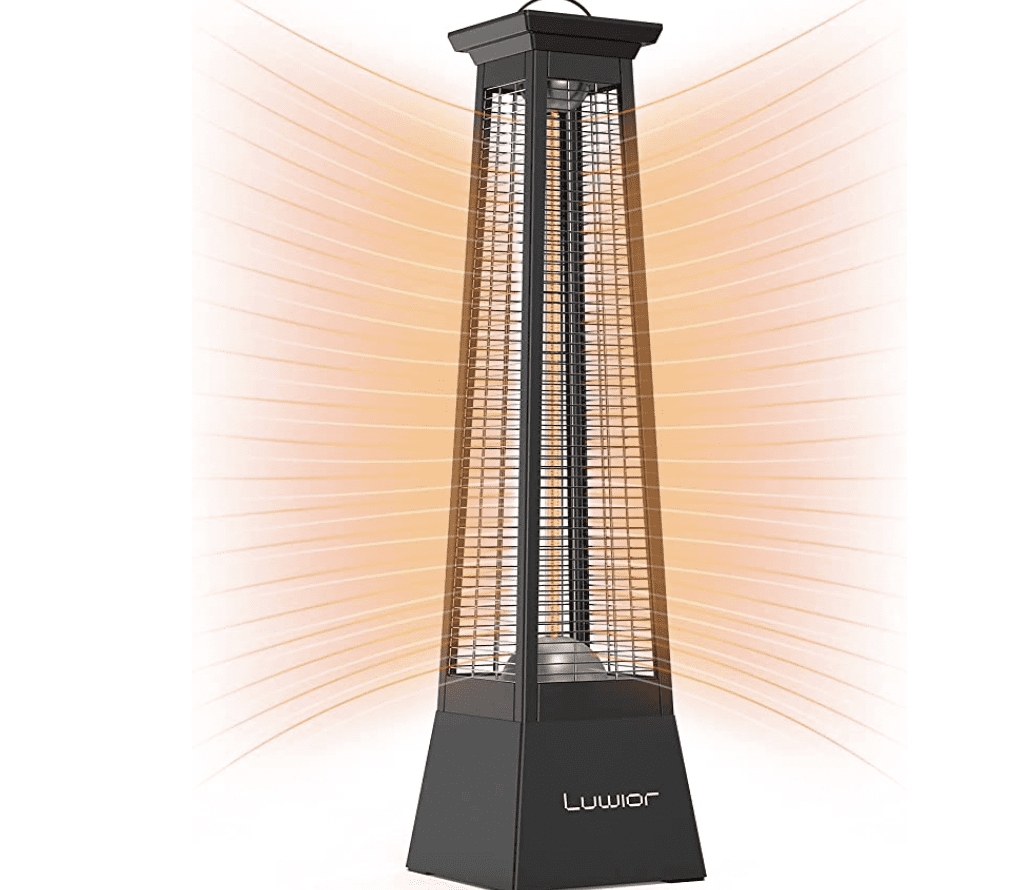 It's tricky to find an electric patio heater that's designed to be portable, but this model from Amazon is well-priced and has some features I appreciate. If you want an electric heater that's both stylish and affordable, this heater from Amazon could be a good fit. The 360 pyramid design features instant heating with a respectable 1500 W for smaller spaces.
I love that the heater is certified waterproof and includes a tip over protection. With built-in features to guard against overheating, a quiet construction, and ETL certification, it's useful for both indoors and outdoors. The 360-degree coil means you get heating from more angles than your average radiant heating (and improved efficiency!). Buy Here. 
Pros
ETL Certified

Tip-Over Protection

Portable

Waterproof
Cons
Modest Heat Radius and Output

Not Infrared 
TWWings Electric Patio Heater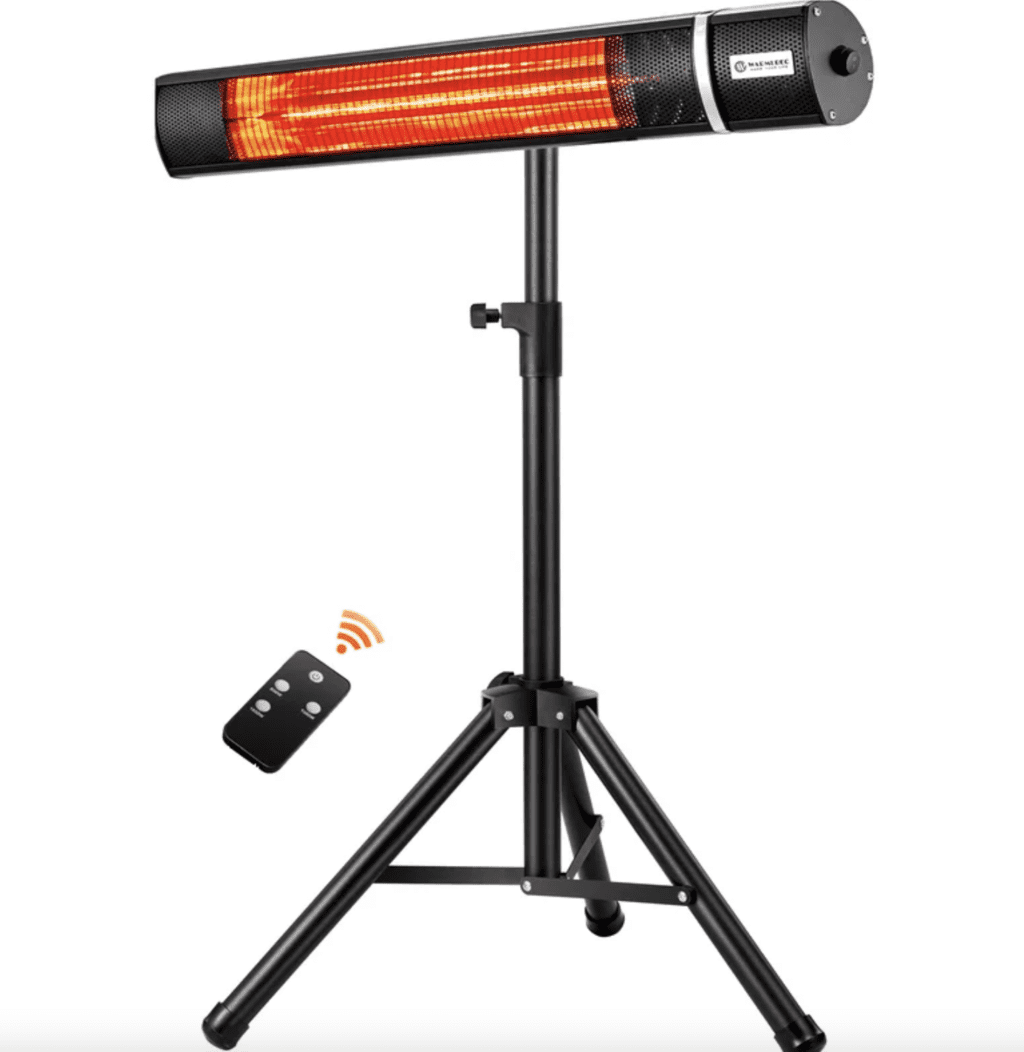 Can't decide between a freestanding heater and a wall-mounted heater? With this interesting electric heater, you don't technically have to. While I most recommend using this electric patio heater as a wall-mounted heat source, the sturdy pedestal allows you to transform it into a freestanding unit when you need to. The remote control makes it a breeze to use, and the pedestal features tip-over protection to keep you safe. Infrared heating means more efficient heating and if you get forgetful as I do, the waterproofing and powder-coating finish mean no worries. Buy Here. 
Pros
Efficient Heating 

Mounted or Freestanding

Tip-Over Protection

Warranty and Protection Plans
Cons
Not Safety Certified 

Modest Heat Radius
Infratech Dual Element Electric Patio Heater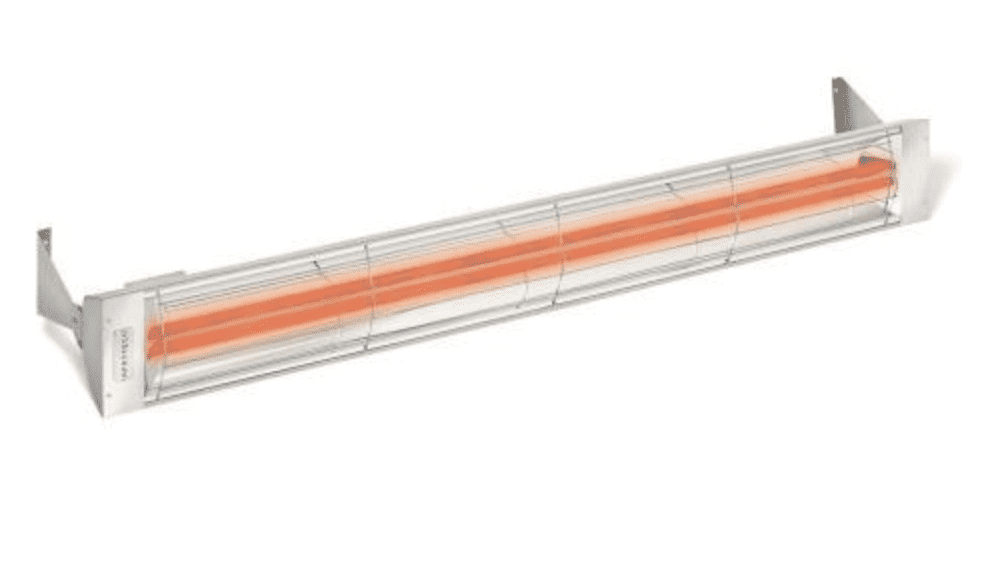 In my opinion, a wall-mounted or ceiling heater is the best option if you're going electric. There are more powerful models, and you're able to target an area in a way that's trickier with a freestanding unit. If that's what you're after- and you have a larger budget- I think this model is one of the best electric patio heaters out there. This is one of the few electric heaters that's UL certified and has a powder-coated stainless steel frame. The quartz element enhances energy efficiency and reduces emissions. I also love that it's made in the USA and comes with a complimentary 3-year warranty. Buy Here. 
Pros
Energy Efficient Heating 

Powder Coated/ Weather-Proof

UL Certified

Warranty Included
Cons
Expensive

Can't Return Powder Coated Finished Heaters (But Warranty Applies)
Dimplex Indoor/Outdoor Electric Infrared Heater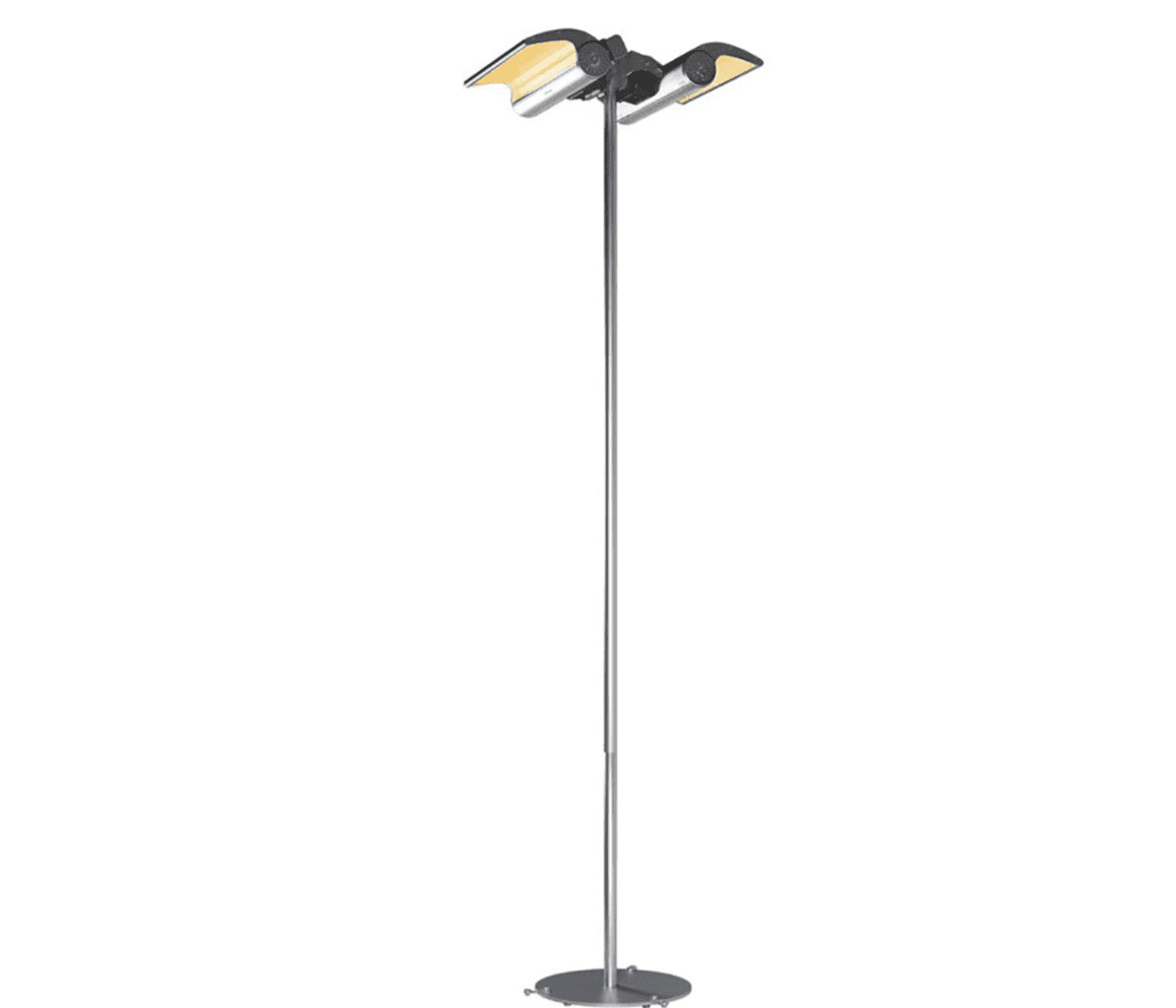 I want to emphasize this strongly: if you use any heater inside your home- even one approved like this one- the same rules apply. Make sure it's not near anything that can catch fire. That said, this efficient electric heater could be used on your patio, covered porch, or inside a garage if you're having a yard sale or passing out candy on Halloween. The IP65 rating ensures durability, coupled with corrosion-resistant, high-quality 304 stainless steel. The automatic safety shut-off is a huge plus, especially if you're using it indoors. I always loved the timed heat settings, remote control, and multiple heat settings for improved efficiency. Buy Here. 
Pros
Multiple Heat Settings

Corrosion Resistant

Waterproof and Dustproof

Automatic Shut Off
Cons
More Expensive

No Official Safety Ratings
EnerG+ Electric Infrared Bistro Table Patio Heater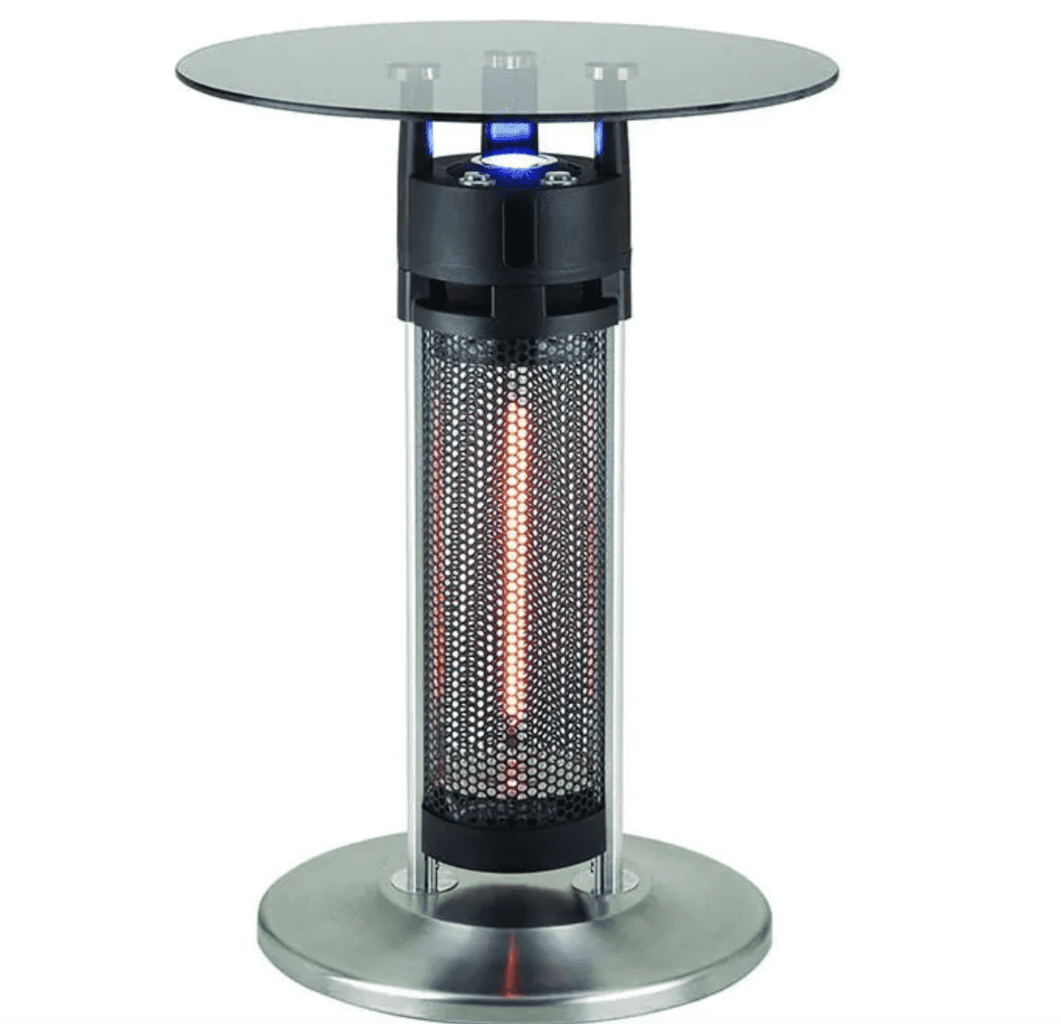 This is one of the most unique- and best- electric patio heaters you can buy. One of the biggest frustrations I see is people saying you need to be very near to an electric heater to make the most of that, and there's some truth to that. This design pairs a bistro table with a built-in heater for seamless comfort. The 1400 W electric heater is equipped with a carbon filament lamp that runs for 5,000 hours. It's both ETL certified for safety and IP24 certified against rain and dust. I also love that the design is finished off with LED mood lights. Buy Here. 
Pros
ETL Certified 

IP24 Certified 

LED Lights and Carbon Lamp

Energy Efficient 
Cons
Trickier to Maintain

Modest Heat Output 
Frequently Asked Questions
Question: Are electric patio heaters worth it?
 
Answer: Both electric and gas heaters can be effective for heating a patio- but it depends on your priorities. Electric patio heaters, at their best, are a bit safer than gas patio heaters and are easy to use, install and operate. They're effective and usually quick to heat up. While some are not as efficient to run as the best propane heaters, electric heaters are less fickle and many enjoy them. Plus, with tabletop, freestanding, and wall mounting designs, you have a lot of different options. 
Question: Do electric patio heaters keep you warm?
Answer: Electric patio heaters can keep you warm – but it's important to put it in a matter of perspective. Electric patio heaters provide warmth usually for a relatively small area. The heat output varies widely from the electric heater to the electric heater. The other problem is how well patio heaters work during below-freezing temperatures. Usually, electric heaters are used more for cool vs truly cold weather. You'll need to check with the manufacturer's instructions, but usually, it's not advisable to use patio heaters when temperatures dip below 32 degrees Fahrenheit. 
Question: Does a halogen heater use a lot of electricity? 
Answer: Halogen heaters are usually reserved for a small area and are used only occasionally. Halogen heaters with a high watt, however, can be efficient because of the way they produce heat. Contrary to popular belief, they tend to be fairly efficient when used in a small area- and they also don't release carbon monoxide emissions. They produce radiant heat, which can be suitable for a small patio area. That said, while halogen heaters don't use tons of electricity, they are comparatively expensive to run, especially as the weather cools. 
Question: Can I put an electric patio heater under a covered porch?
Answer: Electric patio heaters don't require as much ventilation as propane heaters. That's why they can be used under covered porches. Some electric heaters are designed for both indoor and outdoor use (though play it safe and check with the manufacturer's instructions). However, if you choose to use an electric patio heater under a covered porch, it's still important to take precautions. Make sure nothing is directly beside the heater, especially anything flammable. It can be easier to forget to turn off an electric outdoor heater when it's placed under a covered porch. Leave yourself a reminder or opt for a heater that's equipped with an auto shut-off safety system to play it safe. 
Final Thoughts
Electric patio heaters are a great way to provide a touch of warmth for a chilly evening or if the weather turns on a dime. But I sometimes see unrealistic expectations. No patio heater- whether gas or electric- will fully work and keep you warm during the dead of winter. So use it as directed, and enjoy it for the chilly days. With those expectations in check, you can make the most of your electric patio heater.
Final Recommendation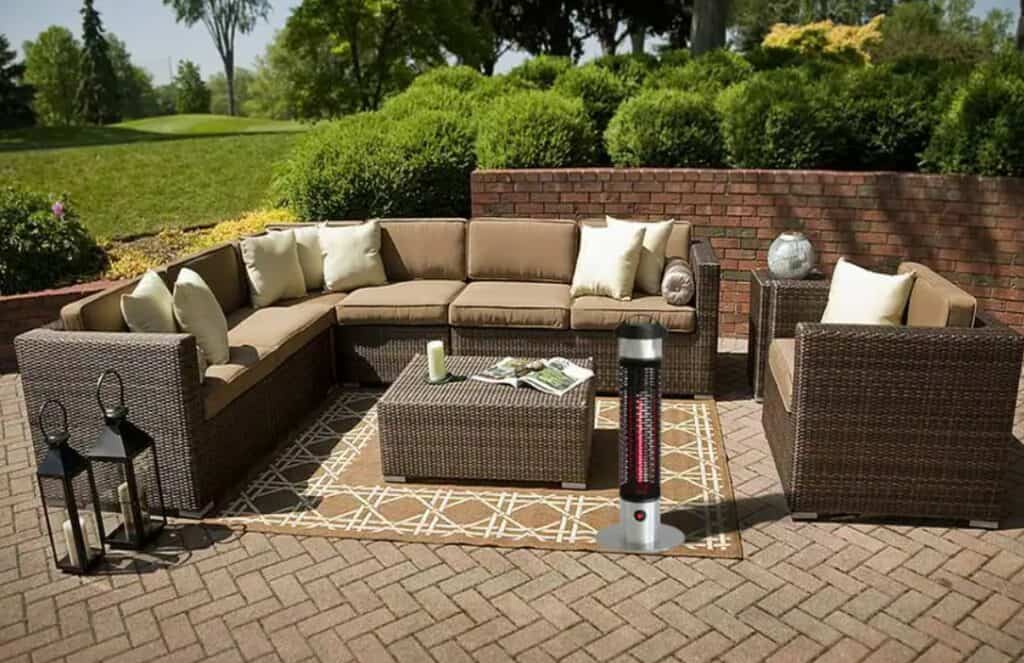 Still, trying to decide on the best electric heater for your patio or porch? I recommend buying a model like the EnerG+ Electric Infrared Bistro Table Patio Heater. Sure, this isn't your average freestanding electric heater, but that's part of its appeal. I love the innovative bistro-inspired design, which pairs with an ETL-certified unit that's also resistant to dust and rain.
Recommended Reads: