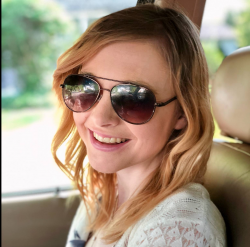 Latest posts by Erin Jamieson
(see all)
My grandmother's metal porch swing has been through a lot. From family parties to drinks spilled and lazy Summer afternoons, her canopy-covered porch swing remains today. In many ways, I grew up with that swing- and it's exciting to see the generation below me spending time near it too. 
A metal porch swing can not only encourage you to spend more time outdoors, but it could very well be one of the best purchases you'll make. But that comes with a caveat: buying a metal porch swing that's built to last.
I'll share my favorite ideas for metal porch swings, from vintage-inspired to modem. Plus, I'll share my insights behind how and why I selected these swings so you can shop wisely. 
Bottom Line Up Front Summary
Metal porch swings, at their best, are low maintenance and lower cost than some other materials. I always recommend opting for either a steel or iron swing that's been treated with a weather-resistant coating, or carbon steel (which forms a natural patina). My top picks reflect quality construction, and unique features, and are built to last in all weather types.
If I had to recommend one top metal porch swing, it would be the Red Barrel Studio Porch Swing. This metal porch swing seats two and comes with a canopy, premium Sunbrella fabric cushions, and a sturdy steel frame. The canopy protects against heat and UV rays, and the swing also includes a foldable tray and cup holders. Solar red lights make for the finishing touches of an extraordinary porch swing.
My Top Picks
My Selection Criteria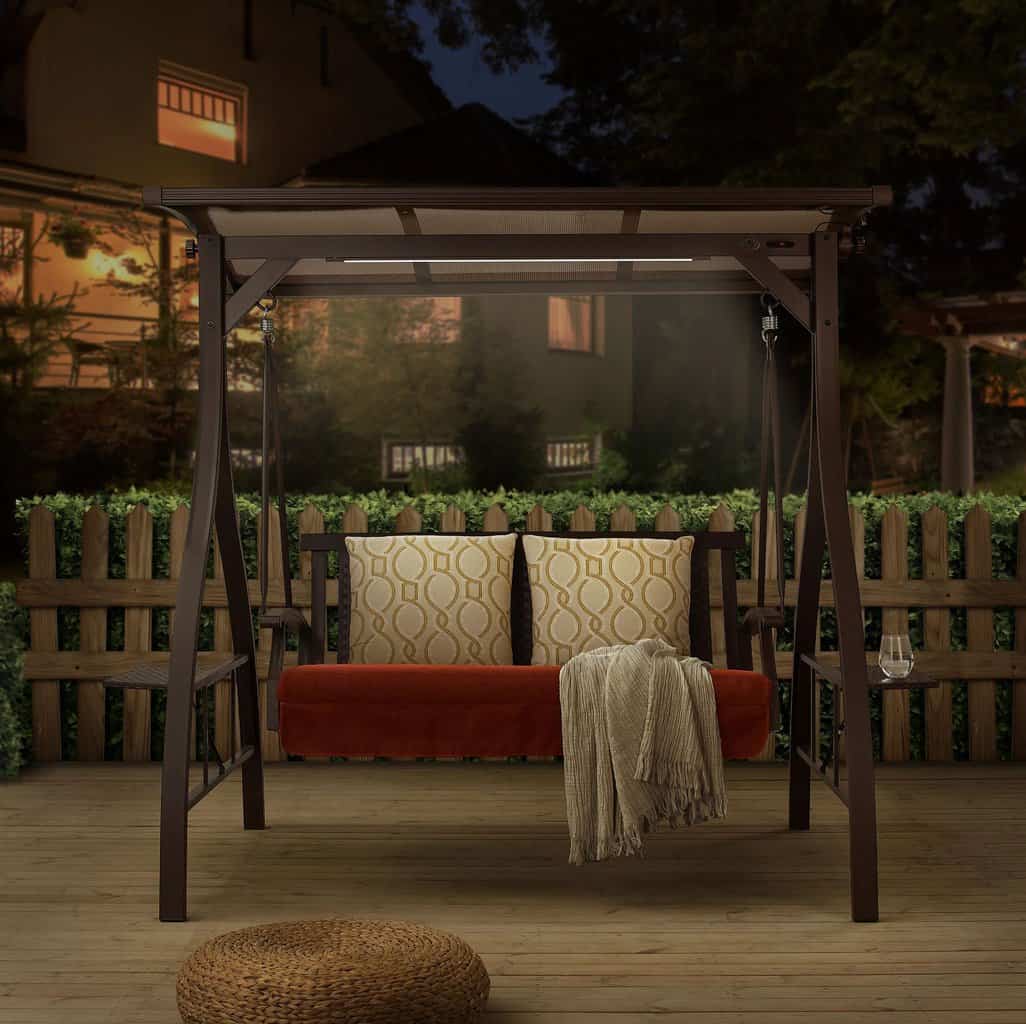 Before you rush out to buy a metal porch swing- or even buy one of my ideas- I wanted to share some insight. These are the steps I took to choose these metal porch swings. From accessories and features to overall quality, here's how I decide. 
Best Materials
Not all metal swings are built the same. Your main choices for metal porch swings include aluminum, steel, and iron. Of these, I would skip aluminum. Aluminum is the most lightweight and fairly weather-resistant, but it's easy to damage and simply won't hold up over time. Even with steel and iron, though, I do have some preferences. 
Iron Porch Swings
Iron is quite strong and wrought or cast iron is superior to typical iron. The problem is that untreated iron will rust and corrode with exposure to moisture, air, and precipitation. To avoid this, I'd only select an iron porch swing that has a weather-resistant treatment. The most common is a powder coating, but something like a polyurethane coating is also possible. 
Steel Porch Swings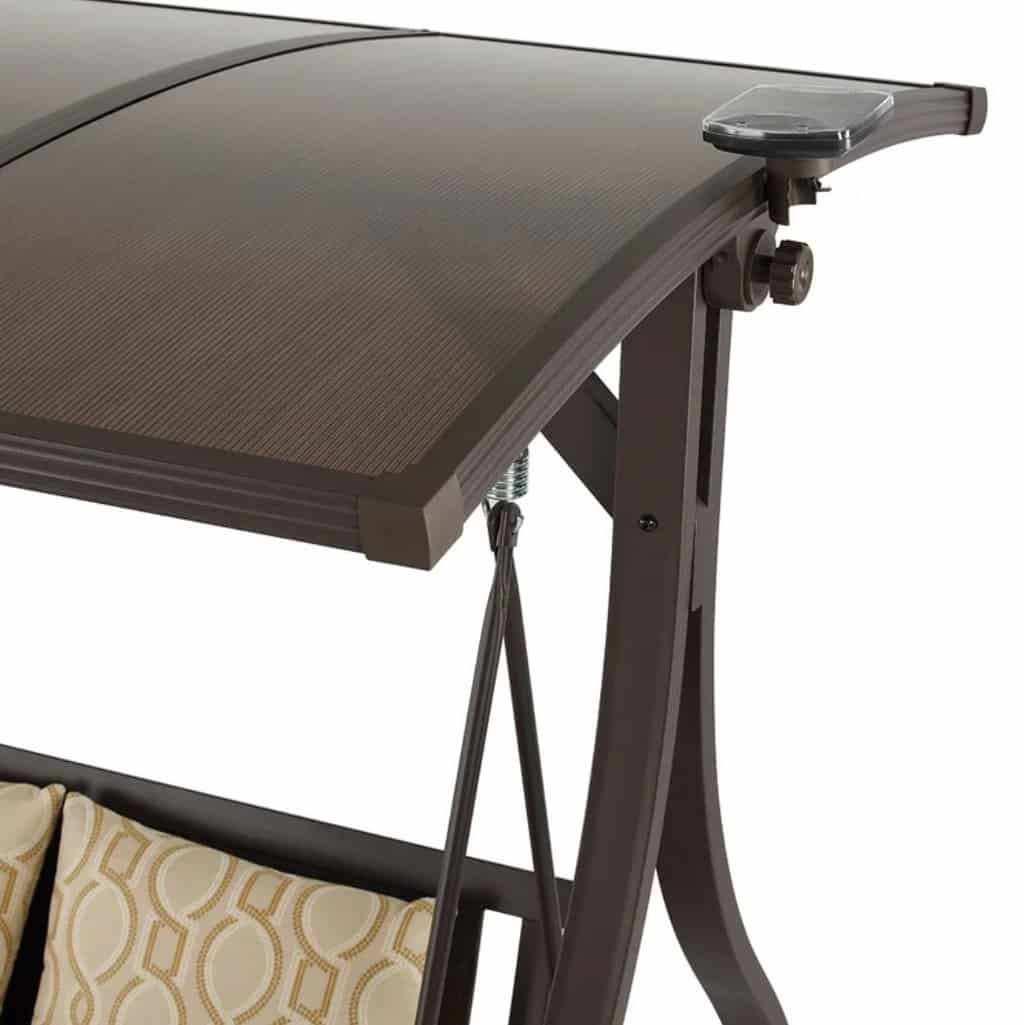 The good news about most types of steel swings is that they are more weather-resistant than iron swings. However, even here powder-coated steel adds a bit more durability to the frame. Both stainless steel and carbon steel (and reinforced steel) are solid options. The unique thing about carbon steel is that it can develop a protective coating called a patina over time. This makes it less susceptible to weather elements. It will change the hue of your porch swing frame, but if you don't like this, you could always apply weather-resistant paint. 
Hardware and Springs 
Hardware and springs impact how your porch swing functions, how well it lasts, and even how quiet or noisy it is. For hardware, I prefer stainless steel, Marine-grade steel, or steel with zinc plating. For a hanging porch swing, I prefer metal chains over classic rope chains. Chains can be replaced, however, so I like to focus on the nuts, bolts, and main fixtures. 
Accessories 
Accessories aren't a must-have for a metal porch swing, but they do help different swings stand out from others. Some of my favorite accessories are listed in the table below. 
| | |
| --- | --- |
| Feature | Advantages |
| Cupholders  | Great for entertaining and convenient for those who don't want to get up often; less likely to spill drinks |
| Canopy  | Protects you (partially) from sun/ UV rays, wind, and precipitation |
| Cushions  | Metal swings trap heat and cold, so cushions provide temperature control. They also add style and back support |
| Fold Out Tray  | Great for entertaining, small snacks, and reading books  |
| Convertible Seat  | Converts to daybeds for napping and improved comfort  |
Sizes and Dimensions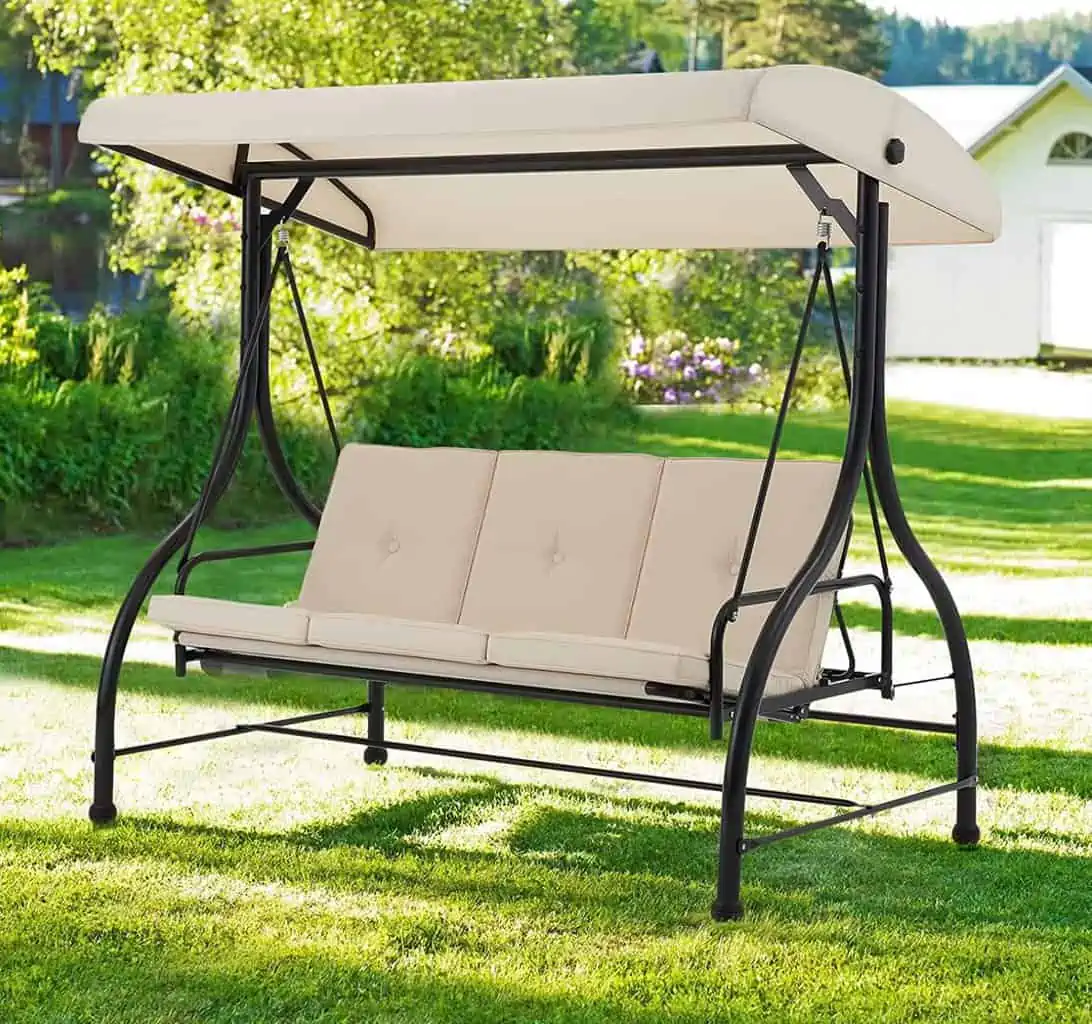 Metal porch swings are incredibly popular, and that's good news for finding a size that's right for you. Because I want to represent a range of needs, my ideas include porch swings of all sizes. Keep in mind that sizes aren't standardized: one 2- a person or 3-person swing will have different dimensions than another.
When selecting the right swing size, I consider a few main factors: weight capacity, width/ height, and seat depth. Make sure, whatever size you choose, that it has 3 to 4 feet of clearance in front and back, as well as 14 inches on each side. Metal porch swings average 3 to 4 feet wide. 
For a comfortable seat depth, 18 inches is a bit too shallow, while anything over 40 inches is best suited for taller than average people. For weight capacity, I prefer at least 200 lbs per seat and more for a heavy-duty porch swing. 
See also: Best Porch Design Ideas for a Welcoming Home
Brands, Reputation, and Quality
I'm not sold on sticking with one, or even a handful of brands for finding the best porch swings. Instead, I consider the store's reputation, Better Business Bureau rankings, and customer reviews. I also look for signs of a quality swing. I want to see detailed descriptions, high-quality images, and clear policies. Some of my favorite swing ideas also include warranties. In short, all of my picks for the best metal porch swings are sold by reputable stores, from Home Depot to other hardware stores to online large retailers (Amazon, Wayfair) and specialty stores. 
Top Metal Porch Swings in 2022: My Ideas 
Ready to enjoy your backyard with a fantastic metal porch swing? Here are a few of my favorite ideas and a breakdown of why they might be the perfect fit for your outdoor space. My ideas include both hanging swings and freestanding swings. 
Schilling Metal Porch Swing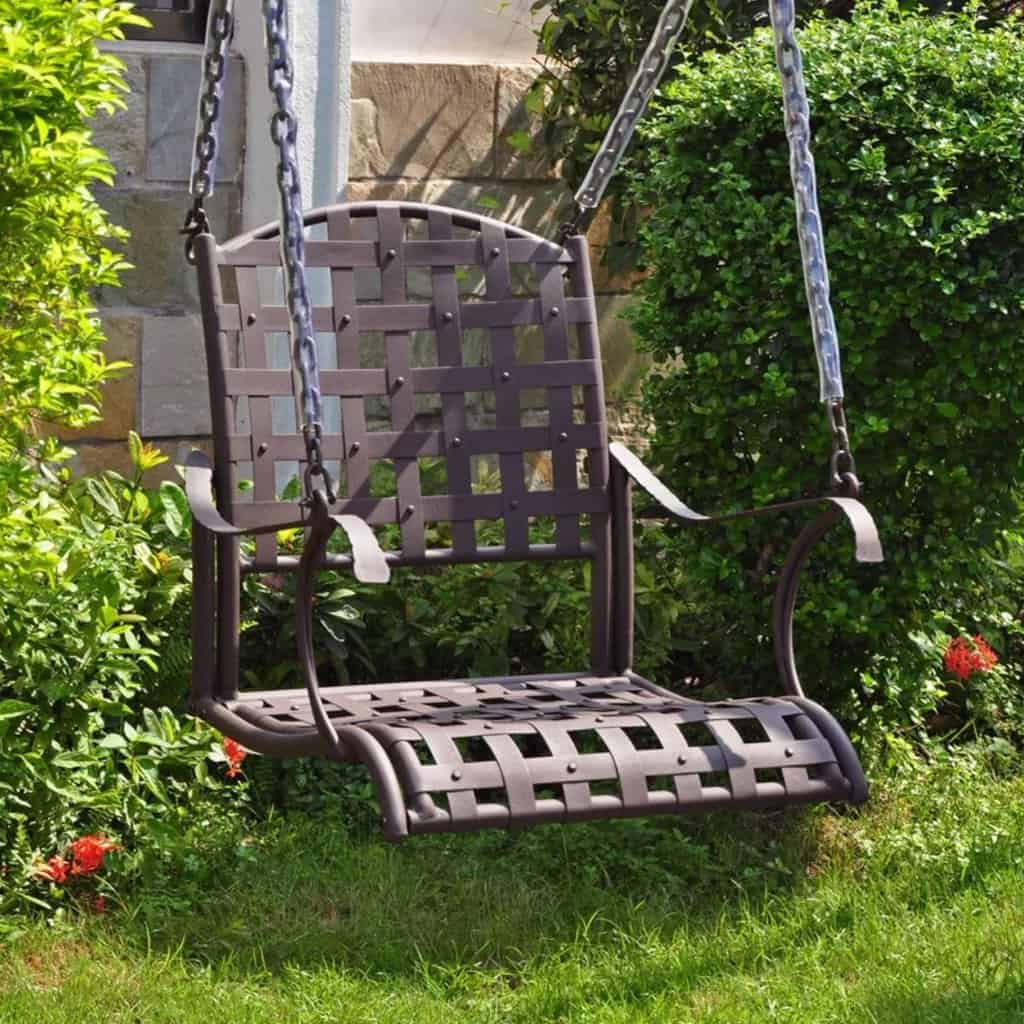 If you live alone like me or have a small space to work with, I know it can be tempting to not work in your outdoor area. But honestly, the more I do things myself, the more I realize how important it is. That's why I love this metal porch swing as an idea for those of us who don't have as much room to work with. This highly-rated metal porch swing is perfect for one person. I also love that the design has touches of rustic details but remains versatile for everything from cottage homes to boho homes. Unlike many one-person swings, which tend to be made out of less durable materials, this hanging swing is made with iron, protected with a dual powder-coated finish. It's resistant to UV rays, and rain, and includes a generous hanging chain. With a generous weight capacity of 400 pounds, it also is a heavy-duty swing.  Buy Here.  
International Caravan Sun Ray Swing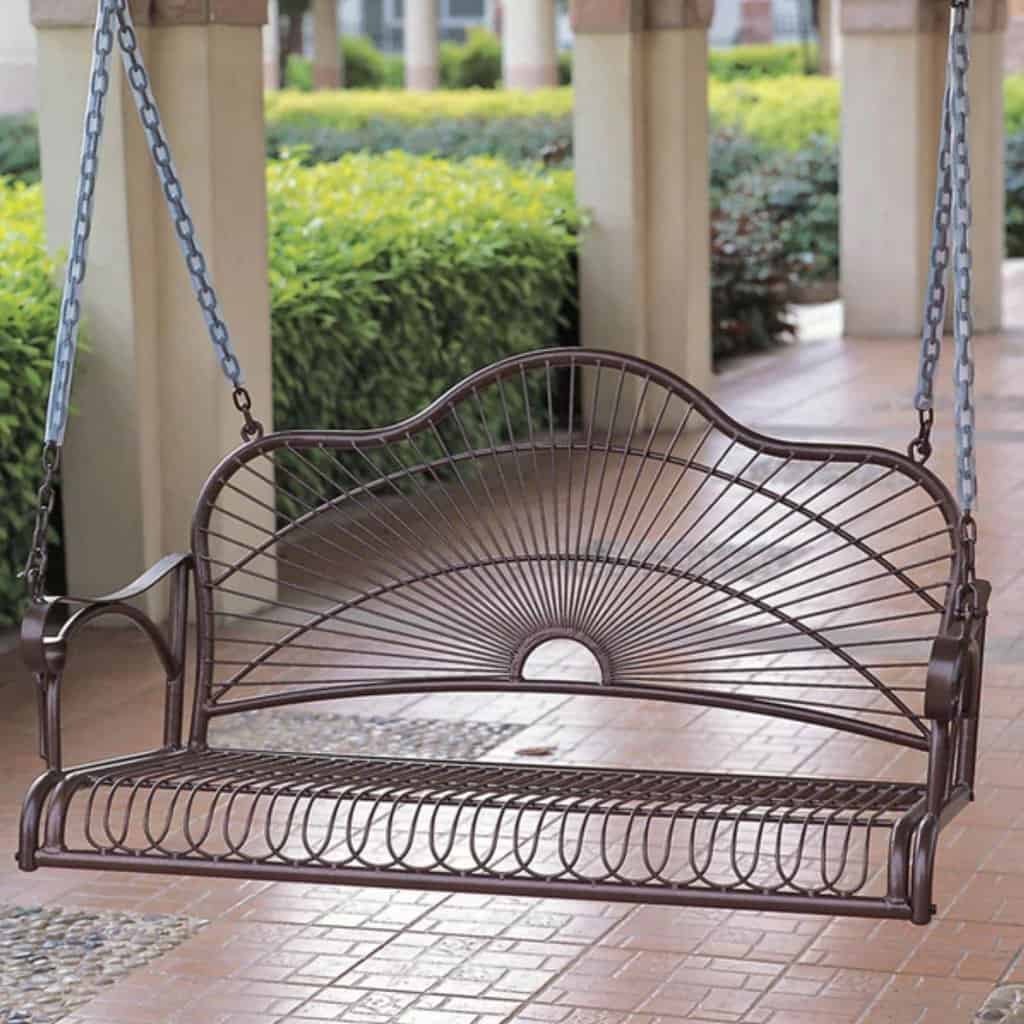 I love all things vintage. There's something simply charming and inviting about a vintage porch swing, and I think this is a great idea for everything from Southern to Victorian homes. I love the charming scalloped back, complete with ornate but versatile details along with the frame. The wrought iron frame is treated with a weather-resistant base coat and a powder coat for extra protection. This swing includes hanging chains and can be purchased with both solid color and patterned cushions. It has a weight capacity of 450 pounds and has a hammered bronze finish for a vintage look. Buy Here.
PHI VILLA Outdoor Metal Porch Swing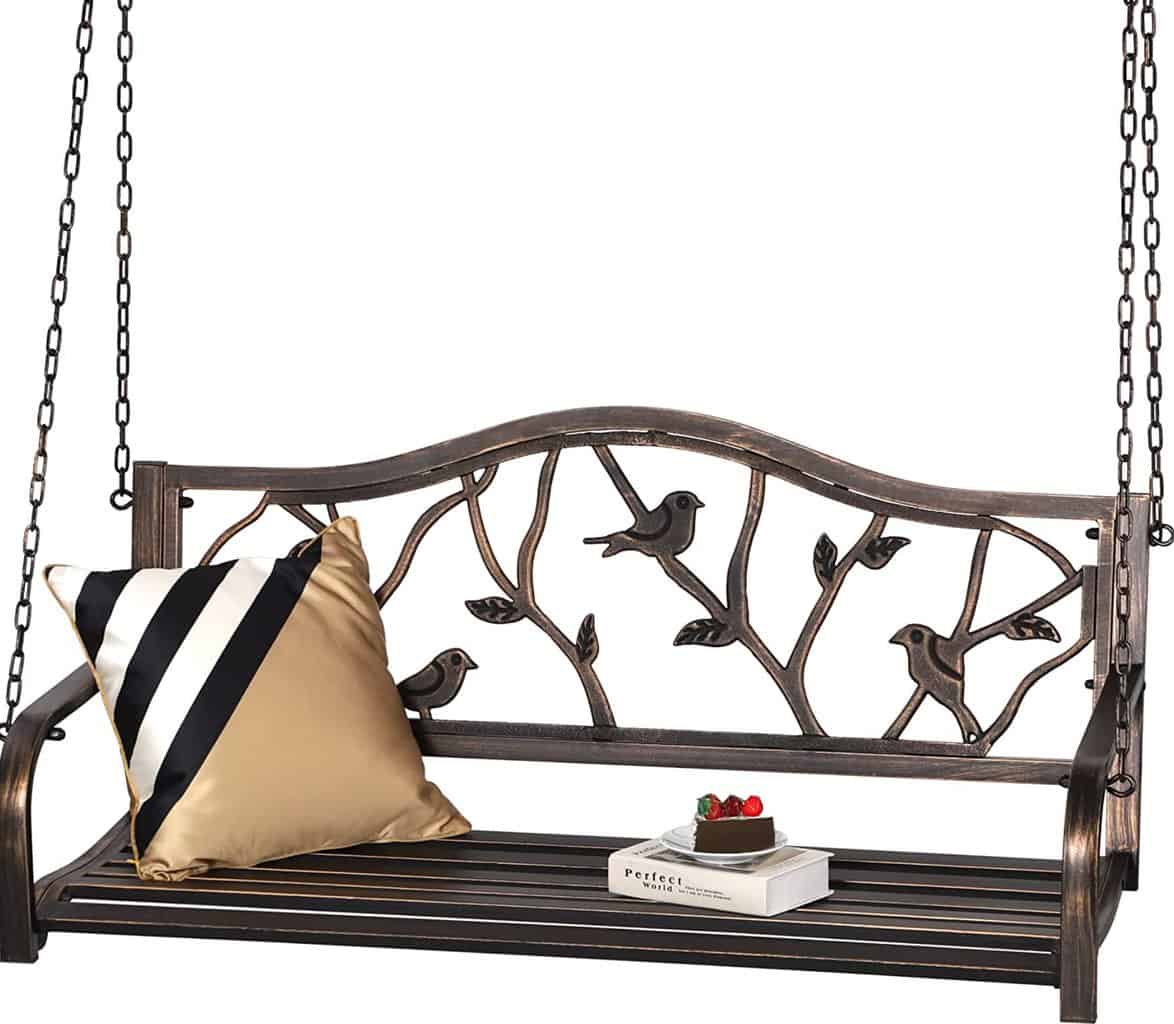 Gardens have a special place in my heart. My late grandmother has a gardener, and my Nana still is. But instead of opting for a plain porch swing, I love this idea. I think that an outdoor porch that overlooks a garden calls for a special metal swing. This whimsical metal swing is the perfect decorative touch for gardens and simply for nature lovers. This unique metal swing features a backrest with birds and branches, along with a gently sloped curve. The armrest and back are designed to be ergonomic for a more comfortable swinging experience. The reinforced iron frame is treated with an all-weather powder coating. This swing comes with hooks and a one-year warranty. Buy Here. 
Esright Outdoor Patio Swing Chair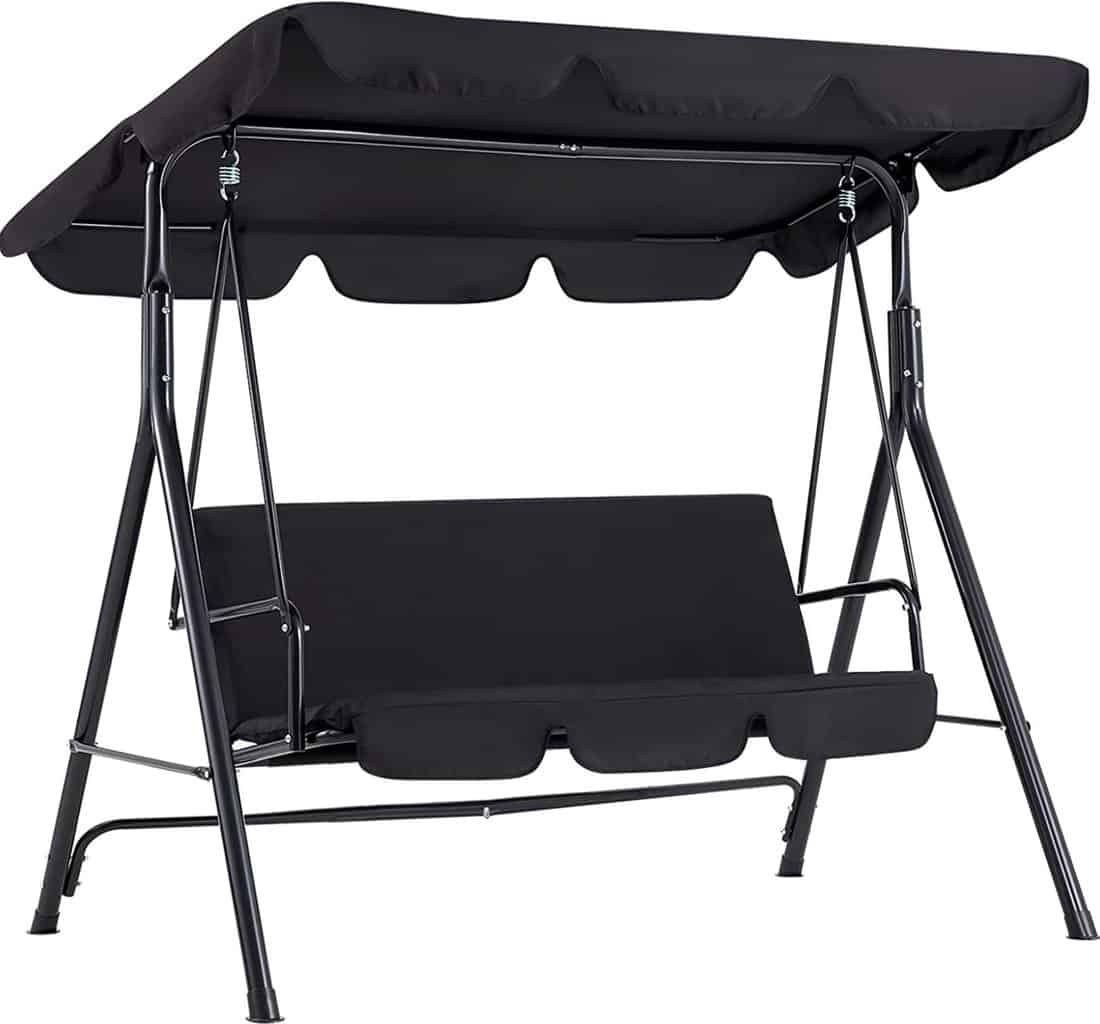 If you want to find a metal porch swing with a canopy for under $300 or even $200, it can be challenging. But I'm happy to say that there are more affordable options hitting the market, including ones with a great overall value like this Right swing. As someone who is often on a budget, I love this idea for savvy savers like me. I also love it if you're like me and need a quiet and smooth ride to concentrate on a great book! This Right swing is equipped with heavy-duty springs for a smoother, quieter swing. It comes equipped with a weather-resistant polyester cushion and matching canopy. Both the canopy and cushions are detachable for versatile use and easy care. The frame is made out of powder-coated steel.  It's a popular swing on Amazon, with over 3,000 ratings and an average of over 4 out of 5 stars. Buy Here. 
Red Barrel Studio Metal Porch Swing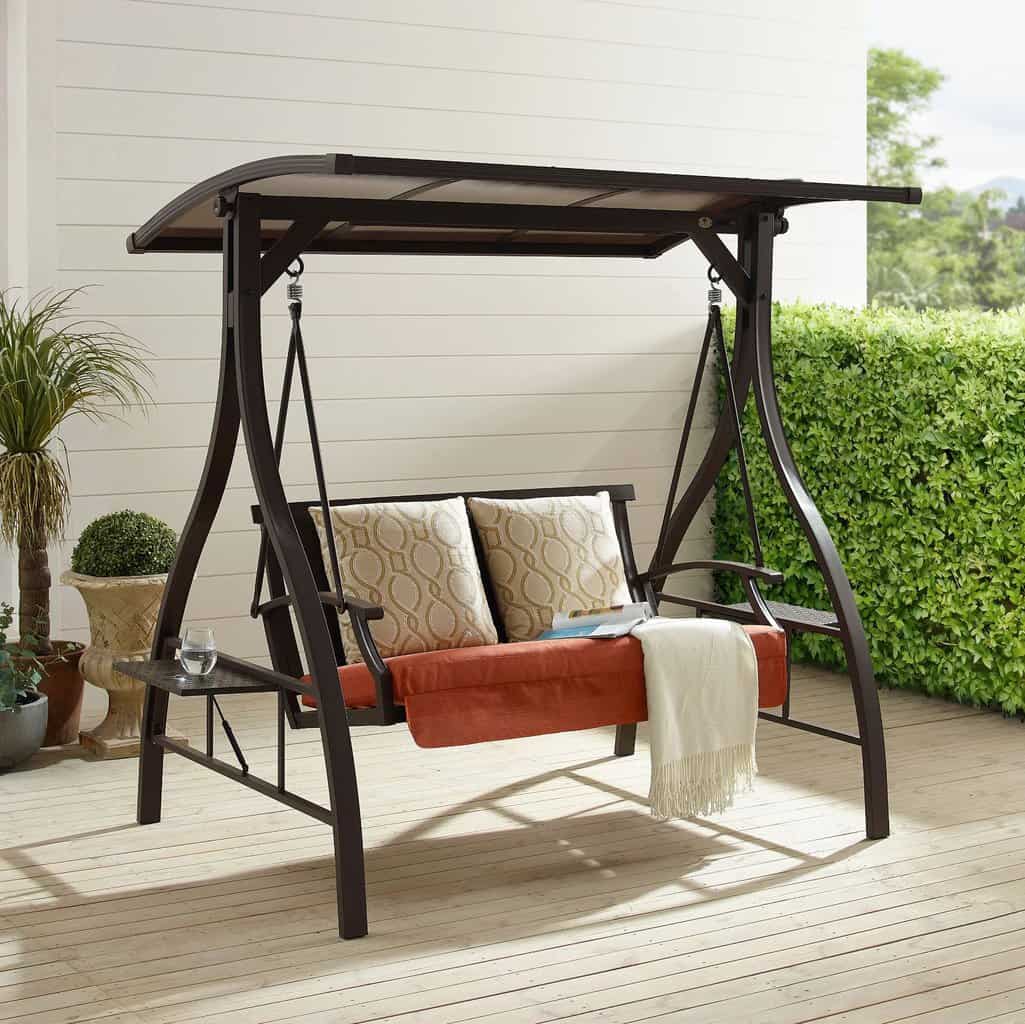 The beauty of this porch swing speaks for itself. But I especially love this idea if you're interested in entertaining. Some of my favorite celebrations have been spent on a porch swing, so I immediately took note of this premium, ultra-comfortable design. This stand-out porch swing includes a powder-coated steel frame and a polycarbonate canopy top cover. The canopy is adjustable so you can adapt as the sun changes position in the sky. It also includes both UV and heat protection. Foldable trays are equipped with cupholders and pair well with solar lights with a great entertaining experience. The heavy-duty springs can accommodate up to 600 pounds of weight. I also love the stylish Sunbrella fabric cushions. Buy Here. 
Amucolo 3-Person Outdoor Porch Swing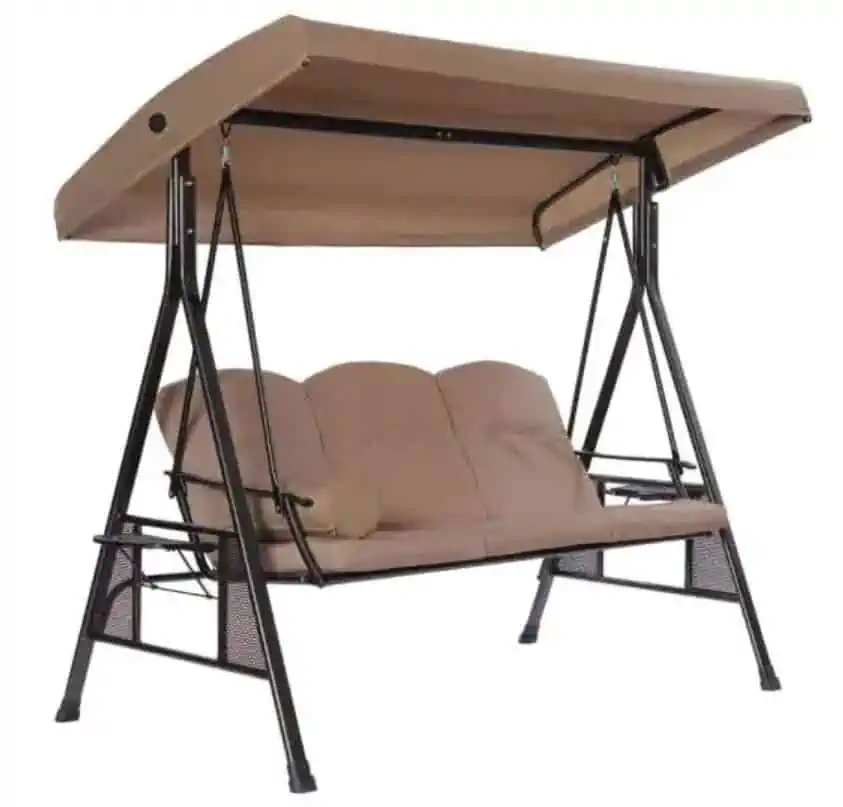 Not every porch swing has to be luxurious by style alone. If you have kids or rambunctious family members, this is a good idea. Growing up, my cousins and I weren't the kindest to porch swings, but this 3-person metal swing is equipped to handle some wear and tear. It has a  sturdy powder-coated steel frame that's equipped to hold up to 750 pounds. Even when the weather picks up, it has you covered with an adjustable canopy and plastic foot covers for a low-friction swinging experience. As a bonus, it's pretty easy to assemble. Buy Here. 
Live Casual Heavy Duty Roll Back Porch Swing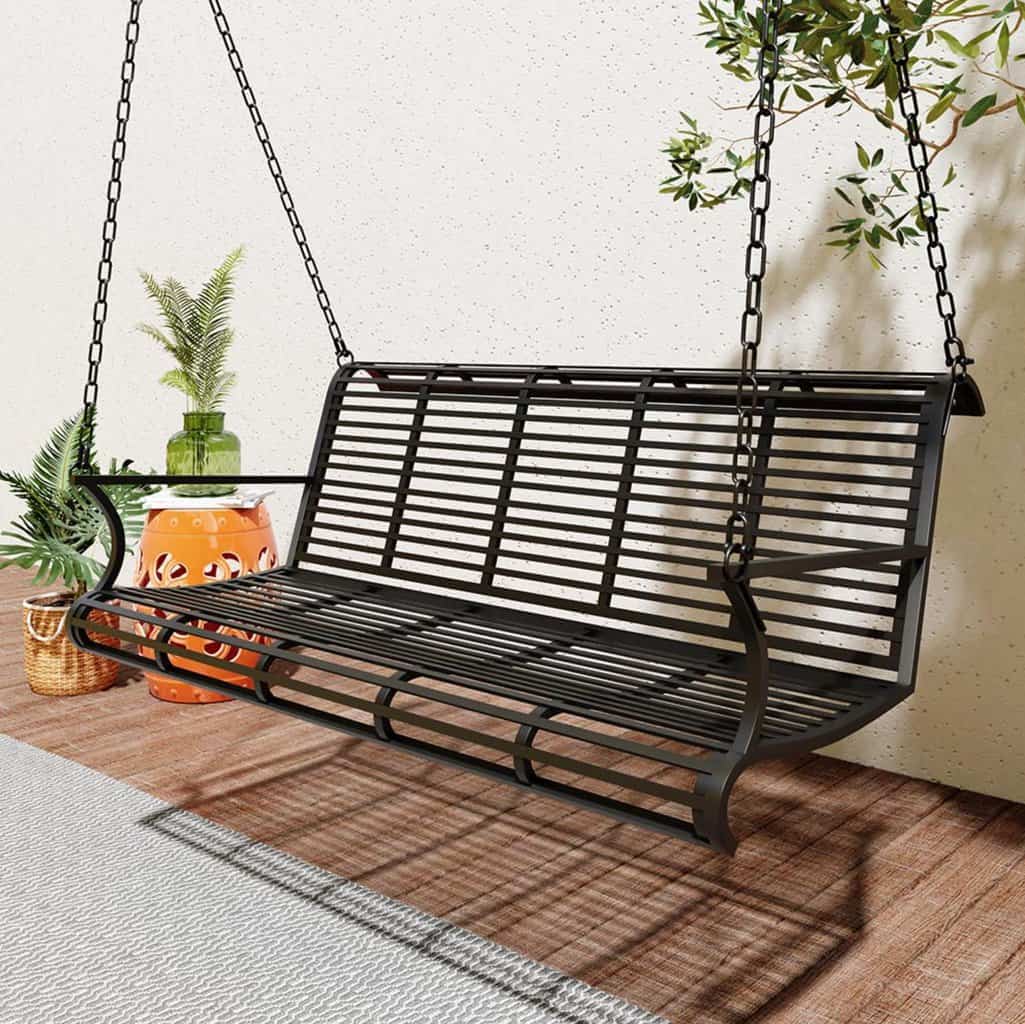 There's no technical definition for a heavy-duty swing, but I'd consider something with an 800-pound weight capacity to easily fall into that category. I love this porch swing idea for anyone who appreciates a classic style and needs stability and comfort. This is a swing I'd buy for my Papa, who needs the extra support the rollback design provides. This heavy-duty metal swing is made with iron and finished with dual weather-resistant coatings. The black coating is classic but can also be styled to be modern. It's a great price and comes with standard hanging chains. Buy Here. 
See also: Best Black Porch Swing Ideas
AECOJOY 3-Seat Outdoor Patio Swing Chair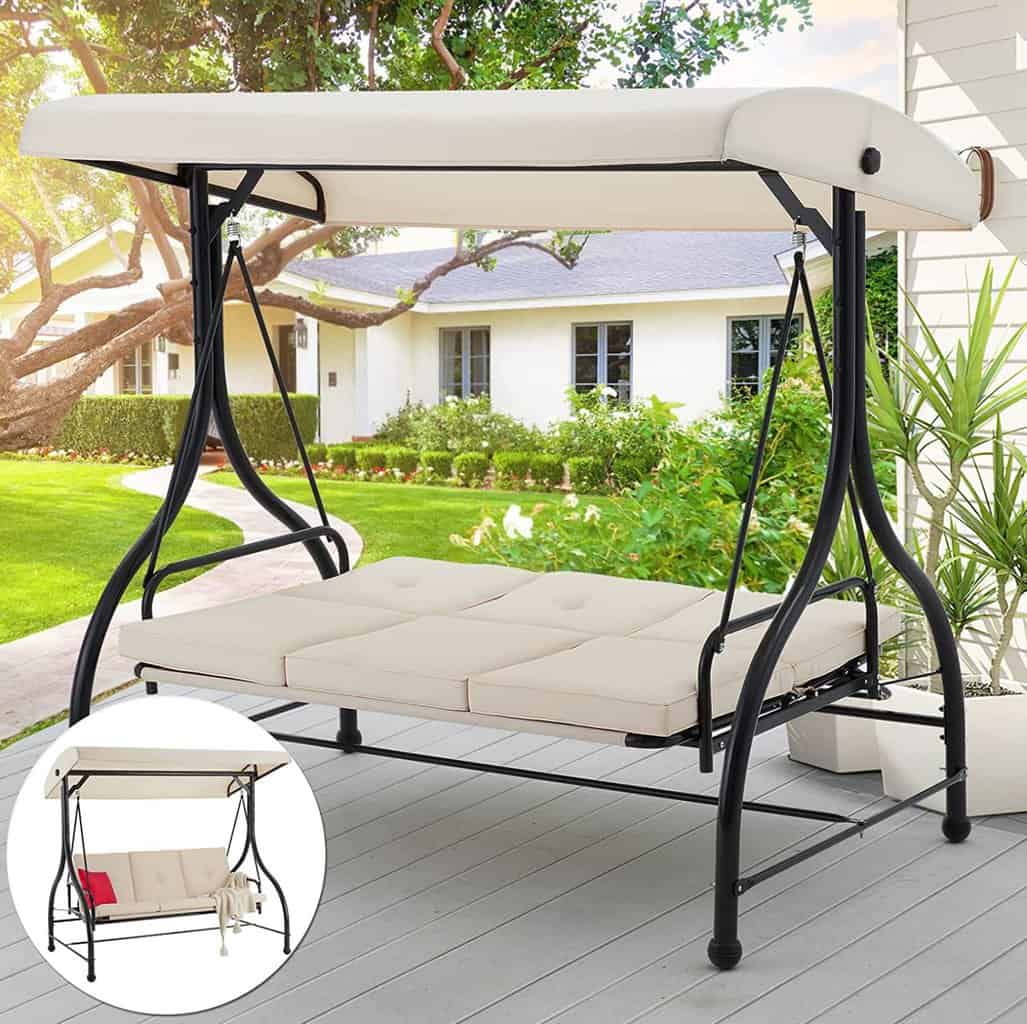 Can't decide between a daybed swing and an upright swing? With this unique convertible metal swing, you don't have to. I love this idea whether you're indecisive (been there) or need more options. I also love it for someone who needs to be reminded how to relax (one of my greatest weaknesses). This innovative metal swing seats three and converts seamlessly from a patio swing to a swing you can nap in. When it lies flat or sits upright, the frame securely locks. The canopy includes a locking mechanism that allows you to safely adjust to the sun's light. The canopy provides some UV ray protection and matches the polyester cushions. With a weight capacity of 750 pounds and strong springs, it's a solid build for a solid price. Buy Here. 
Hampton Bay Metal Wicker Patio Daybed Swing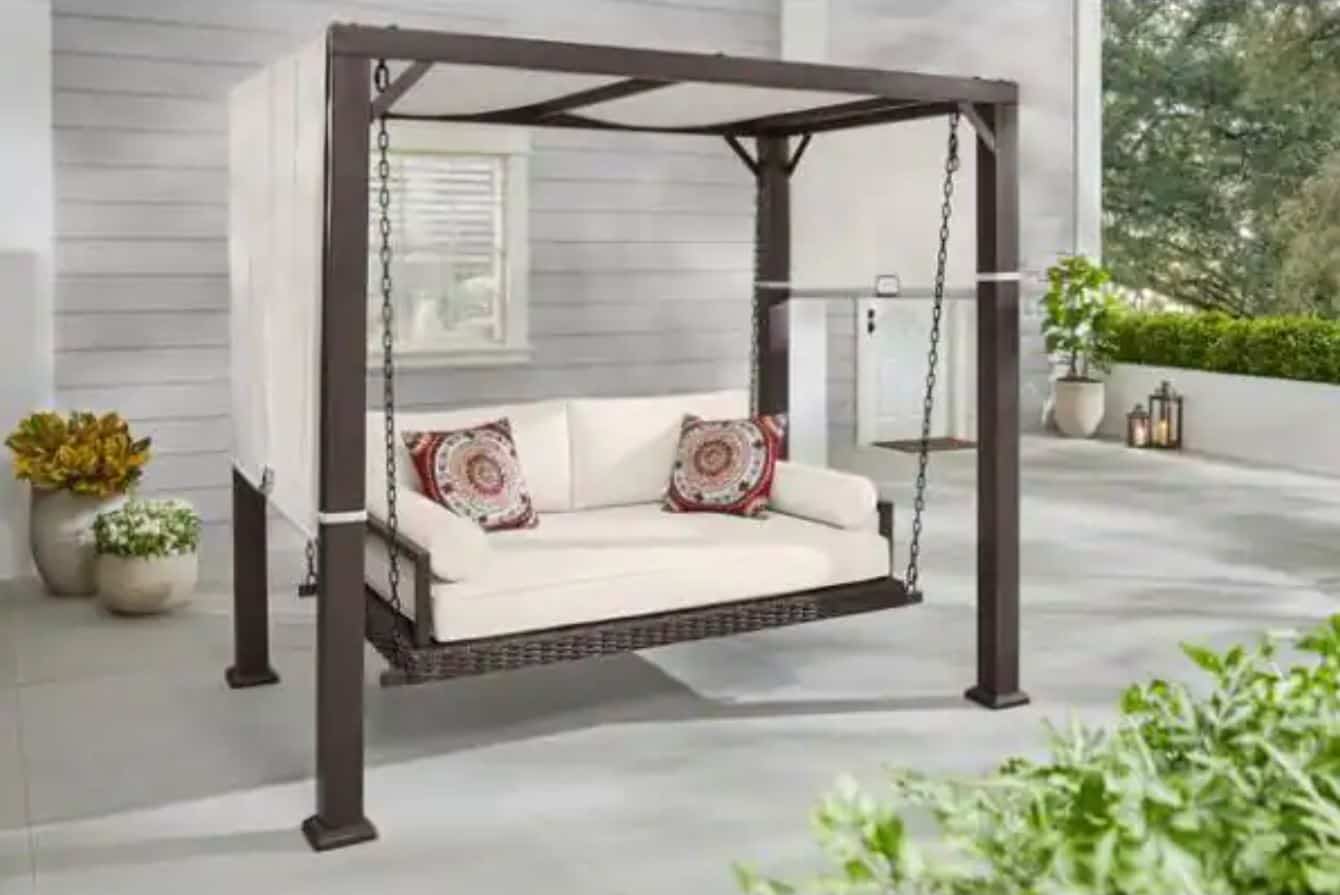 Taking time for myself is hard, and I know that I'm far from alone. A daybed swing is a perfect and much-needed excise to do just that. I love this idea for all of us who are overworked and overstressed. Most daybed swings are wooden, but I was excited to come across this metal daybed. Pairing the charm of wicker with a more durable steel frame, this swing is a generous 61 inches- leaving plenty of room for napping. It comes with attractive, fade-resistant fabric that also repels stains. Patterned cushions add modern flair and comfort to your napping experience. This bed seats two people, but with the weight capacity, I recommend it for one. It's a well-designed daybed that is at once decorative and comfortable. Buy Here. 
See also: Best White Porch Swing Ideas
Frequently Asked Questions
Question: Is a wood or metal porch swing better?
Answer: Both metal and wood porch swings can be a durable and good investment- but there are definite pros and cons to both. If well cared for, a wooden swing may last longer than some metal swings. However, softwoods are prone to damage and even high-oil wood-like teak needs occasional treatment. Metal woods of the best value can last a long time and, if treated with a weather-resistant coating, require less maintenance. Metal swings are usually cheaper than wood swings but do have the disadvantages of trapping heat or cold. In short, arguments can be made for either a metal swing or a wooden swing. 
Question: Do porch swings add value?
Answer: Porch swings add value in the sense that they make a home feel more welcoming and aesthetically appealing. But some in the real estate business claim that a front porch swing can make a larger impact on your home's value than you'd imagine. The return on investment, according to some, hovers over 80 percent. It's not so much that a porch swing inherently increases the value of a home. It's more than it can become a psychological selling point and add to its ambiance. Different styles of homes and different regions will benefit more than others. 
Question: How far from the wall should a porch swing be?
Answer: A porch swing needs 14 inches on each side and 3 to 4 feet from behind and in front. This is very important when you're selecting your porch swing size. Give yourself extra space especially if you have other patio furniture, chairs, or swings on your porch. 
Question: Is it better to paint or stain a porch swing? 
 
Answer: Staining and painting are ways to customize your porch swing and enhance its durability. There are weather-resistant paints and stains for both wooden and metal porch swings. For wood, a stain is the best option. Stains tend to last longer and provide more protection. Stains also are usually oil-based, which is a further benefit for wood (which can warp and shrink in the absence of ample oils and moisture). Meanwhile, metal porch swings can be powder-coated and then painted with weather-resistant colors. 
Final Thoughts
Metal porch swings add a modern or even vintage touch to your porch. The advantage of a metal porch swing over a wooden porch swing is that it tends to require less maintenance and is lightweight. Metal porch swings are a bit cheaper and you'll also have more options for accessories and styles, from cupholder to generous canopies. Instead of going for a cheap aluminum frame, select a porch swing that's designed to last. Of course, even the best metal porch swings benefit from a great swing cover and being treated with care. 
Recommended Reads: